A man is in a restaurant where
A man is in a restaurant where a pianist is playing in a corner.
"Do you play things on request?" calls the man to the pianist.
"Oh yes, sir," says the pianist.
"Great," says the man. "Play dominoes."

Don't Do It Sam
Everyone told Sam not to sing...
But Samsung anyway.
10 words that do not exist...but should...
1. AQUADEXTROUS (ak wa deks' trus) adj. Possessing the ability to turn the bathtub faucet on and off with your toes.
2. CARPERPETUATION (kar' pur pet u a shun) n. The act, when vacuuming, of running over a string or a piece of lint at least a dozen times, reaching over and picking it up, examining it, then putting it back down to give the vacuum one more chance.
3. DISCONFECT (dis kon fekt') v. To sterilize the piece of candy you dropped on the floor by blowing on it, assuming this will somehow `remove' all the germs.
4. ELBONICS (el bon' iks) n. The actions of two people maneuvering for one armrest in a movie theater.
5. FRUST (frust) n. The small line of debris that refuses to be swept onto the dust pan and keeps backing a person across the room until he finally decides to give up and sweep it under the rug.
6. LACTOMANGULATION (lak' to man gyu lay' shun) n. Manhandling the 'open here' spout on a milk container so badly that one has to resort to the `illegal' side.
7. PEPPIER (pehp ee ay') n. The waiter at a fancy restaurant whose sole purpose seems to be walking around asking diners if they want ground pepper.
8. PHONESIA (fo nee' zhuh) n. The affliction of dialing a phone number and forgetting whom you were calling just as they answer.
9. PUPKUS (pup' kus) n. The moist residue left on a window after a dog presses its nose to it.
10. TELECRASTINATION (tel e kras tin ay' shun) n. The act of always letting the phone ring at least twice before you pick it up, even when you're only six inches away.
#joke
Married Priests in Catholic Ch
Married Priests in Catholic Church a Long Time Coming
Prosecutors Want Victim in Courtroom During Murder Trial
Reason for More Bear Sightings: More Bears
Actor Sent to Jail for Not Finishing Sentence
Tiger Woods Play With Own Balls, Nike Says
Fireproof Clothing Factory Burns to Ground
Astronomers See Colorful Gas Clouds Bubble Out of Uranus
Chef Throws His Heart into Helping Feed Needy
Sex Offender Says Registering Will Hurt His Reputation
Psychics Predict World Didn't End Yesterday
Eye Drops Off Shelf
Federal Agents Raid Gun Shop, Find Weapons
Jane Fonda to Teens: Use Head to Avoid Pregnancy
Specialist: Electric Chair Can Be "Extremely Painful"
Child's Stool Great for Use in Garden
Petroleum Jelly Keeps Idle Tools Rust-Free
Deaf College Opens Doors to Hearing
Man Tries Armed Robbery with Knife in Gun Store
Ban On Soliciting Dead in Trotwood
Statistics Show Teen Pregnancy Drops Off Significantly After Age 25
Air Board to Study Fast Food Emissions
Bank Drive-in Window Blocked by Board
Deaf Mute Gets New Hearing in Killing
State Prisons to Replace Easy Open Locks
Drunk Gets Nine Months in Violin Case
British Study Finds Less Traffic When Roads Close
Enfields Couple Slain, Police Suspect Homicide
Gators to Face Seminoles with Peters Out
Young Marines Make Tasty Christmas Treats
Enraged Cow Injures Farmer with Ax
Farmer Bill Dies in House
Grandmother of Eight Makes Hole in One
Hirohito's Body Moved
Hospitals are Sued by Seven Foot Doctors
If Strike Isn't Settled Quickly, It May Last A While
Complaints About NHL Referees Growing Ugly
Stolen Painting Found by Tree
Stud Tires Out
Air Head Fired
Women's Movement Called More Broad-Based
Arson Suspect is Held in Massachusetts Fire
Survivor of Siamese Twins Joins Parents
Teacher Strikes Idle Kids
Cold Wave Linked to Temperatures
Men Recommend More Clubs for Wives
A polish man in bar
A polish man is sitting at a bar having a few drinks when he notices a very attractive lady sit down at the other end of the bar and order a drink.
The polish guy calls the bartender over and says "whatever she is is drinking give her another one and tell her it is on me."
The bartender replies "I don't think you want to do that."
"What do you mean?" yells the polish guy, "Send her the drink!"
"O.K." the bartender replies, "but I don't think it is a good idea."
"And why not?" asks the polish guy.
The bartender leans over the bar and very softly says "because she's a lesbian."
"I don't care, send her the drink." says the polish guy.
So after the lady gets her drink the polish guy very casually strolls down to the other end of the bar and sits down next to her and says, "so what part of Lesbia are you from?"
#joke
True Mother-in-Law
Two women came before wise King Solomon, dragging between them a young man in a three-piece suit. "This young lawyer agreed to marry my daughter," said one.
"No! He agreed to marry MY daughter," said the other.
And so they argued before the King until he called for silence.
"Bring me my biggest sword," said Solomon, "and I shall cut the young attorney in half. Each of you shall receive a half.""Sounds good to me," said the first lady.
But the other woman said, "Oh Sire, do not spill innocent blood. Let the other woman's daughter marry him."
The wise king did not hesitate a moment. "The attorney must marry the first lady's daughter," he proclaimed.
"But she was willing to cut him in two!" exclaimed the king's advisor.
"Indeed," said wise King Solomon. "That shows she is the TRUE mother-in-law."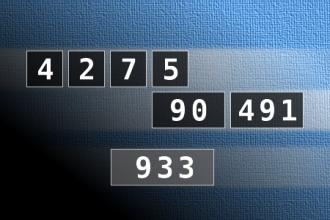 Calculate the number 933
NUMBERMANIA: Calculate the number 933 using numbers [4, 2, 7, 5, 90, 491] and basic arithmetic operations (+, -, *, /). Each of the numbers can be used only once.
Boiled Egg
What did the egg say to the boiling water?
I dont think I can get hard, I just got laid this morning!
Nice cheeks
A married couple was in a terrible accident where the woman's face was severely burned. The doctor told the husband that they couldn't graft any skin from her body because she was too skinny. So the husband offered to donate some of his own skin.
However, the only skin on his body that the doctor felt was suitable would have to come from his buttocks. The husband and wife agreed that they would tell no one about where the skin came from, and requested that the doctor also honor their secret. After all, this was a very delicate matter.
After the surgery was completed, everyone was astounded at the woman's new beauty. She looked more beautiful than she ever had before! All her friends and relatives just went on and on about her youthful beauty!
One day, she was alone with her husband, and she was overcome with emotion at his sacrifice. She said, 'Dear, I just want to thank you for everything you did for me. There is no way I could ever repay you.'
'My darling,' he replied, 'I get all the thanks I need every time I see your mother kiss you on the cheek.