They Say I'm Condescending
People say I'm condescending...
That means I talk down to people.
How was your golf game, dear?
"How was your golf game, dear?" asked Jack's wife.
"Well I was hitting pretty well, but my eyesight's gotten so bad I couldn't see where the ball went."
"Well you're 75 years old now, Jack, why don't you take my brother Scott along?" suggested his wife.
"But he's 85 and doesn't even play golf anymore," protested Jack.
"But he's got perfect eyesight. He could watch your ball," his wife pointed out.
The next day Jack teed off with Scott looking on. Jack swung, and the ball disappeared down the middle of the fairway.
"Do you see it?" asked Jack.
"Yup," Scott answered.
"Well, where is it?" yelled Jack, peering off into the distance.
"I forgot."
#joke
Scavenger hunt...
A woman answered her front door and found Little Johnny and Billy holding a list.
"Lady," Johnny explained, "we are on a scavenger hunt, and we still need three grains of wheat, a pork chop bone and a piece of used carbon paper to earn a dollar."
"Wow," the woman replied. "Who sent you on such a challenging hunt?"
"Our baby-sitter's boyfriend."
#joke
After a Beer Festival in Londo
After a Beer Festival in London, all the brewery presidents decided togo out for a beer.
Corona's president sits down and says, "Señor, I would like theworld's best beer, a Corona." The bartender takes a bottle from theshelf and gives it to him.
Then Budweiser's president says, "I'd like the best beer in the world,give me 'The King Of Beers', a Budweiser." The bartender gives himone.
Coors' president says, "I'd like the best beer in the world, the onlyone made with Rocky Mountain spring water, give me a Coors." He getsit.
The guy from Guinness sits down and says, "Give me a Coke." The otherbrewery presidents look over at him and ask, "Why aren't you drinkinga Guinness?"
The Guinness president replies, "Well, if you guysaren't drinking beer, neither will I."
Moses on His Walkie Talkie
Nine year old Joey was asked by his mother what he had learned at Sunday school.
"Well, Mom, our teacher told us how God sent Moses behind enemy lines on a rescue mission to lead the Israelites out of Egypt.
"When he got to the Red Sea, he had his engineers build a pontoon bridge and all the people walked across safely.
"Then he used his walkie-talkie to radio headquarters for reinforcements. They sent bombers to blow up the bridge and all the Israelites were saved."
"Now, Joey, is that really what your teacher taught you?" his mother asked.
"Well, no. But if I told it the way the teacher did, you'd never believe it!"
#joke
Once there was a man with an e...
Once there was a man with an extremely large penis, but, unfortunately, he also had a terrible stuttering problem, so he could never get a girlfriend. So he went to the doctor one day and said to him that he wanted something done about his stutter. The doctor replied that he would have to take off his penis to relieve him of the stutter. After a while the man agreed and had his penis removed.
After the operation he was a smooth talker, but now he couldn't get laid because he had no penis. So he returned to the doctor and tells him he would like to have his penis back, because he has a better chance of getting laid with a stutter than with no penis.
The doctor replies, "S-s-sorry s-s-sir, b-b-but I c-c-can't d-d-do th-th-that."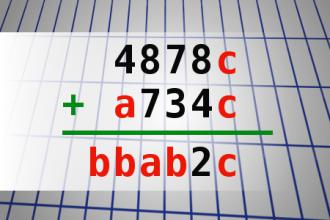 Find number abc
If 4878c + a734c = bbab2c find number abc. Multiple solutions may exist.
The Engineer had just returned
The Engineer had just returned from a week long seminar. His boss, instead of asking about the details, asked if were sick as he looked absolutely terrible.
"Well..." said the Engineer, "I met this blonde and turned out she was an engineer-in-training and wanted me to tutor her. One thing lead to another and we ended up back in her room having wild gorilla sex all night."
"OK," replied the boss, "that may explain your fatigue, but why are your eyes so red?"
"Well..." said the Engineer, "turns out she was married and had a baby at home. She started crying, and I started thinking about my own wife and kids, so I cried too."
"I see," chided the boss, "but that seminar ended Friday. How come you still appear so ragged?"
"Well..." said the Engineer, "you can't sit there and cry 4-5 times a day for four days and not look like this."

For two solid hours, the lady ...
For two solid hours, the lady sitting next to a man on an airplane had told him about her grandchildren. She had even produced a plastic-foldout photo album of all nine of the children.
She finally realized that she had dominated the entire conversation on her grandchildren.
"Oh, I've done all the talking, and I'm so sorry. I know you certainly have something to say. Please, tell me... what do you think of my grandchildren?"
#joke
Did you hear about the new com...
Did you hear about the new computer virus?
It's called the "Lorena Bobbit Virus".
Apparently, it turns your hard drive into a 3 1/2 inch floppy!