Feet count
Marge was in bed with a man. All of a sudden, they heard a noise downstairs. The man said, "Oh, my gosh, your husband is home!!! What am I going to do?"
"Just stay in bed with me. He's probably so drunk he isn't going to notice you here with me."
The fear of getting caught trying to escape was more powerful than the thought of getting caught in bed with Marge, so he trusted her advice.
Marge's husband came crawling into bed and as he pulled the covers over him, he pulled the blankets, exposing six feet.
"Honey!" he yelled. "What is going on? I see six feet at the end of the bed!"
"Dear, youre so drunk, you can't count. If you don't believe me count them again."
The husband got out of bed, and counted, "One, two, three, and four... Gosh, you're right, dear!"
#joke
A helping hand....
A priest is walking down the street one day when he notices a very small boy trying to press a doorbell on a house across the street.
However, the boy is very small and the doorbell is too high for him to reach.
After watching the boys efforts for some time, the priest moves closer to the boy's position.
He steps smartly across the street, walks up behind the little fellow and, placing his hand kindly on the child's shoulder leans over and gives the doorbell a solid ring.
Crouching down to the child's level, the priest smiles benevolently and asks, "And now what, my little man?"
To which the boy replies, "Now we run!"
#joke
So this sardarji is walking th...
So this sardarji is walking the other day and comes across a banana peel on the road.
Can you guess what he might be thinking??
Saala aaj bhi girna padega!!!
Stopped By The Police
John and Jessica were on their way home from the bar one night and John got pulled over by the police. The officer told John that he was stopped because his tail light was burned out. John said, "I'm very sorry officer, I didn't realize it was out, I'll get it fixed right away."
Just then Jessica said, "I knew this would happen when I told you two days ago to get that light fixed."
So the officer asked for John's license and after looking at it said, "Sir your license has expired."
And again John apologized and mentioned that he didn't realize that it had expired and would take care of it first thing in the morning.
Jessica said, "I told you a week ago that the state sent you a letter telling you that your license had expired."
Well by this time, John is a bit upset with his wife contradicting him in front of the officer, and he said in a rather loud voice, "Jessica, shut your mouth!"
The officer then leaned over toward Jessica and asked. "Does your husband always talk to you like that?"
Jessica replied, "only when he's drunk."
#joke
Three old ladies are sitting i...
Three old ladies are sitting in a diner, chatting about various things. One lady says, "You know, I'm getting really forgetful. This morning, I was standing at the top of the stairs, and I couldn't remember whether I had just come up or was about to go down." The second lady says, "You think that's bad? The other day, I was sitting on the edge of my bed, and I couldn't remember whether I was going to bed or had just waken up!" The third lady smiles smugly. "Well, my memory's just as good as it's always been, knock on wood." She raps the table. With a startled look on her face, she asks, "Who's there?!"
#joke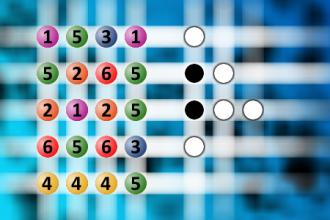 Which is a winning combination of digits?
The computer chose a secret code (sequence of 4 digits from 1 to 6). Your goal is to find that code. Black circles indicate the number of hits on the right spot. White circles indicate the number of hits on the wrong spot.
A Meeting With the Board
After a long, dry sermon, the minister announced that he wished to meet with the church board after the service. The first man to arrive was a stranger.
"You misunderstood my announcement. This is a meeting of the board," said the minister.
"I know," said the man. "If there is anyone here more bored than I am, I'd like to meet him."
#joke
All the good knights were leav
All the good knights were leaving for the Crusades.
One knight told his best friend: "My bride is without doubt one of the most beautiful women in the world. It would be a terrible waste if no man could have her. Therefore, as my best and most trusted friend, I am leaving you the key to her chastity belt to use should I not return from the Crusade."
The company of knights were only a mile or so out of town when they noticed a cloud of dust approaching.
Thinking it might be an important message from the town the column halted.
A horseman approached. It was the knight's best friend.
He yells: "Hey, you gave me the wrong key!!"
#joke