Bob had been shopping downtown
Bob had been shopping downtown all day with his wife and four little children. They were all so tired, he decided to take a taxicab home.
Approaching a cab driver, he demanded, "How much will you charge to drive us to the Bronx?"
"I figure $5 apiece for you and your wife," said the driver. "I'll take the four kids along for nothing."
Bob turned to his children and said, "Jump in kids, and have a nice ride home. Momma and I will take the subway."
#joke
Something That Made You Cry
A literature teacher is explaining the power of poems and stories. "Have you ever read something that made you cry?"
A student replied, "Yeah, my last report card."
The best Norm quotes from "Cheers"!
'What's shaking Norm?'
'All four cheeks & a couple of chins.'
'What's new Normie?'
'Terrorists, Sam. They've taken over my stomach & they're demanding beer.'
'What'd you like Normie?'
'A reason to live. Give me another beer.'
'What'll you have Normie?'
'Well, I'm in a gambling mood Sammy. I'll take a glass of whatever comes out of that tap.'
'Looks like beer, Norm.'
'Call me Mister Lucky.'
'Hey Norm, how's the world been treating you?'
'Like a baby treats a diaper.'
'What's the story Mr. Peterson?'
'The Bobbsey twins go to the brewery. Let's cut to the happy ending.'
'Hey Mr. Peterson, there's a cold one waiting for you.'
'I know; if she calls, I'm not here.'
'Beer, Norm?'
'Have I gotten that predictable? Good.'
'What's going on Mr. Peterson?'
'A flashing sign in my gut that says, 'Insert beer here.''
'Whatcha up to Norm?'
'My ideal weight if I were eleven feet tall.'
'How's it going Mr. Peterson?'
'Poor.'
'I'm sorry to hear that.'
'No, I mean POUR!'
'How's life treating you Norm?'
'Like it caught me sleeping with its wife.'
'Women. Can't live with 'em....pass the beer-nuts.'
'What's going down, Normie?'
'My butt cheeks on that bar stool.'
'Pour you a beer, Mr. Peterson?'
'Alright, but stop me at one....make that one-thirty.'
'How's it going Mr. Peterson?'
'It's a dog eat dog world, Woody & I'm wearing Milk Bone underwear.'
'What's the story Norm?'
'Boy meets beer. Boy drinks beer. Boy meets another beer.'
'What's going on Mr. Peterson?'
'The question is what's going IN, Mr. Peterson?
'A beer please, Woody.'
'Can I pour you a beer Mr. Peterson?'
'A little early isn't it, Woody?'
'For a beer?'
'No. For a stupid question'
A strong young man at a constr
A strong young man at a construction site was bragging that he could out do anyone in a feat of strength. He made a special case of making fun of one of the older workmen. After several minutes, the older worker had enough.
'Why don't you put your money where your mouth is,' he said.
'I will bet a week's wages that I can haul something in a wheelbarrow over to that building that you won't be able to wheel back.
'You're on, old man,' the braggart replied. Let's see you do it.'
The old man reached out and grabbed the wheelbarrow by the handles.
Then, nodding to the young man, he Said,
'All right, Dumb Ass, get in.'
#joke
An Atheist's Holiday
An atheist became incensed over Christmas holiday preparations. He filed a lawsuit about the constant celebrations given to Christians and Jews while atheists had no holiday to celebrate. The case was brought before a judge. After listening to the long, passionate presentation by the atheist's lawyer, the judge banged his gavel and declared, "Case dismissed!"The lawyer immediately stood and objected to the ruling. "Your honor, how can you possibly dismiss this case? The Christians have Christmas, Easter, and many other observances. Jews have Passover, Yom Kippur, and Hanukkah. Yet, my client and all other atheists have no such holiday!"The judge leaned forward in his chair and simply said, "Obviously, your client is too confused to know about, much less celebrate, his own atheist holiday!" The lawyer pompously said, "Your honor, we are unaware of any such holiday for atheists. Just when might that holiday be?" The judge replied, "Well, it comes every year on exactly the same date. Psalm 14:1 states, 'The fool says in his heart, there is no God.' Thus, if your client says there is no God then, according to the Bible, he is a fool. April Fool's Day is his holiday. Now, get out of my courtroom!"-
Joke shared on Beliefnet's Religious Humor page
Bingo sign
How do you get 500 old cows in a barn?
Put up a Bingo sign.
Submitted by Curtis
Edited by Calamjo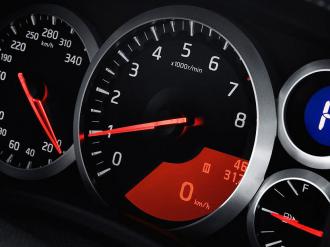 Today my car meter reads as ...
Today my car meter reads as 72927 kms. I notes that this is a palindrome. How many minimum kms I need to travel so my car meter find another palindrome?
A Recently Spotted Bumper Sticker:
"God is coming --
and is SHE pissed!"
Jo Koy: When Monkeys Get Mad
When monkeys get mad, they crap in their hand and they throw it. How cool is that? Whos going to fight a guy with a lump of crap in his hand?
1. "Weather at our destination...
1. "Weather at our destination is 50 degrees with some broken
clouds, but we'll try to have them fixed before we arrive. Thank you, and
remember, nobody loves you, or your money, more than Southwest Airlines."
2. "Your seat cushions can be used for flotation, and, in the
event of an emergency water landing, please paddle to shore and take
them with you with our compliments."
3. "As you exit the plane, make sure to gather all of your
belongings. Anything left behind will be distributed evenly among
the flight attendants. Please do not leave children or spouses."
4. And from the pilot during his welcome message: "Delta airlines
is pleased to have some of the best flight attendants in the
industry. Unfortunately, none of them are on this flight!"
5. Overheard on an American Airlines flight into Amarillo, Texas, on a particularly
windy and bumpy day: During the final approach, the Captain was really having to
fight it. After an extremely hard landing, the Flight Attendant said, "Ladies and Gentlemen, welcome to Amarillo. Please remain in your seats with your seat belts fastened
while the Captain taxis what's left of our airplane to the gate
#joke