A police officer stops a blond
A police officer stops a blonde for speeding and asks her very nicely if he could see her license.
She replied in a huff, "I wish you guys could get your act together. Just yesterday you take away my license and then today you expect me to show it to you."

Silence In the Courtroom
Judge: Silence in court! The next person who laughs again will be thrown out of court.
Accused: Hahahaha
Judge: I wasn't talking to you!
Signs of Aging...
Signs you are getting old:
1. You don't hold in your stomach when someone young and attractive enters the room.
2. You can live with out sex but not without glasses.
3. You are proud of your lawn mower.
4. Your friend is dating someone half his age, but not breaking the law.
5. You can sing along with elevator music.
6. Someone calls your house at 9 pm, and asks, 'Did I wake you up?'
#joke
A week after their marriage, t...
A week after their marriage, the Redneck newlyweds paid a visit to their doctor..." I can't figure it out doc, and I'm really worried," said the husband." My testicles are turning blue."
"That's pretty unusual," said the doctor. "Let me examine you."
The doctor takes a look. Sure enough, the Redneck's testicles are blue. The doctor turns to the wife. "Are you using the diaphragm that Iprescribed?"
"Yes, I am," she replied.
"And what kind of jelly are you using with it?"
"Grape"
Twenty Bucks
A man is walking home late at night when he sees a woman in the shadows.
"Twenty bucks," she says. he'd never been with a hooker before, but he decides what the hell it's only twenty bucks.
They're going at it for a minute when all of a sudden a light flashes on them it's a police officer.
"What's going on here, people?" asks the officer.
"I'm making love to my wife," the man answers indignantly.
"Oh, I'm sorry," says the cop, "I didn't know."
"Well," said the man, "neither did I until you shined that light in her face."
#joke
Chicken or the egg?
Which came first?
The chicken or the egg?
Neither... The rooster came first.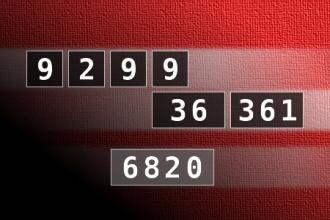 Calculate the number 6820
NUMBERMANIA: Calculate the number 6820 using numbers [9, 2, 9, 9, 36, 361] and basic arithmetic operations (+, -, *, /). Each of the numbers can be used only once.
Going to Las Vegas
A husband comes home to find his wife with her suitcases packed in the living room.
"Where the hell do you think you're going?" he says.
"I'm going to Las Vegas. You can earn $400 for a blow job there, and I figured that I might as well earn money for what I do to you free."
The husband thinks for a moment, goes upstairs, and comes back down, with his suitcase packed as well.
"Where do you think you going?" the wife asks.
"I'm coming with you...I want to see how you survive on $800 a year!!!"
#joke
And the Winner Is
The father of five children had won a toy at a raffle. He called his kids together to ask which one should have the present.
"Who is the most obedient?" he asked. "Who never talks back to mother?
Who does everything she says?"
Five small voices answered in unison.
"Okay, dad, you get the toy."
#joke
A Game Of Animal Football
The animals were bored. Finally, the lion had an idea. "I know a really exciting game that the humans play called football. I've seen it on T.V."
He proceeded to describe it to the rest of the animals and they all got excited about it so they decided to play. They went out to the field and chose up teams and were ready to begin.
The lion's team received. They were able to get two first downs and then had to punt. The mule punted and the rhino was back deep for the kick. He caught the ball, lowered his head and charged. First, he crushed a roadrunner, then two rabbits. He gored a wildebeast, knocked over two cows, and broke through to daylight, scoring six.
Unfortunately, they lacked a placekicker, and the score remained 6 - 0.
Late in the first half the lion's team scored a touchdown and the mule kicked the extra point. The lion's team led at halftime 7 - 6. In the locker room, the lion gave a peptalk.
"Look you guys. We can win this game. We've got the lead and they only have one real threat. We've got to keep the ball away from the rhino, he's a killer. Mule, when you kick off be sure to keep it away from the rhino."
The second half began. Just as the mule was about to kick off, the rhino's team changed formation and the ball went directly to the rhino. Once again, the rhino lowered his head and was off running. First, he stomped two gazelles. He skewered a zebra, and bulldozed an elephant out of the way. It looked like he was home free. Suddenly at the twenty yard line, he dropped over dead. There were no other animals in sight anywhere near him. The lion went over to see what had happened. Right next to the dead rhino he saw a small centipede.
"Did you do this?" he asked the centipede.
"Yeah, I did." the centipede replied.
The lion retorted, "Where were you during the first half?"
"I was putting on my shoes."
#joke