Have a great time for
Christmas
, check out our latest
Christmas jokes of 2022
on:
Christmas jokes collection
Early one evening a man went o
Early one evening a man went out to his garage and pulled the lawn furniture out onto the driveway. Shortly after followed the lawn mower, a few gardening tools and a bicycle.
A curious neighbor wandered over and asked if he was going to have a garage sale.
"No," replied the gentleman, "my son just bought his first car and right now he's getting ready for a big date."
"So what's with all the stuff?" asked the neighbor.
"Well, after years of moving tricycles, toys and sports equipment out of the way every time I came home from work I wanted to make sure the driveway was ready for him."
#joke
Buying An Elephant
Tim: I wish I had the money to buy an elephant.
Tom: What do you want with an elephant?
Tim: Nothing, I just want the money.
Fool in love...
After a quarrel, a wife said to her husband, "You know, I was a fool when I married you."
The husband replied, "Yes, dear, but I was in love and didn't notice it."
A teacher was wrapping up clas
A teacher was wrapping up class, and started talking abouttomorrow's final exam. He said there would be no excuses for notshowing up tomorrow, barring a dire medical condition or animmediate family member's death.
One smart ass, male student said, "What about extreme sexualexhaustion?" and the whole classroom burst into laughter.
After the laughter had subsided, the teacher glared at thestudent, and said, "Not an excuse, you can use your other handto write."
#joke
Wake up call
A man and his wife were having some problems and were giving each other the silent treatment. The next week, the man realized that he'd need his wife to wake him at 5 a.m. for an early flight.
Not wanting to be the first to break the silence, he finally wrote on a piece of paper: "Please wake me at 5 a.m."
The next morning the man woke up, only to discover it was 9 a.m. and he'd missed his flight.
Furious, he was about to go and scream at his wife when he noticed a piece of paper by the bed that said: "It's 5 a.m. Wake up.
#joke
Chuck Norris has an ongoing fe...
Chuck Norris has an ongoing feud with the Keebler elves. It started when they stole his idea for putting a kitchen in a tree. While the elves now make subpar cookies in the tree, Chuck's tree contains a fully functioning crystal meth lab.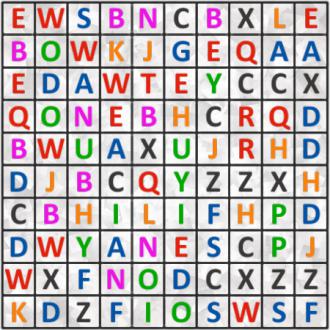 Find a famous person
Find the first and the last name of a famous person. Text may go in all 8 directions. Length of words in solution: 6,4.
Undercover Clergy
A minister, a priest and a rabbi went for a hike one day. It was very hot. They were sweating and exhausted when they came upon a small lake. Since it was fairly secluded, they took off all their clothes and jumped in the water.
Feeling refreshed, the trio decided to pick a few berries while enjoying their "freedom." As they were crossing an open area, who should come along but a group of ladies from town. Unable to get to their clothes in time, the minister and the priest covered their privates and the rabbi covered his face while they ran for cover.After the ladies had left and the men got their clothes back on, the minister and the priest asked the rabbi why he covered his face rather than his privates. The rabbi replied, "I don't know about you, but in MY congregation, it's my face they would recognize."
#joke
Chuck Norris was born a blonde...
Chuck Norris was born a blonde, but the blood of his victims dyed his hair and beard to a healthy orange.
Pun With Monks
Lost on a rainy night, a nun stumbles across a monastery and requests shelter there. Fortunately, she's just in time for dinner and was treated to the best fish and chips she's ever had. After dinner, she goes into the kitchen to thank the chefs. She is met by two brothers, "Hello, I'm Brother Michael, and this is Brother Charles." "I'm very pleased to meet you. I just wanted to thank you for a wonderful dinner. The fish and chips were the best I've ever tasted. Out of curiosity, who cooked what?" Brother Charles replied, "Well, I'm the fish friar." She turns the other brother and says, "Then you must be...?" "Yes, I'm the chip monk."
#joke