World's Worst Caddy
Golfer: "You must be the world's worst caddy!"
Caddy: "No, that would be too much of a coincidence."
A man was sitting in a bar and
A man was sitting in a bar and noticed a group of people using sign language. He also noticed that the bartender was using sign language to speak to them.
When the bartender returned to him, the man asked how he had learned to use sign language. The bartender explained that these were regular customers and had taught him to speak in sign. The man thought that was great.
A few minutes later the man noticed that the people in the group were waving their hands around very wildly. The bartender looked over and signed, "Now cut that out! I warned you!" and threw the group out of the bar.
The man asked why he had done that and the bartender said, "If I told them once I told them 100 times - no singing in the bar!"
#joke
Just like dad...
The bride, upon her engagement, went to her mother and said, "I've found a man just like Dad!"
Her mother replied, "So what you want from me, sympathy?"
A group of previous kindergart
A group of previous kindergartners were trying very hard to become accustomed to the first grade. The biggest hurdle they faced was that the teacher insisted on NO baby talk!
"You need to use 'Big People' words," she was always reminding them. She asked Chris what he had done over the weekend.
"I went to visit my Nana."
"No, you went to visit your GRANDMOTHER. Use 'Big People' words!" She then asked Mitchell what he had done.
"I took a ride on a choo-choo." She said "No, you took a ride on a TRAIN. You must remember to use 'Big People' words." She then asked little Alec what he had done.
"I read a book," he replied.
"That's WONDERFUL!" the teacher said. "What book did you read?"
Alec thought real hard about it, then puffed out his chest with great pride, and said, "Winnie the SH*T."
#joke
The Playground
Little Johnny sees his Daddy's car passing the playground and going into the woods. Curious, he follows the car and sees Daddy and Aunt Jane kissing.
Johnny finds this so exciting and can barely contain himself as he runs home and starts to tell his mother excitedly.
"MOMMY, MOMMY, I WAS AT THE PLAYGROUND AND DADDY AND..."
Mommy tells him to slow down, but that she wants to hear the story.
So Johnny tells her. "I was at the playground and I saw Daddy's car go into the woods with Aunt Jane. I went to look and Daddy was giving Aunt Jane a big kiss, then he helped her take off her shirt, then Aunt Jane helped Daddy take his pants off, then Aunt Jane laid down on the seat, then Daddy..."
At this point, Mommy cut him off and said, "Johnny, this is such an interesting story, suppose you save the rest of it for supper time. I want to see the look on Daddy's face when you tell it tonight."
At the dinner table, Mommy asks Johnny to tell his story. He describes the car into the woods, the undressing, laying down on the seat, and, "then Daddy and Aunt Jane did that same thing Mommy and Uncle Jeff used to do when Daddy was in the Army."    
#joke
Chuck Norris has already been ...
Chuck Norris has already been to Mars. That's why there are no signs of life there.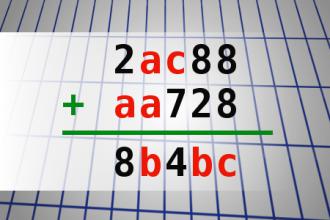 Find number abc
If 2ac88 + aa728 = 8b4bc find number abc. Multiple solutions may exist.
Fat free....
I stopped at a fast-food restaurant recently. I was fascinated by a sign which offered Fat-Free French Fries. I decided to give them a try.
I was dismayed when the clerk pulled a basket of fries from the fryer, which was dripping with fat. He filled a bag with these fries and put them in my order.
"Just a minute!" I said. "Those aren't fat-free."
"Yes, they are. We only charge for the potatoes . . . the fat is free!"
#joke
Rules Kids Won't Learn in School
Rule #1. Life is not fair. Get used to it. The average teenager uses the phrase "it's not fair" 8.6 times a day. You got it from your parents, who said it so often you decided they must be the most idealistic generation ever. When they started hearing it from their own kids, they realized Rule #1.
Rule #2. The real world won't care as much about your self-esteem as your school does. It'll expect you to accomplish something before you feel good about yourself. This may come as a shock. Usually, when inflated self-esteem meets reality, kids complain that it's not fair. (See Rule No. 1)
Rule #3. Sorry, you won't make $50,000 a year right out of high school. And you won't be a vice president or have a car phone either. You may even have to wear a uniform that doesn't have a Gap label.
Rule #4. If you think your teacher is tough, wait 'til you get a boss. He doesn't have tenure, so he tends to be a bit edgier. When you screw up, he is not going ask you how feel about it.
Rule #5. Flipping burgers is not beneath your dignity. Your grandparents had a different word for burger flipping. They called it opportunity. They weren't embarrassed making minimum wage either. They would have been embarrassed to sit around talking about Fifty Cent all weekend.
Rule #6. It's not your parents' fault. If you screw up, you are responsible. This is the flip side of "It's my life," and "You're not the boss of me," and other eloquent proclamations of your generation. When you turn 18, it's on your dime. Don't whine about it or you'll sound like a baby boomer.
Rule #7. Before you were born your parents weren't as boring as they are now. They got that way paying your bills, cleaning up your room and listening to you tell them how idealistic you are. And by the way, before you save the rain forest from the blood-sucking parasites of your parents' generation try delousing the closet in your bedroom.
Rule #8. Life is not divided into semesters, and you don't get summers off. Nor even Easter break. They expect you to show up every day. For eight hours. And you don't get a new life every 10 weeks. It just goes on and on.
Rule #9. Television is not real life. Your life is not a sitcom. Your problems will not all be solved in 30 minutes, minus time for commercials. In real life, people actually have to leave the coffee shop to go to jobs. Your friends will not be perky or as polite as Jennifer Aniston.
Rule #10. Be nice to nerds. You may end up working for them. We all could.
Rule #11. Enjoy this while you can. Sure, parents are a pain, school's a bother, and life is depressing. But someday you'll realize how wonderful it was to be kid. Maybe you should start now.
#joke
Not guilty?
After a two-week criminal trial in a very high profile bank robbery case, the judge turns to the jury foreman and asks, "Has the jury reached a verdict in this case?"
"Yes, we have, your honor," The foreman responded.
"Would you please pass it to me," The judge declared, as he motioned for the bailiff to retrieve the verdict slip from the foreman and deliver it to him.
After the judge reads the verdict himself, he delivers the verdict slip back to his bailiff to be returned to the foreman and instructs the foreman, "Please read your verdict to the court."
"We find the defendant Not Guilty of all four counts of bank robbery." stated the foreman. The family and friends of the defendant jump for joy at the verdict and hug each other as they shout expressions of divine gratitude.
The man's attorney turns to his client and asks, "So, what do you think about that?"
The defendant, with a bewildered look on his face turns to his attorney and says, "I'm real confused here. Does this mean that I have to give all the money back?"
#joke