Yes, I will stab a sw
Yes, I will stab a sweet potato with a plastic pen to impress a lover of Shakespeare. I yam Bic-pen to meet 'er.
Stolen Car
A drunk phoned the police to report that thieves had broken in to his car.
"They've stolen the dashboard, steering wheel, break pedal, even the accelerator," he cried out.

However, before the police investigation could get under way the phone rang a second time, with the same voice came over the line. "Never mind," said the drunk with a hiccup, "I got in the backseat by mistake."
#joke
An elderly, wealthy woman in F
An elderly, wealthy woman in Florida was boring fellow beachcombers as she bragged on and on about her two remarkable grandchildren.
Unable to stand it any longer, a fellow sunbather interrupted her.
"Tell me, how old are your grandsons?"
The grandmother gave a grateful smile and replied, "The doctor is four and the lawyer is six..."

No Kids
A man finished baby-proofing his house and his wife says, "Aw, honey, I thought you said you didn't want to have kids?"
He responds, "I don't. Let's see them get in now."
The lineup...
A young man excitedly tells his mother he's fallen in love and going to get married. He says, "Just for fun, Ma, I'm going to bring over 3 women and you try and guess which one I'm going to marry."
The mother agrees.
The next day, he brings three beautiful women into the house and sits them down on the couch and they chat for a while. He then says, "Okay, Ma, guess which one I'm going to marry."
She immediately replies, "The one in the middle."
"That's amazing, Ma. You're right. How did you know?"
"I don't like her."
#joke
The teacher asked little Johnn
The teacher asked little Johnny if he knows his numbers.
"Yes," he said. "I do. My father taught me."
"Good. What comes after three."
"Four," answers the boy.
"What comes after six?"
"Seven."
"Very good," says the teacher. "Your dad did a good job. What comes after ten?"
"A jack," says lil' Johnny
#joke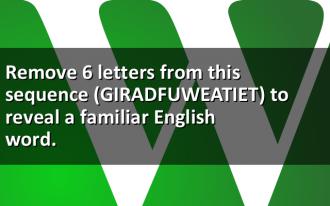 Remove 6 letters from this seq...
Remove 6 letters from this sequence (GIRADFUWEATIET) to reveal a familiar English word.
Chuck Norris can dribble a foo...
Chuck Norris can dribble a football.
Pay for the Food
There was a poor old Irish cobbler whose shop was next door to a very upscale French restaurant.
Every day at lunch time, Mike, the Irish gent, would go out the back of his shop and eat his soda bread and maybe a kipper or piece of Irish blue cheese while smelling the wonderful odors coming from the restaurant's kitchen.
One morning, the Irishman was surprised to receive an invoice in the mail from the adjoining restaurant for "enjoyment of food"
Mystified, he marched right over to the restaurant to point out that he had not bought a thing from them.
The manager said, "You're enjoying our food, so you should pay us for it." The Irishman refused to pay and the restaurant took him to court.
At the hearing, the judge asked the restaurant to present their side of the case. The manager said, "Every day, this man comes and sits outside our kitchen and smells our food while eating his. It is clear that we are providing added value to his poor food and we deserve to be compensated for it."
The judge turned to Mike and said, "What do you have to say to that?" The old Irishman didn't say a thing but smiled and stuck his hand in his pocket and rattled the few coins he had inside.
The judge asked him, "What is the meaning of that?" The Irishman replied with a mile wide grin, – "I'm paying for the smell of his food with the sound of my money."
#joke
Todd Barry: Hearing Aid
Saw a great product advertised -- it was a hearing aid made to look like a Bluetooth headset. Its for people who are embarrassed about wearing a hearing aid but not about wearing a Bluetooth headset.
Truly amazing st...

Truly amazing stuff!

An Anagram, as you know, is a word or phrase made by transposing or rearranging the letters of another word or phrase. The following are exceptionally clever.

Dormitory: &nbsp Dirty Room

Evangelist: &nbsp Evil's Agent

Desperation: &nbsp A Rope Ends It

The Morse Code: &nbsp Here Come Dots

Slot Machines: &nbsp Cash Lost in 'em

Animosity: &nbsp Is No Amity

Mother-in-law: &nbsp Woman Hitler

Snooze Alarms: &nbsp Alas! No More Z's

Alec Guinness: &nbsp Genuine Class

Semolina: &nbsp Is No Meal

The Public Art Galleries: &nbsp Large Picture Halls, I Bet

A Decimal Point: &nbsp I'm a Dot in Place

The Earthquakes: &nbsp That Queer Shake

Eleven plus two: &nbsp Twelve plus one

Contradiction: &nbsp Accord not in it

#joke