Cinderella was sad. She had no...
Cinderella was sad. She had no date to the big ball, and even if she did, she didn't have a dress the wear. Out of nowhere, her fairy godmother appears. The godmother says, "Cinderella, if you want to go to the ball, I can give you a dress, but I cannot give you a date. Do you want to go?"
"Yes, godmother, more than anything!" Cinderella says.
"Well, stand back and let me work" the godmother says.
BOOM!
Cinderella is now in a skimpy skin tight dress.
"Now Cinderella, if you are not home but 3 AM, then your pussy will turn into a pumpkin" the grandmother says. Not hearing what her godmother had said, Cinderella rushed to the ball.
At 3:30 AM the fairy godmother is pacing around the house wondering where Cinderella was. About 3:45 AM, Cinderella walks in with her hair all messed up. "Where have you been!" the godmother yells. "And why isn't your pussy a pumpkin?"
"Oh godmother," Cinderella says."I had the best time of my life. I had sex with this most attractive man".
"Well, that explains where you have been, but why isn't your pussy a pumpkin?" the godmother asks "What was this guys name?"
So Cinderella says, "Um, lets see, um, Oh yeah, his name was Peter Peter, um Oh yeah, Peter Peter Pumpkin Eater"
#joke
Have faith...
A climber fell off a cliff, and as he tumbled down, he caught hold of a small branch wedged in the rock.
"HELP! IS THERE ANYBODY UP THERE?" he shouted.
A majestic voice boomed through the gorge:
"I will help you, my son, but first you must have faith in me."
"Yes, yes, I trust you!" cried the man.
"Let go of the branch," boomed the voice.
There was a long pause, and the man shouted up again, "IS THERE ANYONE ELSE UP THERE I COULD TALK TO?"
#joke
What did the frog order at McD...
What did the frog order at McDonald's?
French flies and a diet Croak
Douglas Smith, Pilton

If you have a joke you would like to share with us e-mail: letters_en@edinburgh news.com


The full article contains 39 words and appears in Edinburgh Evening News newspaper.
Husband: Do you think our son ...
Husband: Do you think our son gets all his brains from me? Wife: Probably. I still have all of mine.
Business One-liners 05
A memorandum is written not to inform the reader, but to protect the writer.
A pat on the back is only a few inches from a kick in the pants.
A pipe gives a wise man time to think and a fool something to put in his mouth.
A penny saved has not been spent.
A penny saved is an economic breakthrough.
A penny saved is ridiculous.
A problem cannot be solved using the same level of thinking that created it. (In other words, if you screw it up, you can't fix it.)
A real person has two reasons for doing anything...a good reason and the real reason.
A short cut is the longest distance between two points.
A short line outside a building becomes a long line inside.
#joke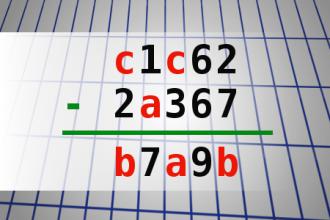 Find number abc
If c1c62 - 2a367 = b7a9b find number abc. Multiple solutions may exist.
Wise Old Man
A wise old gentleman retired and purchased a modest home near a junior high school. He spent the first few weeks of his retirement in peace and contentment. Then a new school year began. The very next afternoon three young boys, full of youthful, after-school enthusiasm, came down his street, beating merrily on every trash can they encountered. The crashing percussion continued day after day, until finally the wise old man decided it was time to take some action.
The next afternoon, he walked out to meet the young percussionists as they banged their way down the street. Stopping them, he said, "You kids are a lot of fun. I like to see you express your exuberance like that. In fact, I used to do the same thing when I was your age. Will you do me a favor? I'll give you each a dollar if you'll promise to come around every day and do your thing."
The kids were elated and continued to do a bang-up job on the trashcans.
After a few days, the old-timer greeted the kids again, but this time he had a sad smile on his face. "This recession's really putting a big dent in my income," he told them. "From now on, I'll only be able to pay you 50 cents to beat on the cans."
The noisemakers were obviously displeased, but they accepted his offer and continued their afternoon ruckus. A few days later, the wily retiree approached them again as they drummed their way down the street.
"Look," he said, "I haven't received my Social Security check yet, so I'm not going to be able to give you more than 25 cents. Will that be okay?"
"A freakin' quarter?" the drum leader exclaimed. "If you think we're going to waste our time, beating these cans around for a quarter, you're nuts! No way, dude. We quit!" And the old man enjoyed peace and serenity for the rest of his days.
#joke
The Conductor
A little ... The Conductor
A little old lady is on a bus, buying a ticket from the bus conductor, fumbling in a voluminous bag for the correct change.  After 15 minutes the conductor becomes so enraged that he hits her on the head with the ticket-dispenser, and the poor old dear dies instantly. Not surprisingly, he is convicted and put on death row.
Just before he is to be electrocuted, his last request is for 12 pounds of bananas, which he devours.
They strap him into the chair, flip the switch, and he just sits there, smiling. According to tradition, this is considered a reprieve from God and he is freed.
Somehow he gets his old job back, and he is happily dispensing tickets when he sees a girl stick her gum on the back of a seat on the bus.  Enraged, he lunges out with the ticket dispenser, breaking the offender's neck and killing her.
Again, he is convicted and sent to death row. He again eats the 12 pounds of bananas, and lo and behold, the electricity does not harm him.
This time the executioner cleans the contacts, makes him sit in a bucket of water, he tries everything but the conductor won't die. So again, he is set free.
Amazingly he regains his job. It takes him 1 day to lose his temper and beat to death a young boy who starts to chew his bus ticket. He returns to death row, eats the bananas, and survives the electrocution.
At this point, the executioner can take no more, his professional pride has been hurt. Before setting our friend free again, he asks him his secret, "what is it with the bananas?"
"Oh, the bananas have nothing to do with it," replies the man. "I'm just a bad conductor."
Some More Funny Jokes
http://jokesfunny.wordpress.com/2007/09/02/funny-fairy-tale-2007/
http://jokesfunny.wordpress.com/2007/09/01/skim-milk/
http://jokesfunny.wordpress.com/2007/09/01/its-gettin-so-you-cant-eat-anything/
#joke
Two eggs please
...
Two eggs please
We went to breakfast at a restaurant where the "seniors' special" was two eggs, bacon, hash browns and toast for $1.99. "Sounds good," my wife said. "But I don't want the eggs."
"Then I'll have to charge you two dollars and forty-nine cents because you're ordering a la carte," the waitress warned her.
"You mean I'd have to pay for not taking the eggs?" My wife asked incredulously. "I'll take the special."
"How do you want your eggs?"
"Raw and in the shell," my wife replied.
She took the two eggs home.
The moral of the story ........... DON'T MESS WITH SENIORS
#joke
q: What do you get when you c...
q: What do you get when you cross an impressionist painter with a New York City cab driver?
A: You get Vincent Van Go Fuck Yourself.
Ganesh and the Lotto
Bholaji finds himself in dire trouble. His business has gone bust and he's in serious financial trouble. He's so desperate that he decides to ask Ganesh for help. He goes into the temple and begins to pray.
"Oh Ganesh, please help me, I've lost my business and if I don't get some money, I'm going to lose my house as well. Please let me win the lottery."
Lotto night comes and somebody else wins it. Bholaji goes back to the temple. "Ganesh please let me win the lotto. I've lost my business, my house and I'm going to lose my car as well."Lotto night comes and Bholaji still has no luck. Back to the temple he goes. "My Ganesh, why have you forsaken me? I've lost my business, my house, my car and my wife and children are starving. I don't often ask you for help and I have always been a good servant to you. Why won't you just let me win the lotto this one time so I can get my life back in order?"
Suddenly there is a blinding flash of light as the sky parts open and Bholaji is confronted by the voice of God: "Bholaji, buy a lottery ticket first."
#joke
Ten reas...
Ten reasons why alcohol should be served at work:
1 It's an incentive to show up.
2 It encourages car sharing.
3 Increases job satisfaction because you don't care.
4 It makes fellow employees look better.
5 It makes the canteen food taste a lot better.
6 It reduces stress.
7 Salary negotiations are a lot more profitable.
8 You tell management what you think, not what they want to hear.
9 Burping during meetings isn't so embarrassing.
10 Bosses are more likely to hand out raises.
#joke
A guy got on a bus one day and...
A guy got on a bus one day and sat in the aisle seat beside an elderly lady. A few minutes later, he couldn't control himself and had to let loose a big noisy fart.
Embarrassed, he tried to make conversation with the lady and asked her "Do you by any chance have today's paper"?
The lady looked at him and said "No, but the next time we pass by a tree I'll grab you a handful of leaves."
#joke
All Categories
Q: How many Manchester City fans does it take to change a lightbulb?
A: None - they're quite happy living in the shadows.