Yo momma is so stupid she went...
Yo momma is so stupid she went to the Clippers game for a haircut.
Your Drivers License Tells It All
A mother is driving a little girl to her friend's house for a play date.
There was once a man who lived...
There was once a man who lived in a poor country. He went to law school and became a very intelligent person. Years later, he decided to go back to his country to show them how worthy he is. He started his own office. The next day, he saw a man walking into his office. He picked up the phone and gestered the man to come in and pretended he was talking to very famous people and cancelling meetings with presidents, etc. After he put down the phone several minutes later, he apologized to the man and said, "Sorry to keep you waiting. As you can see, I'm a very busy man. What can I do for you?" The man smiled and said, "I'm from the telephone company. I'm here to hook up you phone."
#joke
Belly Buttons Explained
Q: How do babies get their belly buttons?
A: When God finishes making little babies, He lines them all up in a row. Then he walks along in front of them. He pokes each one in the tummy with His finger and says, "You're done…you're done…you're done…"
#joke
Wife: Oh, come on.

Hu...
Wife: Oh, come on.
Husband: Leave me alone!
Wife: It won't take long.
Husband: I won't be able to sleep afterwards.
Wife: I can't sleep without it.
Husband: Why do you think of things like this in the middle of the night?
Wife: Because I'm Hot.
Husband: You get hot at the darnest times.
Wife: If you love me I wouldn't have to beg you.
Husband: If you love me you'd be more considerate.
Wife: You don't love me anymore.
Husband: Yes I do, but let's forget it for tonight.
Wife: (Sob-Sob)
Husband: All right, I'll do it.
Wife: What's the matter? Need a flashlight?
Husband: I can't find it.
Wife: Oh, for heaven's sake, feel for it!
Husband: There! Are you satisfied?
Wife: Oh, yes, honey.
Husband: Is it down far enough?
Wife: Oh, that's fine.
Husband: Now go to sleep. The next time, it's your turn to get up and turn the thermostat down.
Wife: Yes, honey.
#joke
Answering Machine Message 139

If this were the best of all possible worlds, I could come to the phone right now, but I can't, so if you could leave your name and number...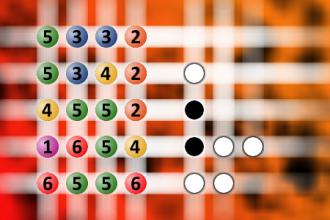 Find the right combination
The computer chose a secret code (sequence of 4 digits from 1 to 6). Your goal is to find that code. Black circles indicate the number of hits on the right spot. White circles indicate the number of hits on the wrong spot.
A stage....
During a performance for the high school talent show at the local theater, a hole was cracked in the stage floor. Subsequent acts managed to avoid the damaged area until little Freddy, juggling bowling pins, accidentally stepped through the hole up to his knee.
He apologized to the audience for his clumsiness. But a heckler in the back of the theater shouted:
"Don't worry, Freddy! It's just a stage you're going through!"
#joke
Teacher: If you found a bill w...
Teacher: If you found a bill worth a hundred, would you keep it? Pupil: No, sir. Teacher: Good, what would you do with it? Pupil: Sir, IÂ'll spend it.
Senior Birth Control
An elderly woman went into the doctor`s office. When the
doctor asked why she was there, she replied, "I`d like to
have some birth-control pills."
Taken back, the doctor thought for a minute and then said,
"Excuse me, Mrs. Smith, but you`re 72 years old. What
possible use could you have for birth control pills?"
The woman responded, "They help me sleep better."
The doctor thought some more and continued, "How in the
world do birth control pills help you to sleep?"
The woman said, "Simple, I put them in my granddaughter`s
orange juice every morning and I sleep better at night."
Zip, Dick and Pea
There were three boys in a classroom: one named Zip, one named Dick, and one named Pea. Their teacher leaves the room for a moment, so Zip gets on top of the cupboard, Dick goes inside the cupboard, and Pee jumps around outside.
The teacher returns and yells, Zip down, Dick out, and Pea in the corner!
#joke
My kids love going to the Web,...
My kids love going to the Web, and they keep track of their passwords by writing them on Post-it notes.

I noticed their Disney password was "MickeyMinnieGoofyPluto," and asked why it was so long.

"Because," my son explained, "they say it has to have at least four characters."