A sad-faced Doug walked into a...
A sad-faced Doug walked into a flower shop early one morning.
The clerk was ready to take his order for a funeral piece, based on the look on Doug's face, but soon realized his assumption was wrong as Doug asked for a basket of flowers sent to his wife for their anniversary.
"And what day will that be?" the clerk asked.
Glumly he replied, "Yesterday".
#joke
Q: If you're ...
Q: If you're French in the kitchen and German in the living room what are you in the restroom?


A: European.
Genuine Complaint to Edinburgh Police
Dear Sir/madam/automated telephone answering service
Two dumb fishermen decided to ...
Two dumb fishermen decided to rent a boat on a lake. After fishing for hours at various spots and catching nothing, they decided to try one more time before calling it quits. Suddenly, fish started biting and they caught their limit inside of 20 minutes.
"Hey, we should mark this spot so next time we'll know where to fish," the first man told his buddy.
"Good idea," the second man replied, taking out a can of spray paint and making a large X on the floor of the boat.
"Why'd you do that?" his friend asked.
"Now anyone who rents this boat will know where to fish."
#joke
Just Checking
A 5-year-old said grace at a family dinner one night. "Dear God, thank you for these pancakes."
When he concluded, his parents asked him why he thanked God for pancakes when they were having chicken.
He smiled and said, "I thought I'd see if he was paying attention tonight."

#joke
There is a man who has three g...
There is a man who has three girlfriends, but he does not know which one to marry. So he decides to give each one $5000 and see how each of them spends it. The first one goes out and gets a total makeover with the money. She gets new clothes, a new hairdo, manicure, pedicure, the works, and tells the man, "I spent the money so I could look pretty for you because I love you so much."
The second one went out and bought new golf clubs, a CD player, a television, and a stereo and gives them to the man. She says, "I bought these gifts for you with the money because I love you so much."
The third one takes the $5000 and invests it in the stock market, doubles her investment, returns the $5000 to the man and reinvests the rest. She says, "I am investing the rest of the money for our future because I love you so much."
The man thought long and hard about how each of the women spent the money, and decided to marry the one with the biggest tits.
#joke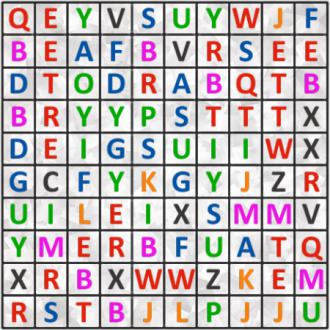 Find a famous person
Find the first and the last name of a famous person. Text may go in all 8 directions. Length of words in solution: 8,6.
Tourist in a small country vil...
Tourist in a small country village: This is a nice town. What's the age of your oldest inhabitant? Villager: We haven't got one now. He died only last week.
Circle of flies....
A farmer got pulled over by a state trooper for speeding, and the trooper started to lecture the farmer about his speed, and in general began to throw his weight around to try to make the farmer uncomfortable. Finally, the trooper got around to writing out the ticket, and as he was doing that he kept swatting at some flies that were buzzing around his head.
The farmer said, 'Having some problems with circle flies there, are ya?' The trooper stopped writing the ticket and said, 'Well yeah, if that's what they are, but I never heard of circle flies.'
So the farmer says, 'Well, circle flies are common on farms. See, they're called circle flies because they're almost always found circling around the back end of a horse.'
The trooper says, 'Oh,' and goes back to writing the ticket. Then after a minute he stops and says, 'Hey...wait a minute, are you trying to call me a horse's ass?'
The farmer says, 'Oh no, officer. I have too much respect for law enforcement and police officers to even think about calling you a horse's ass.'
The trooper says, 'Well, that's a good thing,' and goes back to writing the ticket.
After a long pause, the farmer says, 'Hard to fool them flies though...'
#joke
The Top Twenty Flight Advertising Slogans
1. BadAir: When you just can't wait for the world to come to you.
2. BadAir: We're Amtrak with wings.
3. Join our frequent near-miss program.
4. On flights, every section is a smoking section.
5. Ask about our out-of-court settlements.
6. Our staff has had lots of experience counseling next-of-kin.
7. Are our jet engines too noisy? Don't worry. We'll turn them off.
8. Complimentary champagne during free-fall.
9. Enjoy the in-flight movie in the plane next to you.
10. The kids will love our inflatable slides.
11. If you think it's so easy, get your own plane!
12. Which will fall faster, our stock price or our planes?
13. Our pilots are all terminally ill and have nothing to lose.
14. BadAir: We may be landing on your street.
15. BadAir: Terrorists are afraid to fly with us.
16. Bring a bathing suit.
17. Some airlines are content to fly thousands of feet over landmarks. We try to get as close as possible for the best view.
18. That guy who crashed into the White House was one of our best pilots.
19. Fly BadAir and enjoy a free two-week hospital stay on us.
20. BadAir: A real man lands where he wants to.
#joke
up, comedians, funny videos, d...
up, comedians, funny videos, dane cook, mike birbiglia, eugene mirman, demetri martin, jeff dunham, katt williams, daily joke, joke of the day, funny jokes, yo mama, jokes, redneck, blond, george bush, bush, lawyer, favorite, list, animal, college, dumb