what did the secend hand said ...
what did the secend hand said to the minet hand I think im lost because I am going in circul
Yo momma so skinny she inspire...
Yo momma so skinny she inspires crackwhores to diet.
Credit Card
Be sure and cancel your credit cards before you die. This is so priceless, and so, so easy to see happening, customer service being what it is today.
While taking a routine vandali...
While taking a routine vandalism report at an elementary school, I was approached by a little girl about six years old. Looking up and down at my uniform, she asked, "Are you a policeman?"
"Yes," I answered and continued writing the report.
"My mother said if I ever needed help I should ask the police. Is that right??"
"Yes, that's right," I told her.
"Well, then," she said as she extended her foot toward me, "would you please tie my shoe??"
Not tonight, Adam
After a few days, the Lord called to Adam and said, "It is time for you and Eve to begin the process of populating the earth, so I want you to kiss her."
Adam answered, "Yes, Lord, but what is a 'kiss'?"
The Lord gave a brief description to Adam, who then took Eve by the hand and led her to a nearby bush.
A few minutes later, Adam emerged and said, "Thank you, Lord. That was enjoyable."
And the Lord replied, "Yes, Adam, I thought you might enjoy that. Now I'd like you to caress Eve."
And Adam said, "What is 'caress'?"
So the Lord again gave Adam a brief description and Adam went behind the bush with Eve.
Quite a few minutes later, Adam returned, smiling, and said, "Lord, that was even better than the kiss!"
And the Lord said, "You've done well, Adam. Now I want you to make love to Eve."
And Adam asked, "What is 'make love' Lord?"
So the Lord again gave Adam directions and Adam went again to Eve behind the bush, but this time he reappeared in two seconds.
And Adam said, "Lord, what is a 'headache'?"
#joke
Corollaries to Murphy's Law...
Corollaries to Murphy's Law
Nothing is as easy as it looks.
Everything takes longer than you think.
Whenever you set out to do something, something else must be done first.
If there is a possibility of several things going wrong, the one that will cause the most severe damage will be the one to go wrong.
Every solution breeds new problems.
It is impossible to make anything foolproof because fools are so ingenious.
#joke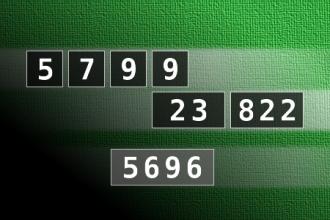 Calculate the number 5696
NUMBERMANIA: Calculate the number 5696 using numbers [5, 7, 9, 9, 23, 822] and basic arithmetic operations (+, -, *, /). Each of the numbers can be used only once.
Kids Thoughts on Marriage
...
Kids Thoughts on Marriage
HOW DO YOU DECIDE WHO TO MARRY? (written by kids)
You got to find somebody who likes the same stuff. Like, if you like sports, she should like it that you like sports, and she should keep the chips and dip coming.
-- Alan, age 10
No person really decides before they grow up who they're going to marry. God decides it all way before, and you get to find out later who you're stuck with.
-- Kristen, age 10
WHAT IS THE RIGHT AGE TO GET MARRIED?
Twenty-three is the best age because you know the person FOREVER by then.
-- Camille, age 10
HOW CAN A STRANGER TELL IF TWO PEOPLE ARE MARRIED?
You might have to guess, based on whether they seem to be yelling at the same kids.
-- Derrick, age 8
WHAT DO YOU THINK YOUR MOM AND DAD HAVE IN COMMON?
Both don't want any more kids.
-- Lori, age 8
WHAT DO MOST PEOPLE DO ON A DATE?
Dates are for having fun, and people should use them to get to know each other. Even boys have something to say if you listen long enough.
-- Lynnette, age 8
On the first date, they just tell each other lies and that Usually gets them interested enough to go for a second date.
-- Martin, age 10
WHAT WOULD YOU DO ON A FIRST DATE THAT WAS TURNING SOUR?
I'd run home and play dead. The next day I would call all the newspapers and make sure they wrote about me in all the dead columns.
-- Craig, age 9
WHEN IS IT OKAY TO KISS SOMEONE?
When they're rich.
-- Pam, age 7
The law says you have to be eighteen, so I wouldn't want to mess with that.
-- Curt, age 7
The rule goes like this: If you kiss someone, then you should marry them and have kids with them. It's the right thing to do.
-- Howard, age 8
IS IT BETTER TO BE SINGLE OR MARRIED?
It's better for girls to be single but not for boys. Boys need someone to clean up after them.
-- Anita, age 9
HOW WOULD THE WORLD BE DIFFERENT IF PEOPLE DIDN'T GET MARRIED?
There sure would be a lot of kids to explain, wouldn't there?
-- Kelvin, age 8
And the #1 Favorite is........
HOW WOULD YOU MAKE A MARRIAGE WORK?
Tell your wife that she looks pretty, even if she looks like a truck.
-- Ricky, age 10
#joke
The kitchen in our house is so...
The kitchen in our house is so small, we can only use condensed milk.
Misunderstood People
1. They speak only the Greek language.
2. They usually have long threatening names such as Bonferonni, Tchebycheff, Schatzoff, Hotelling, and Godambe. Where are the statisticians with names such as Smith, Brown, or Johnson?
3. They are fond of all snakes and typically own as a pet a large South American snake called an ANOCOVA.
4. For perverse reasons, rather than view a matrix right side up they prefer to invert it.
5. Rather than moonlighting by holding Amway parties they earn a few extra bucks by holding pocket-protector parties.
6. They are frequently seen in their back yards on clear nights gazing through powerful amateur telescopes looking for distant star constellations called ANOVA's.
7. They are 99% confident that sleep can not be induced in an introductory statistics class by lecturing on z-scores.
8. Their idea of a scenic and exotic trip is traveling three standard deviations above the mean in a normal distribution.
9. They manifest many psychological disorders because as young statisticians many of their statistical hypotheses were rejected.
10. They express a deap-seated fear that society will someday construct tests that will enable everyone to make the same score. Without variation or individual differences the field of statistics has no real function and a statistician becomes a penniless ward of the state.
#joke
Top 10 Signs You Are Too Old to Be Trick or Treating
10. You get winded from knocking on the door.
9. You have to have another kid chew the candy for you.
8. You ask for high fiber candy only.
7. When someone drops a candy bar in your bag, you lose your balance and fall over.
6. People say, 'Great Keith Richards mask!' and you're not wearing a mask.
5. When the door opens you yell, 'Trick or...' and can't remember the rest.
4. By the end of the night, you have a bag full of restraining orders.
3. You have to carefully choose a costume that won't dislodge your hairpiece.
2. You're the only Power Ranger in the neighborhood with a walker.
1. You avoid going to houses where your ex-wives live.
#joke
Two cows are standing around w...
Two cows are standing around when one cow says to the other: "So what do you think about this mad cow disease?" The other replies, "What do I care, I'm a hellicopter!"

Surprise
One evening, as Uncle John and his wife are entertaining guests with cocktails, they are interrupted by an out-of breath little Johnny who shouts out, "Uncle John! Come quick! The bull is fucking the cow!" Uncle John, highly embarrassed, takes young little Johnny aside and explains that a certain decorum is required. "You should have said, 'The bull is surprising the cow'- not some filth you picked up in the City," he says. A few days later, little Johnny comes again as his uncle and aunt are entertaining. "Uncle John! The bull is surprising the cows!" The adults share a knowing grin. Uncle John says, "Thank you little Johnny, but surely you meant to say the cow, not COWS. A bull cannot 'surprise' more than one cow at a time you know." "Yes he can!" replies his obstinate nephew, "He's fucking the horse!"
#joke
up, comedians, funny videos, d...
up, comedians, funny videos, dane cook, mike birbiglia, eugene mirman, demetri martin, jeff dunham, katt williams, daily joke, joke of the day, funny jokes, yo mama, jokes, redneck, blond, george bush, bush, lawyer, favorite, list, animal, college, dumb
Join us on WhatsApp