Happy New Year 2021!!
Good Bye Daddy
A father put his 3 year old daughter to bed, told her a story and listened to her prayers which ended by saying: 'God bless Mommy, God bless Daddy, God bless Grandma and goodbye Grandpa.' The father asked, 'Why did you say goodbye Grandpa?' The
Son : Mom, when I was on the b...
Son : Mom, when I was on the bus with Dad this morning, he told me to give up my seat to a lady.

Mom : Well, you have done the right thing.

Son : But Mom, I was sitting on Daddy's lap!
Doctor....
One day an old lady walked into the doctor's office and was shown into a room. When the doctor came in and asked what the problem was, she answered, "I have awful gas, but it doesn't bother me. You see, it's completely silent and doesn't smell at all."
The doctor, after examining her thoroughly, gave her some pills and told her to take one everyday and come back in a week. The lady returned, and when the doctor asked if her problem was any better she replied, "Well I don't know what you gave me, but now my gas smells terrible!"
The doctor replied, "Well, now that we've got your sinuses cleared up let's work on your hearing!"
Alaska Crazy Law
Alaska's More Important Laws
In Fairbanks it is considered an offense to feed alcoholic beverages to a moose.
While it is legal to shoot bears, waking a sleeping bear for the purpose of taking a photograph is prohibited.
It is considered an offense to push a live moose out of a moving airplane.
It is the state policy that emergencies are held to a minimum and are rarely found to exist.-Sec. 44.62.270. State policy.
Moose may not be viewed from an airplane.
#joke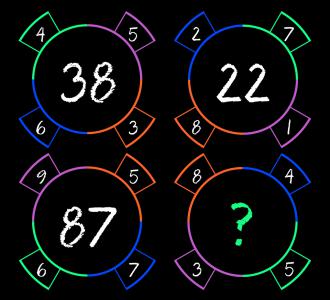 MATH PUZZLE: Can you replace...
MATH PUZZLE: Can you replace the question mark with a number?
Set It Free
If you love something, set it free. If it comes back, it was, and always will be yours. If it never returns, it was never yours to begin with. If it just sits in your room, messes up your stuff, eats your food, uses your phone, takes your money, and never behaves as if you actually set it free in the first place, you either married it or gave birth to it.
#joke
How many bass players does it ...
How many bass players does it take to change a lightbulb?
Just one, but the guitarist has to show him what to do

My kids love going to the Web,...
My kids love going to the Web, and they keep track of their passwords by writing them on Post-it notes.

I noticed their Disney password was "MickeyMinnieGoofyPluto," and asked why it was so long.

"Because," my son explained, "they say it has to have at least four characters."

A hurricane came unexpectedly....
A hurricane came unexpectedly. The ship went down and was lost. The man found himself swept up on the shore of an island with no other people, no supplies, nothing. Only bananas and coconuts. Used to 5 star hotels, this guy had no idea what to do.
So for the next four months he ate bananas, drank coconut juice, longed for his old life and fixed his gaze on the sea, hoping to spot a rescue ship.
One day, as he was lying on the beach, he spotted movement out of the corner of his eye. It was a rowboat, and in it was the most gorgeous woman he had ever seen. She rowed up to him. In disbelief, he asked her, "Where did you come from? How did you get here?"
"I rowed from the other side of the island," she said. "I landed here when my cruise ship sank."
"Amazing," he said. "I didn't know anyone else had survived. How many are there? You were lucky to have a rowboat wash up with you."
"It's only me," she said, "And the rowboat didn't wash up; nothing did."
He was confused. "Then how did you get the rowboat?"
"Oh simple," replied the woman. "I made the rowboat out of the material that I found on the island. The oars were whittled from Gum tree branches. I wove the bottom from he palm branches and the sides and stern came from a Eucalyptus tree."
"B-B-But that's impossible," stuttered the man. "You had no tools or hardware. How did you manage?"
"Oh, that was no problem," replied the woman. "On the other side of the island there is a very unusual stratum of alluvial rock exposed. I found that if I fired it to a certain temperature in my kiln, it melted into a forgeable ductile iron. I used that for tools, and used the tools to make the hardware." But enough of that," she said. "Where do you live?"
Sheepishly, he confessed that he had been sleeping on the beach the whole time. "Well, let's row over to my place then," she said.
After a few minutes of rowing, she docked the boat at a small wharf. As the man looked to the shore, he nearly fell out of the boat. Before him was a stone walk leading to an exquisite bungalow painted in blue and white. While the woman tied up the rowboat with an expertly woven hemp rope, the man could only stare ahead, dumbstruck.
As they walked into the house, she said casually, "It's not much, but I call it home.
#joke
Fear of Flying
There was a religious woman who had to do a lot of traveling for her business. Flying made her very nervous, so she always took her Bible along with her.
One time, she was sitting next to a man. When he saw her pull out her Bible, he gave a little chuckle and smirk and went back to what he was doing.
After awhile, he turned to her and asked, "You don't really believe all that stuff in there do you?"
The woman replied, "Of course I do. It is the Bible."
He said, "Well, what about that guy that was swallowed by that whale?"
She replied, "Oh, Jonah. Yes, I believe that, it is in the Bible."
He asked, "Well, how do you suppose he survived all that time inside the whale?"
The woman said, "Well, I don't really know. I guess when I get to heaven, I will ask him."
"What if he isn't in heaven?" the man asked sarcastically.
"Then you can ask him," replied the woman.
#joke
What she Really Means...
What she Really Means
I need = I want
We need = I want
It's your decision = The correct decision should be obvious by now
Do whatever you want = You are going to pay for this later
We need to talk = I need to complain
Sure...go ahead = I don't want you to
I'm not upset = Of course I'm upset, you moron!
You're so manly = You need a shave and you sweat a lot
You're certainly attentive tonight = Is sex all you ever think about?
I'm not emotional! And I'm not overreacting! = I have a severe case of PMS
Be romantic, turn out the lights = I have flabby thighs
This kitchen is so inconvenient = I want a new house
I want new curtains = I want new curtains, new carpeting, new furniture, new wallpaper...
I need new shoes = the other 40 pairs are simply the wrong shade
I heard a noise = I noticed you were almost asleep
Do you love me? = I'm going to ask for something expensive
How much do you love me? = I did something today you're really going to hate
I'll be ready in a minute = Kick off your shoes and find a good game on T.V.
Is my butt fat? = Tell me I'm beautiful
You have to learn to communicate = Just agree with me
Are you listening to me? = Too late, you're dead
Yes = No
No = No
Maybe = No
I'm sorry = You'll be sorry
I was wrong = Not as wrong as you
Do you like this recipe? = It's easy to fix, so you'd better get used to it
Was that the baby? = Why don't you get out of bed and walk him until he goes to sleep
I'm not yelling! = Of course I'm yelling, this is important!
#joke
Obviously inebriated?
A Highway Patrolman waited outside a popular bar, hoping for a bust.
At closing time everyone come out and he spotted his potential quarry. The man was so obviously inebriated that he could barely walk. He stumbled around the parking lot for a few minutes, looking for his car.
After trying his keys on five other cars, he finally found his own vehicle. He sat in the car a good ten minutes, as the other patrons left. He turned his lights on, then off, wipers on, then off. He started to pull forward into the grass, then stopped.
Finally, when he was the last car, he pulled out onto the road and started to drive away.
The patrolman, waiting for this, turned on his lights and pulled the man over. He administered the breathalyzer test, and to his great surprise, the man blew a 0.00.
The patrolman was dumbfounded. "This equipment must be broken!" he exclaimed.
"I doubt it," said the man, "Tonight I am the designated decoy!"
#joke
Eagles and Weasels
Eagles may soar but weasels don't get sucked into jet engines.
Astrology
I don't believe in astrology...
I'm a Sagittarian and we're
skeptical.
- Charles Schultz
You Might Be A Redneck If 10
You might be a redneck if...
You've ever shot a deer from inside your house.
The first words out of your mouth every time you see friends are "Howdy!", "HEY!" or "How Y'all Doin'?" (If they respond with the same... they're a redneck too!)
You have more than two brothers named Bubba or Junior.
You've ever stolen toilet paper from a public restroom.
You clean your nails with a stick.
You prefer car keys to Q-tips.
Your Christmas cards have a copy of your butt included.
People are scared to touch your wife's bathrobe.
Your father encourages you to quit school because Larry has an opening on the lube rack.
You think a Volvo is part of a woman's anatomy.