Q: What do you get if you enro...
Q: What do you get if you enroll in a liberal arts program and the only subject you do well in is music?
A: A natural major.
Something to Ponder
I was riding to work yesterday when I observed a female driver cut right in front of a pickup truck causing him to have to drive on to the shoulder. This evidently ****ed the driver off enough that he hung his head out his window and flipped the woman off.
The True Origin of the Internet
In ancient Israel, it came to pass that a trader by the name of Abraham Com did take unto himself a young wife by the name of Dot.
And Dot Com was a comely woman, broad of shoulder and long of leg. Indeed, she had been called 'Amazon Dot Com.'
And she said unto Abraham, her husband, "Why doth thou travel far from town to town with thy goods when thou can trade without ever leaving thy tent?"
And Abraham did look at her as though she were several saddle bags short of a camel load, but simply said, "How, dear?"And Dot replied, "I will place drums in all the towns and drums in between to send messages saying what you have for sale and they will reply telling you which hath the best price. And the sale can be made on the drums and delivery made by Uriah's Pony Stable (UPS)."
Abraham thought long and decided he would let Dot have her way with the drums. And the drums rang out and were an immediate success. Abraham sold all the goods he had at the top price, without ever moving from his tent.
But this success did arouse envy. A man named Maccabia did secrete himself inside Abraham's drum and was accused of insider trading. And the young man did take to Dot Com's trading as doth the greedy horsefly take to camel dung. They were called Nomadic Ecclesiastical Rich Dominican Siderites, or NERDS for short.
And lo, the land was so feverish with joy at the new riches and the deafening sound of drums that no one noticed that the real riches were going to the drum maker, one Brother William of Gates, who bought up every drum company in the land. And indeed did insist on making drums that would work only with Brother Gates' drumheads and drumsticks.
And Dot did say, "Oh, Abraham, what we have started is being taken over by others."
And as Abraham looked out over the Bay of Ezekiel, or as it came to be known "eBay" he said, "We need a name that reflects what we are."
And Dot replied, "Young Ambitious Hebrew Owner Operators."
"YAHOO," said Abraham.
And that is how it all began. It wasn't Al Gore after all.
#joke
Stupid Statements famous peopl...
Stupid Statements famous people made
"Whenever I watch TV and see those poor starving kids all over the world, I can't help but cry. I mean I'd love to be skinny like that, but not with all those flies and death and stuff." --Mariah Carey
"Smoking kills. If you're killed, you've lost a very important part of your life," --Brooke Shields, during an interview to become Spokesperson for federal anti-smoking campaign.
"I've never had major knee surgery on any other part of my body," --Winston Bennett, University of Kentucky basketball forward.
"Outside of the killings, Washington has one of the lowest crime rates in the country," --Mayor Marion Barry, Washington, DC.
"I'm not going to have some reporters pawing through our papers. We are the president." --Hillary Clinton commenting on the release of subpoenaed documents.
"Half this game is ninety percent mental." --Philadelphia Phillies manager, Danny Ozark
"It isn't pollution that's harming the environment. It's the impurities in our air and water that are doing it." --Al Gore, Vice President
"I love California. I practically grew up in Phoenix." --Dan Quayle
"If we don't succeed, we run the risk of failure." --Bill Clinton, President
"We are ready for an unforeseen event that may or may not occur." --Al Gore, VP
"Traditionally, most of Australia's imports come from overseas." --Keppel Enderbery
"Your food stamps will be stopped effective March 1992 because we received notice that you passed away. May God bless you. You may reapply if there is a change in your circumstances." --Department of Social Services, Greenville, South Carolina
#joke
The senility prayer...
God grant me the senility to forget the people I never liked anyway, the good fortune to run into the ones I do, and the eyesight to tell the difference...
Now that I am older, here's what I have discovered:
1. I started out with nothing, and I still have most of it.
2. My wild oats have turned into prunes and All Bran.
3. I finally got my head together, now my body is falling apart.
4. Funny, I don't remember being absent-minded...
5. All reports are in; life is now officially unfair.
6. If all is not lost, where is it?
7. It is easier to get older than it is to get wiser.
8. Some days you're the dog; some days you're the hydrant.
9. I wish the buck stopped here; I sure could use a few.
10. Kids in the back seat cause accidents.
11. Accidents in the back seat - cause kids.
12. It's hard to make a comeback when you haven't been anywhere.
13. Only time the world beats a path to your door is when you're in the bathroom.
14. If God wanted me to touch my toes, he would have put them on my knees.
15. When I'm finally holding all the cards, why does everyone decide to play chess?
16. It's not hard to meet expenses... they're everywhere.
17. The only difference between a rut and a grave is the depth.
18. These days I spend a lot of time thinking about the hereafter.... I go somewhere to get something, and then wonder what I'm here after.... (That's an oldie!)
#joke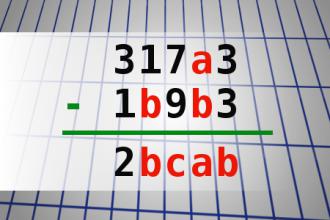 Find number abc
If 317a3 - 1b9b3 = 2bcab find number abc. Multiple solutions may exist.
Term Dictionary
Parent's Dictionary of Meanings
DUMBWAITER: one who asks if the kids would care to order dessert.
FEEDBACK: the inevitable result when the baby doesn't appreciate the strained carrots.
FULL NAME: what you call your child when you're mad at him.
GRANDPARENTS: the people who think your children are wonderful even though they're sure you're not raising them right.
HEARSAY: what toddlers do when anyone mutters a dirty word.
INDEPENDENT: how we want our children to be as long as they do everything we say.
OW: the first word spoken by children with older siblings
PUDDLE: a small body of water that draws other small bodies wearing dry shoes into it.
SHOW OFF: a child who is more talented than yours.
STERILIZE: what you do to your first baby's pacifier by boiling it, and to your last baby's pacifier by blowing on it and wiping it with saliva.
TOP BUNK: where you should never put a child wearing Superman jammies.
TWO-MINUTE WARNING: when the baby's face turns red and she begins to make those familiar grunting noises.
VERBAL: able to whine in words
WHODUNIT: none of the kids that live in your house
#joke
Stranded
There are three premiership teams stranded in a desert - Manchester United, Liverpool and Arsenal.
They have been there for one week when they finally come across a dead camel.
The Man United players say 'As we're
Manchester United, we'll have the chest.'
The Liverpool players say 'As we're LIVERpool, we'll have the liver.'
'We're not hungry,' say the Arsenal players.
#joke
How many bass players does it ...
How many bass players does it take to change a lightbulb?
Just one, but the guitarist has to show him what to do

My kids love going to the Web,...
My kids love going to the Web, and they keep track of their passwords by writing them on Post-it notes.

I noticed their Disney password was "MickeyMinnieGoofyPluto," and asked why it was so long.

"Because," my son explained, "they say it has to have at least four characters."

Two elderly men Sam and Arthur...
Two elderly men Sam and Arthur, avid bridge players get some bad news Arthur is dying. Sam says to Arthur, please Arthur when you get to heaven somehow send me a message and let me know if there's any bridge up there. Arthur says he'll try.
Arthur passes away and a week goes by, not a word. Then suddenly Sam gets the call. "Sam" Arthur says, there's good news and bad news. The good news is there's a duplicate on Tuesday, the bad news is you're playing.
#joke
Heading for Trouble
A guy and his son go into a bar. The son is just a head though. The man asks the bartender for two shots. The man takes one shot and gives the other one to his son. The son swallows down the drink and out pops an arm.
The man thought,''Hey this is good.'' So he asks for two more shots. He drinks one and gives the other to his son again, and out pops another arm.
The man the asks for a double and gives it to his son. The son throws it down and suddenly explodes.
The bartender looks over at the man and says,'' Looks like he should have quit while he was ahead.'
#joke
A mathematician, an accountant...
A mathematician, an accountant and an economist apply for the same job.
The interviewer calls in the mathematician and asks "What do two plus two equal?" The mathematician replies "Four." The interviewer asks "Four, exactly?" The mathematician looks at the interviewer incredulously and says "Yes, four, exactly."
Then the interviewer calls in the accountant and asks the same question "What do two plus two equal?" The accountant says "On average, four - give or take ten percent, but on average, four."
Then the interviewer calls in the economist and poses the same question "What do two plus two equal?" The economist gets up, locks the door, closes the shade, sits down next to the interviewer and says; "What do you want it to equal?"
#joke
the Electoral College is a wei...
the Electoral College is a weird and complicated plan drawn up by our founding fathers just before the bartender cut them off."
-- Mark Russell
How old are the dinosaur bones...
Some tourists in the Chicago Museum of Natural History are marveling at the dinosaur bones. One of them asks the guard, "Can you tell me how old the dinosaur bones are?"
The guard replies, "They are 3 million, four years, and six months old."
"That's an awfully exact number," says the tourist. "How do you know their age so precisely?"
The guard answers, "Well, the dinosaur bones were three million years old when I started working here, and that was four and a half years ago."
#joke
Movie Theater Mayhem!
A man was sprawled across three entire seats in a theater. When the usher came by and noticed this, he whispered to the man, "Sorry sir, but you're only allowed one seat."
The man groaned but didn't budge. The usher became impatient.
"Sir," the usher said, "if you don't get up from there, I'm going to have to call the manager."
Again, the man just groaned, which infuriated the usher who turned and marched briskly back up the aisle in search of his manager. In a few moments, both the usher and the manager returned and stood over the man. Together the two of them tried repeatedly to move him, but with no success. Finally, they summoned the police. The cop surveyed the situation briefly.
"All right, buddy. What's your name?"
"Sam," the man moaned.
"Where ya from, Sam?" the cop asked.
"The balcony."
#joke