Happy Thanksgiving
Check out our latest
Thanksgiving jokes
and quotes on:
Thanksgiving jokes collection
Next One
After a young couple brought their new baby home, the wife suggested that her husband should try his hand at changing diapers. "I'm busy," he said, "I'll do the next one."
The next time came around and she asked again. The husband looked puzzled,"Oh! I didn't mean the next diaper. I meant the next baby!"
#joke
Trying to kill a vampire? Don&...
Trying to kill a vampire? Don't make a miss stake!
Two blondes are waiting on a b...
Two blondes are waiting on a bus stop. When a bus pulls up and opens the door, one of the blondes leans inside and asks the driver: "Will this bus take me to 5th Avenue?"
The bus driver shakes his head and says, "No, I'm sorry."
At this the other blonde leans inside, smiles and twitters: "Will it take ME?"
Guy: Is you dad still in jail?...
Guy: Is you dad still in jail?
Girl: For what?
Guy: For stealing all the stars in the sky and putting them in your eyes!

You Fool
A pastor was opening his mail one morning and one envelope had only a single sheet of paper with a single word printed on it: "FOOL!"
The following Sunday the priest announced, "I have known many people who have written letters and forgotten to sign their name. But this week I received a letter from someone who signed his name and had forgotten to write a letter."
This joke was reprinted from "The Book of Catholic Jokes" by Deacon Tom Sheridan, with permission of ACTA Publications. Copyright 2008. All rights reserved.
#joke
What's the difference bet...
What's the difference between a Yankee zoo and a Redneck zoo?

On the cage in a Yankee zoo, it will have the name of the animal and the scientific name in Latin.

A Southern zoo will have the name of the animal and a recipe.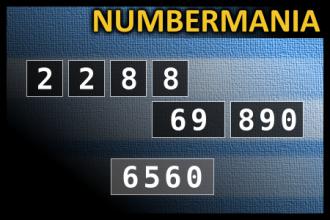 Calculate the number 6560
NUMBERMANIA: Calculate the number 6560 using numbers [2, 2, 8, 8, 69, 890] and basic arithmetic operations (+, -, *, /). Each of the numbers can be used only once.
If Only...
If Yoko Ono married Sonny Bono, she'd be Yoko Ono Bono.
If Dolly Parton married Salvador Dali, she'd be Dolly Dali.
If Bo Derek married Don Ho, she'd be Bo Ho.
If Ella Fitzgerald married Darth Vader, she'd be Ella Vader.
If Oprah Winfrey married Depak Chopra, she'd be Oprah Chopra.
If Cat Stevens married Snoop Doggy Dogg, he'd be Cat Doggy Dogg.
If Olivia Newton-John married Wayne Newton, then divorced him to marry Elton John, she'd be Olivia Newton-John Newton John.
If Sondra Locke married Elliott Ness, then divorced him to marry Herman Munster, she'd become Sondra Locke Ness Munster.
If Bea Arthur married Sting, she'd be Bea Sting.
If Liv Ullman married Judge Lance Ito, then divorced him and married Jerry Mathers, she'd be Liv Ito Beaver.
If Snoop Doggy Dogg married Winnie the Pooh, he'd be Snoop Doggy Dogg Pooh.
G. Gordon Liddy married Boutros-Boutros Ghali, then divorced him to marry Kenny G., he'd be G. Ghali G.
If Jack married Andy Capp, then married Jack Paar, then moved on to Stephen King, he'd be Jack Handy Capp Paar King.
If Woody Allen married Natalie Wood, divorced her and married Gregory Peck, divorced him and married Ben Hur, he'd be Woody Wood Peck Hur.
If Ivana Trump married, in succession, Orson Bean (actor), King Oscar (of Norway), Louis B. Mayer (of MGM), and Norbert Wiener (mathematician), she would then be Ivana Bean Oscar Mayer Wiener.
#joke
Hacker Syndrome
by Tad Deriso
There is some compelling force in all Hackers that seems to draw them to their computers every day. Why they get up at 4am to use the modem, and why they continue to rack up a truly incredible phone bill is beyond me.
Most computer areas, at your home or at your office, tend to be messy. Even you try to keep it clean, it is truly impossible. Whether it be empty Coke cans laying all around, soldering devices, electric diodes, computer parts, or integrated circuits, it is not only a pain for your mother to look at, but a prime Russian ICBM missile target as well.
There is much detail needed to explain a Hacker. For instance, instead of organizing his clothes by color, best ones, or style, he organizes his by pile. Also, he likes to sing songs such as, "Let's get Digital", "We all live in a yellow subroutine", and "Somewhere over the RAMbow".
Most Hackers do well in school. The reason is not to impress their teachers, not to get money from their parents, and not to be educated, but they do it so they can hopefully get a scholarship to MIT. You can't blame them, though, if they are looking out into space. It might be because they are worried if MCI traced the calls that they sent to NORAD.
All Hackers, big or small, love computers, whether they be Trash-80's or an IBM 360/VM workstation. When they get on one, it's mighty hard to get them off of it.
There are 2 types of Hackers. One who likes to crash local BBS's, and the one who writes programs in Assembly Language. The Hacker who crashes systems is the one that most people think that a Hacker is. A typical example of one is John Fredrickson (A.K.A. "The Phone Man"). He loves to crash computers, and break into illegal systems. The ones that he has gotten in to are MCI, CitiBank, school systems, IBM, Southern Bell, and Georgia Tech, not to mention all the ones in between.
The second type of Hacker is the programmer. He writes games, utilities, and anything else that he can think of. Take for example, John Harris, a freelance software writer for On-Line Software Co. John had a brainstorm one day, and decided to write Frogger for the Apple. He thought that it would take about 3 weeks to complete. He started on Frogger a week late, because of the complicated music set that he had to write. After two months, he was almost done. He decided to take a break and go to the Software Expo. He decided to take his nearly completed Frogger, and show it to the consumers at the show. He also took with him the only back-up copy, in case the main disk did not boot.
While at the fair, he was talking to the Manager about getting a booth. He had his disks with him. Then, when he got a booth reserved, he reached down to get his disks, and they were gone! All his hard work, including the MultiLevel character generator, music lines, disk subroutines, assembly routines, debugging programs, etc. All gone.
After that tragedy, John was in a deep depression. He finally started working on it again in 3 months. He completed it in 4 months and 3 days.
Part Two:
Hackers always take time off. There is always one way to notice a true Hacker. At a party, the true Hacker is the one in the corner talking about operating system security and how to get around it. At the beach, the True Hacker is the one drawing flow charts in the sand. At a football game, the true Hacker is the one comparing the football plays against a simulation printed on 11 by 14 fanfold paper.
Most Hackers work for the U.S. Government-- mainly the Department of Defense. You can see the best Hackers at the Jet Propulsion Laboratory in California.
What sort of environment does a Hacker function best in? No, not a heated room with a clean table and disks organized neatly, but they do best in rooms that have line-printed Snoopy calendars from the year 1969. They do not know how to cook, so they survive on Twinkies and coffee. Instead of wasting electricity for a heater, they spend it on air-conditioners to cool of their computer system in mid-January when the temperatures are below freezing. They wear layers and layers of clothing to keep the body heat in. When you see one of these people, instead of a Hacker coming into your mind, you think that he is about to go on a Polar expedition somewhere in the North Pole.
Hackers also like to hang around arcades. (This is also true for kids, little old ladies, and fighter pilots.) There, secluded in their
own environment, Hackers can talk freely on computer hints and short cuts while playing Pac-Man, or Joust.
All Hackers like Graphics. They like low-resolution, but prefer high-resolution the best. These graphics, such as Sine waves, rotating 3-D boxes, and little balloons, are confined to the limits of a systems capability. The older more experienced Hackers are the ones who are lucky enough to get to work on a VAX system, and maybe even a CRAY-1 SuperComputer. If they use these, they have only the limits of their imagination to stop them.
Most Middle School Hackers between the ages of 10 through 14, like to use computers to do reports on, and play games. Some of these younger generation Hackers have gotten into BASIC programming.
Some people, like to impress real Hackers by making them think that they know everything. There is a name for this kind of person. He is a Sub-Hacker (Intillectuous dumbfoundeth). For instance, you come up to them one day, and say,"Hey so-and-so what does BASIC stand for?" and you could sit there for days, and he would act like the answer was on the tip of his tongue, when it was probably in his toes. It is people like this that give Hackers a bad name.
Part Three:
All Hackers have rules that they go by. One is to never call long distance on Monday, because of the high phone charge. If builders built buildings they way programmers wrote programs, the first woodpecker that comes along would destroy civilization. Another is, if the computer accepts a program on the first run without any errors, either there is a malfunction, or it must be a dream.
Hackers are a unique breed. Combining intelligence, personality, and a morale sense of good taste. A Hacker enjoys the environment that appeals to him the most. Such as, the computer room, the arcade, science lab, or the Atari downstairs. They like to be alone. Secluded in their own thoughts, thinking of what the password could be to log on to General Electric. Hackers are the people who are going to make our future brighter, and more exciting in the field of electronics, data processing, artificial intelligence, and programming. We need to support these people in all the ways that we can, so we will be insured of a more happier future in the world of technological advancements.
Express Degree
An old man was critically ill. Feeling that death was near, he called his lawyer.
"I want to become a lawyer. How much is it for the express degree you told me about?"
"It's $50,000", the lawyer said.
"But why? You'll be dead soon, why do you want to become a lawyer?"
"That's my business! Get me the course!"
Four days later, the old man got his law degree. His lawyer was at his bedside, making sure his bill would be paid.
Suddenly the old man was racked with fits of coughing and it was clear that this would be the end. Still curious, the lawyer leaned over and said, "Please, before it's too late, tell me why you wanted to get a law degree so badly before you died?"
In a faint whisper, as he breathed his last, the old man said, "One less lawyer . . ."
Programmers and Light Bulb
How many programmers does it take to screw in a light bulb?
None, thats a hardware problem.
What happened when the...
What happened when the hyena swallowed an Oxo cube?
He became a laughing stock!
Hilary Rae
How do young wizards and witches correct their homework?
They use a spell-checker.
#joke
The children had all been phot...
The children had all been photographed, and the teacher was trying to persuade them each to buy a copy of the group picture.
"Just think how nice it will be to look at it when you are all grown up and say, 'There's Jennifer, she's a lawyer,' or 'That's Michael, He's a doctor.'
A small voice at the back of the room rang out, "And there's the teacher, She's dead."
A psychiatrist was conducting ...
A psychiatrist was conducting a group therapy session with four young mothers and their small children.
"You all have obsessions," he observed.
To the first mother, he said, "You are obsessed with eating. You've even named your daughter Candy."
He turned to the second Mom. "Your obsession is with money. Again, it manifests itself in your child's name, Penny."
He turns to the third Mom. "Your obsession is alcohol. This too manifests itself in your child's name, Brandy."
At this point, the fourth mother gets up, takes her little boy by the hand and whispers, "Come on, Dick, we're leaving."
#joke
How does the spoiled little ri...
How does the spoiled little rich girl change a lightbulb?
She says, "Daddy, I need a new apartment."
Do you know what happens if yo...
Do you know what happens if you don't pay your exorcist? You get repossessed!
Tony White, Loanhead


Guess Who?
A guy walks into a post office one day to see a middle-aged, balding man standing at the counter methodically placing "Love" stamps on bright pink envelopes with hearts all over them. He then takes out a perfume bottle and starts spraying scent all over them. His curiosity gets the better of him and he goes up to the balding man and asks him what he's doing.
"I'm sending out 1,000 Valentine's Day cards signed, 'Guess who?'"
"But why?" asks the man.
"I'm a divorce lawyer."
Sign Your Co-Worker Is A Hacker...
Everyone who ticks him or her off gets a $26,000 phone bill.
Has won the Publisher's Clearing House Sweepstakes three years running.
When asked for their phone number, they give it in hex.
Seems strangely calm whenever the office LAN goes down.
Somehow gets HBO on their PC at work.
Mumbled, 'Oh, puh-leeeez!' 295 times during the movie 'The Net.'
Massive 401k contribution made in half-cent increments.
Their video dating profile lists 'public-key encryption' among turn-ons.
Instead of the 'Welcome' voice on AOL, you overhear, 'Good Morning, Mr./Mrs. President.'
You hear them murmur, 'Let's see you use that VISA card now, Professor 'I-Don't-Give-A's-In-Computer-Science!'
#joke