Emergency Landing
An airliner was having engine trouble, and the pilot instructed the cabin crew to have the passengers take their seats and get prepared for an emergency landing.
A few minutes later, the pilot asked the flight attendants if everyone was buckled in and ready.
"All set back here, Captain," came the reply, "except one lawyer who is still going around passing out business cards."
A man and woman doing staff in...
A man and woman doing staff in bed after midnight. At one point they hear a car noise and a strong brake.
Woman: "Take your staff and run on the window. I think that's my husband."
The man panics, jumps out of bad, takes his clothes from all over the place, and jumps on the window.
After a while the same guy with his clothes knocks at the door: "Hey wife, I think we are a little bit stressed."
#joke
Okay, so a Texan rancher comes...
Okay, so a Texan rancher comes upon a farmer from Maine. The Texan looks at the Mainer and asks, "Say, how much land you think you got here?" Mainer: 'Bout 10 acres I'd say." Texan (boasting): Well, on my lot, it takes me all day to drive completely around my property!" Mainer: "Yep, I got one of them trucks too."
#joke
Cannibal Restaurant
A cannibal was walking through the jungle and came upon a restaurant operated by a fellow cannibal. Feeling somewhat hungry, he sat down and looked over the menu...
Making a Wedding Bearable
Little Johnny was in a relative's wedding. As he was coming down the aisle, he would take two steps, stop, and then turn to the crowd, put his hands up like claws and roar.
That's the way it went all down the aisle: step, step, ROAR…step, step, ROAR…step, step, ROAR.
As you can imagine, the crowd was near tears from laughing by the time he reached the pulpit. When the priest who was celebrating the wedding asked what he was doing, Little Johnny sniffed nad said, "I was being the Ring Bear."
This joke was reprinted from "The Book of Catholic Jokes" by Deacon Tom Sheridan, with permission of ACTA Publications. Copyright 2008. All rights reserved.
#joke
FLEX WORDLE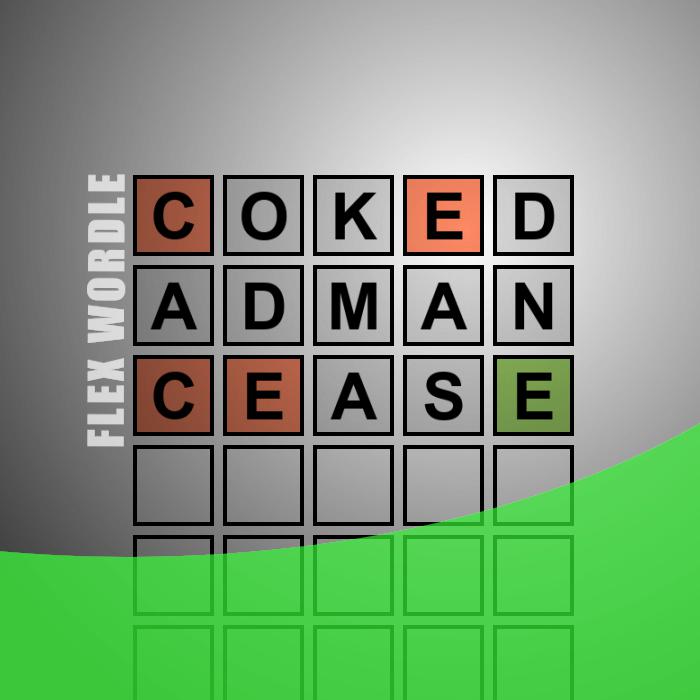 Guess the
WORDLE
in 3 tries. After each guess, the color of the tiles will change to show how close your guess was to the solution.
What happened when the...
What happened when the hyena swallowed an Oxo cube? He became a laughing stock!
Hilary Rae
How do young wizards and witches correct their homework?
They use a spell-checker.
#joke
Different ways to say your not so bright...
A few clowns short of a circus.
A few fries short of a Happy Meal.
An experiment in Artificial Stupidity.
A few beers short of a six-pack.
Dumber than a box of hair.
A few peas short of a casserole.
Doesn't have all her cornflakes in one box.
The wheel's spinning, but the hamster's dead.
One Fruit Loop shy of a full bowl.
One taco short of a combination plate.
A few feathers short of a whole duck.
All foam, no beer.
The cheese slid off her cracker.
Body by Fisher, brains by Mattel.
Couldn't pour water out of a boot with instructions on the heel.
He fell out of the stupid tree and hit every branch on the way down.
An intellect rivaled only by garden tools.
As smart as bait.
Chimney's clogged.
Doesn't have all his dogs on one leash.
Doesn't know much but leads the league in nostril hair.
Elevator doesn't go all the way to the top floor.
Forgot to pay his brain bill.
Her sewing machine's out of thread.
His antenna doesn't pick up all the channels.
His belt doesn't go through all the loops.
If he had another brain, it would be lonely.
Missing a few buttons on his remote control.
No grain in the silo.
Proof that evolution CAN go in reverse.
Receiver is off the hook.
Several nuts short of a full pouch.
Skylight leaks a little.
Slinky's kinked.
Surfing in Nebraska.
Too much yardage between the goal posts.
Not the sharpest knife in the drawer.
The lights are on, but nobody's home.
24 cents short of a quarter.
Question And Answer Animal Jokes
Q: Why do hummingbirds hum?
A: Because they don't know the words.
Q: Where does a blackbird go for a drink?
A: To a crow bar.
Q: Why was the crow perched on a telephone wire?
A: He was going to make a long-distance caw.
Q: What did the chick say when it saw an orange in the nest?
A: Look at the orange mama laid.
Q: Is it good manners to eat fried chicken with your fingers?
A: No, you should eat your fingers separately.
Q: Why do hens lay eggs?
A: If they dropped them, they'd break.
Q: Why do seagulls live near the sea?
A: Because if they lived near the bay, they would be called bagels.
Q: Diner: Do you serve chicken here?
A: Waiter: Sit down, sir. We serve anyone.
#joke
Pig in summer
What did the pig say at the beach on a hot summer's day?
"I'm bacon!"
Submitted by Curtis
Edited by Yisman
A doctor, a lawyer, a little b...
A doctor, a lawyer, a little boy and a priest were out for a Sunday afternoon flight on a small private plane. Suddenly, the plane developed engine trouble.

In spite of the best efforts of the pilot, the plane started to go down. Finally, the pilot grabbed a parachute, yelled to the passengers that they had better jump, and bailed out.

Unfortunately, there were only three parachutes remaining.

The doctor grabbed one and said "I'm a doctor, I save lives, so I must live," and jumped out.

The lawyer then said, "I'm a lawyer and lawyers are the smartest people in the world. I deserve to live."

He also grabbed a parachute and jumped.

The priest looked at the little boy and said, "My son, I've lived a long and full life. You are young and have your whole life ahead of you. Take the last parachute and live in peace."

The little boy handed the parachute back to the priest and said, "Not to worry, Father. The 'smartest man in the world' just took off with my back pack."
ATTORNEY: Do you know if you...
ATTORNEY: Do you know if your daughter has ever been involved in voodoo?
WITNESS: We both do.
ATTORNEY: Voodoo?
WITNESS: We do.
ATTORNEY: You do?
WITNESS: Yes, voodoo.

Billy Ray
Q: What do you get when you cross Billy Ray Cyrus and a yeast infection?
A: An itchy, twitchy twat.
Submitted by Curtis
Edited by Glaci
Can U Read It
Briteesh destraayed avar kantry faar 150 earss. let uss destraay deree laangvedge foryever.... Do yit yand yenjaaay.... :-)

Yeast aar Waist aavar caantry iss da BAIST!!!!!!!!!!


Legless Poodle
What do you call a poodle with no legs?
A sponge.
Bowling ball humor...
I worry about the germs in the holes of bowling balls. Nobody cleans those holes. There are years of impacted pizza fingers in there. Taco fingers. Chicken fingers. I'm amazed those balls still have holes. Ever smell a bowling ball hole? You think the balls are knocking down the pins? You're wrong. The pins are passing out from the smell.
-- Carolyn May
#joke
Little Johnny came home from s...
Little Johnny came home from school and his homework assignment was to find out what the difference was between hypothetically and realistically... so he asked his dad.
His dad said, "Well Johnny, go ask your mom if she would sleep with the mail man for $1,000,000.
He went and asked and came back and said, "She said yes".
"Well", said the dad, "Go ask your sister the same question."
He did and came back and said, "She said yes."
And the dad said, "Now go ask your brother the same thing."
He did and came back and said, "He said yes too!"
And the dad said, "Well Johnny, hypothetically we're sitting on three million dollars, realistically we're living with 2 whores and a fag!
#joke
Join us on WhatsApp