Holy Shot!
One Sunday morning, a priest wakes up and decides to go golfing. He calls his boss and says that he feels very sick, and wont be able to go to work. Way up in heaven, Saint Peter sees all this and asks God, Are you really going to let him get away with this? No, I guess not, says God. The priest drives about five to six hours away, so he doesnt bump into anyone he knows. The golf course is empty when he gets there. So he takes his first swing, drives the ball 495 yards away and gets a hole in one. Saint Peter watches in disbelief and asks, Why did you let him do that? To this God says, Whos he going to tell?
#joke
What do you do?
"What do you do?" a young man asked the beautiful girl he was dancing with.
"I'm a nurse."
"I wish I could be ill and let you nurse me," he whispered in her ear.
"That would be miraculous. I work on the maternity ward."
Nine Words Women Use
(1) Fine: This is the word women use to end an argument when they are right and you need to shut up.
(2) Five Minutes: If she is getting dressed, this means a half an hour Five minutes is only five minutes if you have just been given five more minutes to watch the game before helping around the house.
(3) Nothing: This is the calm before the storm. This means something, and you should be on your toes. Arguments that begin with nothing usually end in fine.
(4) Go Ahead: This is a dare, not permission.. Don't Do It!
(5) Loud Sigh: This is actually a word, but is a non-verbal statement often misunderstood by men. A loud sigh means she thinks you are an idiot and wonders why she is wasting her time standing here and arguing with you about nothing. (Refer back to # 3 for the meaning of nothing.)
(6) That's Okay: This is one of the most dangerous statements a women can make to a man. That's okay means she wants to think long and hard before deciding how and when you will pay for your mistake.
(7) Thanks: A woman is thanking you, do not question, or faint. Just say you're welcome. (I want to add in a clause here - This is true, unless she says 'Thanks a lot' - that is PURE sarcasm and she is not thanking you at all. DO NOT say 'you're welcome' . that will bring on a 'whatever').
(8) Whatever: Is a woman's way of saying F-- YOU!
(9) Don't worry about it, I got it: Another dangerous statement, meaning this is something that a woman has told a man to do several times, but is now doing it herself. This will later result in a man asking 'What's wrong?' For the woman's response refer to # 3.
#joke
Bum in Need of Food
One afternoon, a man was riding in the back of his limousine when he saw two men eating grass by the road side. He ordered his driver to stop and he got out to investigate. "Why are you eating grass?", he asked one man.
"We don't have any money for food.", The poor man replied.
"Oh, come along with me then."
"But sir, I have a wife with two children!"
"Bring them along! And you, come with me too!", he said to the other man.
"But sir, I have a wife with six children!" The second man answered.
"Bring them as well!"
They all climbed into the car, which was no easy task, even for a car as large as the limo. Once underway, one of the poor fellows says "Sir, you are too kind. Thank you for taking all of us with you."
The rich man replied "No, you don't understand, the grass at my home is about three feet tall!"
#joke
There was once a great actor, ...
There was once a great actor, who had a problem. He could no longer remember his lines. Finally after many years he finds a theatre where they are prepared to give him a chance to shine again. The director says,"This is the most important part, and it has only one line. You must walk onto the stage carrying a rose, you must hold the rose with just one finger and your thumb to your nose, sniff the rose deeply and then say the line... 'Ah, the sweet aroma of my mistress.'" The actor is thrilled.All day long before the play he's practicing his line, over and over again. Finally the time came.
The curtain went up, the actor walked onto the stage, and with great passion, he delivered the line; "Ah, the sweet aroma of my mistress".
The theatre erupted, the audience screamed with laughter... and the director was steaming! "You bloody fool!" he cried, "You have ruined me!"
The actor, quite bewildered, asked, "What happened, did I forget my line?" he asked.
"No!" the director screamed.... "You forgot the bloody rose!"
#joke
Knitting makes me yarn...
Knitting makes me yarn for the good old days. These days I have nothing but looming deadlines!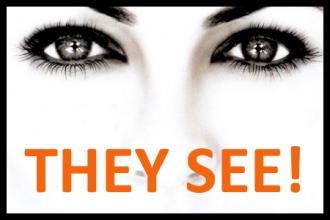 Anagram: THEY SEE! (3,4)
Anagram: THEY SEE! (3,4)
There are four engineers trave...
There are four engineers traveling in a car; a mechanical engineer, a chemical engineer, an electrical engineer and a computer engineer. The car breaks down. "Sounds to me as if the pistons have seized. We'll have to strip down the engine before we can get the car working again", says the mechanical engineer. "Well", says the chemical engineer, "it sounded to me as if the fuel might be contaminated. I think we should clear out the fuel system." "I thought it might be a grounding problem", says the electrical engineer, "or maybe a faulty plug lead." They all turn to the computer engineer who has said nothing and say: "Well, what do you think?" "Ummm perhaps if we all get out of the car and get back in again?"
#joke
Hanukkah Songs That Never Quite Caught On:
- Oy to the World
- Schlepping through a Winter Wonderland
- Hava Negilah - The Megamix
- Bubbie Yetta Got Run Over by a Reindeer
- Enough with those God Damn Jingle Bells Already...Sheez!
- Matzo Man (by the Lower East Side Village People)
- I Have a Little Dreidel (the Barking Dog Version)
- Come on Baby, Light My Menorah
- Deck the Halls with Balls of Matzos
- Silent Night? I Should Be So Lucky
submitted by leighli
#joke
Dear Abby,

I am a 6...
Dear Abby,
I am a 60-year-old woman who is married to a man who acts like he hates me. In public, he pretends he loves me and talks about how wonderful I am. But in private, he shakes his finger in my face and calls me the "B" word. He constantly tells me how ugly I am without make-up. I've tried everything, including a face-lift, botox treatments, and a chin tuck. I even went on a diet and lost 20 pounds.
He quit his job a few years ago after having an affair with a woman in his office. He hasn't even looked for another job. We haven't slept together since I confronted him about the affair. He denied it, of course, but everybody knew it. It was humiliating. I believe he is still messing around.
While we both want to sell this house, we argue constantly about when to put it on the market. The house we want will be available in a few months. My husband wants to put our house on the market now. I think we should wait a while. He has already started collecting boxes and packing up his stuff. Do you think he is planning to leave me?
Signed,
Worried in NY
Dear Worried in NY:
I doubt it. He wants to move back into the White House as much as you do.
#joke
Jewish Brothers....
Four Jewish brothers left home for college, and eventually, they became successful doctors, and lawyers -- and prospered.
Some years later, they chatted after having dinner together. They discussed the gifts that they were able to give to their elderly mother, who lived far away in another city.
The first said, 'I had a big house built for Mama'.
The second said, I had a hundred thousand dollar theatre built in the house. The third said, 'I had my Mercedes dealer deliver her a SL 600 with a chauffeur.'
The fourth said, 'Listen to this. You know how Mama loved reading the Torah and you know she can't anymore because she can't see very well. I met this Rabbi who told me about a parrot that can recite the entire Torah. It took twenty rabbis 12 years to teach him. I had to pledge to contribute $100,000 a year for twenty years to the temple, but it was worth it. Mama just has to name the chapter and verse and the parrot will recite it.' The other brothers were impressed.
After the holidays Mama sent out her Thank You notes.
She wrote: Milton -- Bubbileh, the house you built is so huge, I live in only one room, but I have to clean the whole house. Thanks anyway.
Marvin -- Mine Sheyne Kindele, I am too old to travel. I stay home. I have my groceries delivered, so I never use the Mercedes and the driver you hired is a Nazi. The thought was good. Thanks.
Irving– Tataleh, you give me an expensive theatre with Dolby sound, it could hold 50 people, but all my friends are dead. I've lost my hearing and I'm nearly blind. I'll never use it. Thank you for the gesture just the same.
Dearest Melvin --you were the only son to have the good sense to give a little thought to your gift. The Chicken was delicious!!!
Signs And Notices 18
These are supposedly actual signs that have been found in and around parts of England.
Sign in a Laundromat AUTOMATIC WASHING MACHINES: PLEASE REMOVE ALL YOUR CLOTHES WHEN THE LIGHT GOES OUT
Sign in a London department store: BARGAIN BASEMENT UPSTAIRS
In an office: WOULD THE PERSON WHO TOOK THE STEP LADDER YESTERDAY PLEASE BRING IT BACK OR FURTHER STEPS WILL BE TAKEN
Outside a farm: HORSE MANURE PER PRE-PACKED BAG DO-IT-YOURSELF
In an office: AFTER TEA BREAK STAFF SHOULD EMPTY THE TEAPOT AND STAND UPSIDE DOWN ON THE DRAINING BOARD
On a church door: THIS IS THE GATE OF HEAVEN. ENTER YE ALL BY THIS DOOR.(THIS DOOR IS KEPT LOCKED BECAUSE OF THE DRAFT. PLEASE USE SIDE DOOR.)
Outside a secondhand shop: WE EXCHANGE ANYTHING - BICYCLES, WASHING MACHINES ETC. WHY NOT BRING YOUR WIFE ALONG AND GET A WONDERFUL BARGAIN?
Sign outside a new town hall which was to be opened by the Prince of Wales: THE TOWN HALL IS CLOSED UNTIL OPENING. IT WILL REMAIN CLOSED AFTER BEING OPENED. OPEN TOMORROW.
#joke
limos and headlights
One time there was a little boy who was really dirty. so the little boy asked his mom if he could take a shower with her. he begged and begged so his mother finally said ok! as long as he didn't look up or down. so when they got inthe shower, the little boy loked up and siad mommy what r those? the mother repied headlights! then he looked down and asked her what that was? she said that was the garage. ok the litle oy said. the next week the little boy was really dirty again but this time he took a shower with his dad. The dad said, You can as long as you don't look down . so the little boy looked down and asked what he named it? the limo said the dad! That night the litle boy had a bad dream, so he went into his parents room to see if he could sleep with them? they finally agreed to it as long as he didn't look under the covers. so after about 5 min. he looked under the covers and said mommy turn on your headlights open the garage daddys long stechy limo's commin in!
#joke
Two Venerable
Two venerable citizens were talking about King Solomon.
"That old Solomon, he was a mighty wise King," mused one of them. "All those wives and concubines; you know sometimes I wonder how he arranged to provide the necessary food for all those women."
"How he fed all those women doesn't interest me," said the second man, "I just wonder what he was eating himself."
#joke
In Wales, after a road acciden...
In Wales, after a road accident, police instruct motorists to drive Caerphilly.
One Chinese person walks into ...
One Chinese person walks into a bar in America late one night and he saw
Steven Spielberg. As he was a great fan of his movies, he rushes over to
him, and asks for his autograph.
Instead, Spielberg gives him a slap and says "You Chinese people bombed
our Pearl Harbor, get out of here."
The astonished Chinese man replied "It was not the Chinese who bombed
your Pearl Harbor , it was the Japanese".
"Chinese, Japanese, Taiwanese, you're all the same," replied Spielberg.
In return, the Chinese gives Spielberg a slap and says "You sank the
Titanic; my forefathers were on that ship."
Shocked, Spielberg replies "It was the iceberg that sank the ship, not
me."
The Chinese replies, "Iceberg, Spielberg, Carlsberg, you're all the
same."
#joke #walksintoabar
I'm such a loser. I went into ...
I'm such a loser. I went into my bank the other day and asked the cashier to check my balance. She pushed me off my feet!
Passing A Parrot
A lady was walking down the street to work and she saw a parrot on a perch in front of a pet store. The parrot said to her, "Hey lady, you are really ugly." Well, the lady is furious! She stormed past the store to her work. On the way home she saw the same parrot and it said to her, "Hey lady, you are really ugly."
She was incredibly ticked now. The next day the same parrot again said to her, "Hey lady, you are really ugly."
The lady was so ticked that she went into the store and said that she would sue the store and kill the bird. The store manager replied, "That's not good," and promised he wouldn't say it again.
When the lady walked past the store that day after work the parrot called to her, "Hey lady."
She paused and said, "Yes?"
The bird said, "You know."
#joke
The Doctor's Sign
A young doctor had moved into town and was setting up a new
practice. He had a new sign painted and hung it in front of
his office, proclaiming his specialties:
"Homosexuals & Hemorrhoids."
The town fathers were upset with the sign and asked him
please to change it. The Doctor was eager to please, so he
put up a new sign:
"Queers & Rears."
The town fathers were really fuming about that one, so they
demanded the Doctor come up with a decent sign that would not
offend the townspeople.
Finally, the Doctor came up with an acceptable sign:
"Odds & Ends"
WATER...... It has been scient...
WATER...... It has been scientifically proven that if we drink 1 liter Of water each day, at the end of the year we would have absorbed more Than 1 kilo of Escherichia coli bacteria found in feces, in other words, We are consuming 1 kilo of poop!
However, we do not run that risk when drinking wine (or rum, whiskey, Vodka, beer or other liquors) because alcohol has to go through a Distillation process of boiling, filtering and fermenting.
It is better to drink wine and talk sh*t than to drink water and be full Of sh*t.
There is no need to thank me for this valuable information, I am doing this as a public service.
What's with the nuts?
A guy goes into a bar. He's sitting on the stool, enjoying his drink when he hears, "You look great!" He looks around - there's nobody near him. He hears the voice again, "No really, you look terrific."
The guy looks around again. Nobody. He hears, "Is that a new shirt or something? Because you are absolutely glowing!" He then realizes that the voice is coming from a dish of nuts on the bar.
"Hey," the guy calls to the bartender, "What's with the nuts?"
"Oh," the bartender answers, "They're complimentary."
#joke