Picking a punishment #joke #humor
This guy dies and is sent to Hell. Satan meets him and shows him the doors to three rooms and says he must choose one of the rooms to spend eternity in.
So Satan opens the first door. In the room there are people standing in cow manure up to their necks. The guy says "No, please show me the next room".
Satan shows him the next room and this has people with cow manure up to their noses. And so he says no again.
Finally, Satan shows him the third and final room. This time there are people in there with cow manure up to their knees drinking cups of tea and eating cakes.
So the guy says, "I'll choose this room". Satan says O.K.
The guy is standing in there eating his cake and drinking his tea thinking, "Well, it could be worse", when the door opens.
Satan pops his head around, and says "O.K. tea-break is over. Back on your heads!"
#joke
Whenever I'm feeling dep...
Whenever I'm feeling depressed, I go watch German acrobats. That turns my frau upside down.
Funny video of the day - Funny video of the day Sunday, 09 May 2010
Q: Why did the duck cross the ...
Q: Why did the duck cross the road?
A: Because the chicken retired and moved to Florida!

Calling the Police
George Phillips of Meridian, Mississippi was going up to bed, when his wife told him that he'd left the light on in the garden shed, which she could see from the bedroom window. George opened the back door to go turn off the light, but saw that there were people in the shed stealing things.
He phoned the police, who asked "Is someone in your house?" He said "No." Then they said "All patrols were busy. You should lock your doors and an officer will be along when one is available." George said, "Okay". He hung up the phone and counted to 30.
Then he phoned the police again.
"Hello, I just called you a few seconds ago because there were people stealing things from my shed. Well, you don't have to worry about them now because I just shot them" and hung up.
Within five minutes, six Police Cars, a SWAT Team, a Helicopter, two Fire Trucks, a Paramedic, and an Ambulance showed up at the Phillips' residence, and caught the burglars red-handed.
One of the Policemen said to George, "I thought you said that you shot them!"
George said, "I thought you said there was nobody available!"
(a True Story)
I love it!!! Don't mess with old people
#joke
Three Jewish Mothers Compare Sons
Three Jewish mothers are sitting on a bench talking about how much their sons love them.
Sadie says, "You know the Chagall painting hanging in my living room? My son, Arnold, bought that for me for my 75th birthday. What a good boy he is; he loves his mother."
Minnie says,"You call that love? You know the Mercedes I just got for Mother's Day? That's from my son Bernie. What a doll."
Shirley says "That's nothing. You know my son Stanley? He's in analysis with a psychoanalyst in Harley Street. Five session a week. And what does he talk about? Me."
#joke
Dead?
A funeral service is being held for a woman who has just passed away. At the end of the service the pall bearers are carrying the casket out when they accidentally bump into a wall, jarring the casket.
They hear a faint moan.
They open the casket and find that the woman is actually alive. She lives for ten more years, and then dies.
A ceremony is again held at the same place, and at the end of the ceremony the pall bearers are again carrying out the casket.
As they are walking, the husband cries out, "Watch out for the damn wall!"
#joke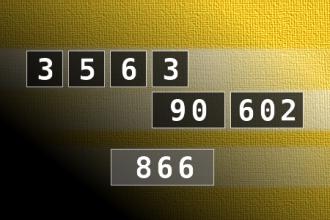 Calculate the number 866
NUMBERMANIA: Calculate the number 866 using numbers [3, 5, 6, 3, 90, 602] and basic arithmetic operations (+, -, *, /). Each of the numbers can be used only once.
Internet Can Get Worse
Top ten ways the Internet could get worse
10. Rigorous user screening process abolished by America On-Line.
9. "MAKE MONEY FAST" posts protected by 1st amendment, declare internet lawyers Canter & Siegel.
8. Home shopping "network".
7. Netrek corporate sponsorships. Out: Orion, Pollux, Klingus. In: Planet Bud, Toyota Prime, Intelworld.
6. Sun internet servers replaced with pentiums.
5. Dan Quayle appointed head of "bandwidth expansion tiger team".
4. Free netcom account with purchase of big mac.
3. Gameboy web browsers.
2. Tipper Gore cancelbot unleashed onto the net.
AND THE NUMBER ONE WAY THE INTERNET CAN GET WORSE:
1. Two words: "Microsoft Network"
Good in bed
There once was a lady who was tired of living alone. So she put an ad in the paper which outlined her requirements.
She wanted a man who would treat her nicely, wouldn't run away from her, and would be good in bed.
Then, one day, she heard the doorbell ring. She answered it, and there on the front porch was a man in a wheel chair who didn't have any arms or legs.
"I'm here about the ad you put in the paper. As you can see, I have no arms so I can't beat you, and I have no legs so I can't run away from you."
"Yes, but are you good in bed?"
"How do you think I rang the doorbell?"
#joke
Steve McGrew: Native American Mom, Irish Dad
My moms American Indian; my dads from Ireland. Theres a drinking problem waiting to happen.
How do you tell a kebab to be ...
How do you tell a kebab to be quiet?
Shh, kebab
Two Irishmen, Patrick & Michae...
Two Irishmen, Patrick & Michael, were adrift in a lifeboat following a dramatic escape from a burning freighter. While rummaging through the boat's provisions, Patrick stumbled across an old lamp. Secretly hoping that a genie would appear, he rubbed the lamp vigorously. To the amazement of Patrick, a genie came forth.r>r> This particular genie, however, stated that he could only deliver one wish, not the standard three. Without giving much thought to the matter, Patrick blurted out, "Make the entire ocean into Guinness!" The genie clapped his hands with a deafening crash, and immediately the entire sea turned into the finest brew ever sampled by mortals. Simultaneously, the genie vanished. r>r> Only the gentle lapping of Guinness on the hull broke the stillness as the two men considered their circumstances. Michael looked disgustedly at Patrick whose wish had been granted. After a long, tension-filled moment, he spoke: r>r> "Nice going Patrick! Now we're going to have to pee in the boat."
#joke
A woman phones up her husband ...
A woman phones up her husband at work for a chat...
Says He: "I'm sorry honey but I'm up to my neck in work today"
Says She: "But I've got some good news and some bad news for you dear."
Says He: "OK darling, but since I've got no time now, just give me the good news, OK?"
Says She: "Well, the air bag works..."
#joke
This woman is about to board a...
This woman is about to board a bus, but when she steps up, she realizes that her skirt is too tight, and she can't lift her leg to board. So, she reaches around behind her and lowers her zipper a bit and tries again.
Skirt's still too tight, so she reaches behind her and lowers her zipper some more, and tries again. She still can't get on, so she reaches back and lowers the zipper a bit more. She tries to step up, and feels two hands on her butt push her up onto the bus. She spins around and says, "Sir, I don't know you well enough for you to do that!"
He says, "Lady, I sure don't know you well enough for you to lower my zipper three times."
#joke
Fig Leaf Found
A little boy opened the large old family Bible, and he looked with fascination at the ancient pages as he turned them one by one.
He was still in Genesis when something fell out of the Bible. He picked it up and looked at it closely. It was a very large old tree leaf that had been pressed between the pages of the Bible long ago."Momma, look what I found!" the boy called out.
"What do you have there?" his mother asked.
With astonishment in his voice, the young boy answered, "I think it's Adam's underwear!"
#joke
A guy gets on a plane and find...
A guy gets on a plane and finds himself seated next to a cute blonde.
He immediately turns to her and makes his move.
"You know," he says, "I've heard that flights will go quicker if you strike up a conversation with your fellow passenger.
So let's talk."
The blonde, who had just opened her book, closes it slowly and says to the guy, " What would you like to discuss?"
"Oh, I don't know,"says the guy.
"How about nuclear power?"
"OK," says the blonde.
"That could be an interesting topic.
But let me ask you a question first.
A horse, a cow, and a deer all eat the same stuff--grass.
Yet the deer excretes little pellets, the cow turns out a flat patty, and the horse produces muffins of dried poop. Why do you suppose that is?"
The guy is dumbfounded. Finally he replies, "I haven't the slightest idea."
"So tell me," says the blonde, "How is it that you feel qualified to discuss nuclear power when you don't know shit?
Advice from children...
1. Never trust a dog to watch your food. - Patrick, age 10
2. When your dad is mad and asks you, 'Do I look stupid?' don't answer him. - Michael, 14
3. Never tell your mom her diet's not working. - Michael, 14
4. Stay away from prunes. - Randy, 9
5. Never pee on an electric fence. - Robert, 13
6. Don't squat with your spurs on. - Noronha, 13
7. Don't pull dad's finger when he tells you to. - Emily, 10
8. When your mom is mad at your dad, don't let her brush your hair. - Taylia, 11
9. Never allow your three-year old brother in the same room as your school assignment. - Traci, 14
10. Never hold a dust buster and a cat at the same time. - Kyoyo, 9
11. You can't hide a piece of broccoli in a glass of milk. - Armir, 9
12. Felt markers are not good to use as lipstick. - Lauren, 9
13. Don't pick on your sister when she's holding a baseball bat. - Joel, 10
14. When you get a bad grade in school, show it to your mom when she's on the phone. - Alyesha, 13
15. Never try to baptize a cat. - Eileen, 8
#joke
What do you call a crate of du...
What do you call a crate of ducks ?

A box of quackers !

A duck walks into a drugstore ...
A duck walks into a drugstore and says to the Pharmacist "gee, can you help me out. I need to buy some prophylactics but I forgot my wallet."
The Pharmacist replies "no problem, I'll just put them on your bill."
The Duck responds "gee Doc, that is not the way I planned to use them!"