Mary comes home rather late. ...
Mary comes home rather late. "Oh, sweetheart," she called, "your car's on Maple Street."
"Why didn't you bring it home?" her husband asked. "Couldn't, she said. "It's too dark out there to find all the parts."

Thoughts
I married my wife for her looks... but not the ones she's been giving me lately!
No one ever says, "It's only a game," when their team is winning.
I gave my son a hint. On his room door I put a sign: "CHECKOUT TIME IS 18"
"If carrots are so good for the eyes, how come I see so many dead rabbits on the highway?"
Why do we choose from just two people for president and 50 for Miss America?" Ever notice that people who spend money on beer, cigarettes, and lottery tickets are always complaining about being broke and not feeling well?
On my first day of school my parents dropped me off at the wrong nursery. There I was... surrounded by trees and bushes.
Why is it that most n*dists are people you don't want to see naked?
I earn a seven-figure salary. Unfortunately, there's a decimal point involved.
The next time you feel like complaining, remember: Your garbage disposal probably eats better than thirty percent of the people in this world.
Snowmen fall from Heaven unassembled.
My wife and I were happy for twenty years .... then we met.
Home is where you can say anything you like 'cause nobody listens to you anyway.
I live in my own little world, but it's ok, they know me here.
Sign in pet store: "Buy one dog, get one flea..."
If flying is so safe, why do they call the airport the 'terminal'?
I see your IQ test results were negative.
I don't approve of political jokes... I've seen too many of them get elected.
Regular naps prevent old age..... especially if you take them while driving.
Funny video of the day - Funny video of the day Saturday, 15 May 2010
What's a cat's fav...
What's a cat's favourite dessert?
"Everybody is talking abo...
"Everybody is talking about finding bin Laden. How about finding Dick Cheney? Where did he go? What have we got caves over here now, too? Where did he go? I think his Secret Service code name is 'Waldo." -- Jay Leno

Brian Regan: Einstein
They always say that Albert Einstein was a genius. Then how come when anyone ever calls you that, its an insult? You dont know where you parked the car? Good job, Einstein. I dont think were honoring that man properly by using his name in vain in parking lots.
Escargot
A married couple were having a dinner party for some important guests. The wife was very excited about this and wanted everything to be perfect. At the very last minute, she realized that she didn't have any escargot for the dinner party, so she asked her husband to run down to the beach with the bucket to gather some snails.
Very grudgingly he agreed. He took the bucket, walked out the door, down the steps, and out to the beach. As he was collecting the snails, he noticed a beautiful woman strolling alongside the water just a little further down the beach.
He kept thinking to himself, "Wouldn't it be great if she would even just come down and talk to me?" He went back to gathering the snails.
All of a sudden he looked up, and the beautiful woman was standing right over him. They started talking and she invited him back to her place. They ended up spending the night together. At seven o'clock the next morning he woke up and exclaimed, "Oh no!!! My wife's dinner party!!!"
He gathered all his clothes, put them on real fast, grabbed his bucket, and ran out the door. He ran down the beach all the way to his apartment. He ran up the stairs of his apartment, but he was in such a hurry that when he got to the top of the stairs, he dropped the bucket of snails spilling them all down the stairs.
The door suddenly opens with a very angry wife standing in the doorway wondering where he's been all this time.
He looked at the snails all down the steps, then he looked at her, then back at the snails and said, "Come on guys, we're almost there!!"
#joke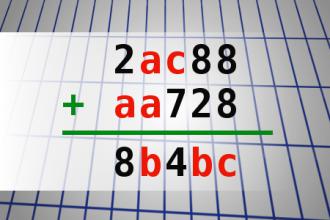 Find number abc
If 2ac88 + aa728 = 8b4bc find number abc. Multiple solutions may exist.
Japan is in trouble
Take heart, America. Three monkey wrenches have been thrown into Japan's well-oiled economic machine. It's only a mater of time before that powerful engine of productivity begins to sputter and fail.
What could cause such a sharp turnaround? High interest rates? Increased unemployment? Lower productivity? No, it's something much more economically debilitating - and permanent.
Three American lawyers have become the first foreign attorneys permitted to practice law in Japan. What's more, two of them are from New York!
The decline has begun.
Japan has one attorney for every 10,000 residents, compared to the U.S. ratio of one attorney for every 390 residents. For every 100 attorneys trained in Japan, there are 1,000 enginerrs. In the United States, that ratio is reversed.
But a law that became effective on April 1 permits foreigners to practice in Japan for the first time since 1955. Already, an additional 20 American and six British lawyers have applied for permission to open practices in Japan.
If anything can slow the Japanese economy, it's the presence of American attorneys. What better way to even our balance of trade than to send Japan our costliest surplus commodity?
How many surrealists does it t...
How many surrealists does it take to change a light bulb?

Fish

I Marked The Spot
Two friends rented a boat and fished in a lake every day. One day they caught 30 fish. One guy said to his friend,
"Mark this spot so that we can come back here again tomorrow."
The next day, when they were driving to rent the boat, the same guy asked his friend, "Did you mark that spot?"
His friend replied, "Yeah, I put a big 'X' on the bottom of the boat."
The first one said, "You stupid fool! What if we don't get that same boat today!?!?"
#joke
Two girlfriends were speeding ...
Two girlfriends were speeding down the highway at well over 90 mph.
"Hey," asked the brunette at the wheel, "see any cops following us?"
The blonde turned around for a long look. "As a matter of fact, I do."
"Fuck!" cursed the brunette. "Are his flashers on?
The blonde turned around again. "Yup...nope...yup...nope....yup....."
The Parable of the Seagull
A woman went to the beach with her children. Her 4-year-old son ran up to her, grabbed her hand, and led her to the shore where a dead seagull lay in the sand.
"Mommy, what happened to him?" the little boy asked.
"He died and went to heaven," she replied.
The child thought for a moment and said, "And God threw him back down?"
#joke
A Recently Spotted Bumper Sticker:
"I believe in dragons, good men and other fantasy creatures."
A newly wed farmer and his wif...
A newly wed farmer and his wife were visited by her mother, who immediately demanded an inspection of the place. While they were walking through the barn, the farmer's mule suddenly reared up and kicked the mother-in-law in the head, killing her instantly.
At the funeral service a few days later, the farmer stood near the casket and greeted folks as they walked by. The pastor noticed that whenever a woman would whisper something to the farmer, he would nod his head "Yes" and say something. Whenever a man walked by and whispered to the farmer, he would shake his head, "No" and mumble a reply. Curious, the pastor later asked the farmer what that was all about.
The farmer replied, ''The women would say, 'What a terrible tragedy' and I would nod my head and say, 'Yes, it was.' The men would ask, 'You wanna sell that mule?' and I would shake my head and say, 'Can't. It's all booked up for a year.'"
#joke
During the French revolution, ...
During the French revolution, hundreds of people were guillotined. One day, three men were led up to die. One was a lawyer, one was a doctor, and the third was an engineer.

The lawyer was to die first. He was led to the guillotine, the attending priest blessed him, and he knelt with his head on the guillotine. The blade was released, but stopped halfway down its path.

The priest, seeing an opportunity, quickly said, "Gentlemen, God has spoken and said this man is to be spared; we cannot kill him." The executioner agreed, and the lawyer was set free.

The doctor was next. He was blessed by the priest, then knelt and placed his head down. The blade was released, and again stopped halfway down.

Again the priest intervened: "Gentlemen, God has again spoken; we cannot kill this man." The executioner agreed and the doctor was set free.

At last it was the engineer's turn. He was blessed by the priest, and knelt, but before he placed his head on the guillotine he looked up. Suddenly, he leapt to his feet and cried, "Oh, I see the problem!"
I Often Feel Guilty
Sheri, the pert and pretty nurse took her troubles to a resident psychiatrist in the hospital where she worked. "Doctor, you must help me," she pleaded. "It's gotten so that every time I date one of the young doctors here, I end up dating him. And then afterward, I feel guilty and depressed for a week."
"I see," nodded the psychiatrist. "And you, no doubt, want me to strengthen your will power and resolve in this matter."
"NO!!!" exclaimed the nurse. "I want you to fix it so I won't feel guilty and depressed afterward!"
Big Moe Wants Some
This big ole' trucker is driving through Dallas one night and decides to stop at this bar that a buddy of his had told him about. He parks his rig and goes inside. He walks up to the bartender says in this dumb-hick voice,"Big Moe wantsa get f*uked."
The bartender looks at him and tells him it'll cost him 10 bucks.
Big Moe drops a ten-dollar-bill on the bar.
The bartender tells him to go across the street to the hotel and knock on room 14 he'll get want he wants there.
So Big Moe goes over to the hotel and knocks on door number 14. This HUGE James Earl Jones type voice barrels from inside, "What the HELL to you want?"
"Big Moe wantsa get f*uked," our friend answers.
"Well," the voice replies. "Slip 20 dollars under the door."
So Big Moe slips the cash under the door.
He's waitin for awhile and nothin happens. A few minutes later he decides to knock again.
The big voice asks again, "What the Hell do you want?"
"Big Moe wantsa get f*uked," he answers.
The man on the other side shouted through the door, "What Again!"
#joke