Learn to drive #jokes #humor
A Sunday School teacher of preschoolers told her students that she wanted each of them to have learned one fact about Jesus by the next Sunday. The following week she asked each child in turn what he or she had learned.
Susie said, "He was born in a manger."
Bobby said, "He threw the money changers out of the temple."
Little Johnny said, "He has a red pickup truck but he doesn't know how to drive it."
Curious, the teacher asked, "And where did you learn that, Johnny?"
"From my Daddy," said Johnny. "Yesterday we were driving down the highway, and this red pickup truck pulled out in front of us and Daddy yelled at him, 'Jesus Christ! Why don't you learn how to drive?'"
#joke
At a BBQ a couple was chatting...
At a BBQ a couple was chatting with some guests when the marriage counseling topic came up. The wife very pompous commented; "Oh we'll never need that. My husband and I have an excellent relationship." "My husband was a communications major in college and I majored in theater arts. He communicates real well and I just act like I am listening."
#joke
Funny video of the day - Funny video of the day Monday, 28 June 2010
The Great Writer
There was once a young man who, in his youth, professed his desire to become a great writer.
When asked to define great, he said, "I want to write stuff that the whole world will read, stuff that people will react to on a truly emotional level, stuff that will make them scream, cry, howl in pain and anger!"
He now works for Microsoft writing error messages.
#joke
Howard is 95 and lives in a se...
Howard is 95 and lives in a senior citizen home. Every night after dinner, Howard goes to a secluded garden behind the center to sit and ponder his accomplishments and long life.
One evening, Annabel, age 87, wanders into the garden. They begin to chat, and before they know it, several hours have passed. After a short lull in their conversation, Howard turns to Annabel and asks, "Do you know what I miss most of all?
She asks, "What?"
"SEX!!!"
Annabel exclaims, "Why you old fart, you couldn't get it up if I held a gun to your head!"
"I know," Howard says, "but it would be nice if a woman just held it for a while."
"Well, I can oblige", says Annabel, who gently unzips his trousers, removes his manhood and proceeds to hold it.
Afterward, they agree to meet secretly each night in the garden where they would sit and talk and Annabel would hold Howard's manhood. Then,
one night, Howard didn't show up at their usual meeting place.
Alarmed, Annabel decided to find Howard and make sure that he was O.K. She walked around the senior citizen home where she found him sitting by the pool with another female resident-who was holding Howard's manhood!
Furious, Annabel yelled, "You two-timing creep! What does she have that I don't have?!"
Howard smiled happily and replied, "Parkinson's."
#joke
The grandfather clock
Harvey's grandfather clock suddenly stops working right one day, so he loads it into his van and takes it to a clock repair shop. In the shop is a little old man who insists he is Swiss, and has a heavy German accent. He asks Harvey, "Vat sims to be ze problem?"
Harvey says, "I'm not sure, but it doesn't go 'tick- tock-tick-tock' anymore. Now it just goes 'tick...tick...tick.'"
The old man says, "Mmm-Hm!" and steps behind the counter, where he rummages around a bit. He emerges with a huge flashlight and walks over to the grandfather clock. He turns the flashlight on, and shines it directly into the clocks face. Then he says in a menacing voice, "Ve haf vays of making you tock!"
#joke
For beer drinkers
"Sometimes when I reflect back on all the beer I drink I feel ashamed. Then I look into the glass and think about the workers in the brewery and all of their hopes and dreams. If I didn't drink this beer, they might be out of work and their dreams would be shattered. Then I say to myself, "It is better that I drink this beer and let their dreams come true than be selfish and worry about my liver." ~ Jack Handy
~~~~~~~~~~~~~
"I feel sorry for people who don't drink. When they wake up in the morning, that's as good as they're going to feel all day. " ~ Frank Sinatra
~~~~~~~~~~~~~
"When I read about the evils of drinking, I gave up reading." ~ Henny Youngman
~~~~~~~~~~~~~
"24 hours in a day, 24 beers in a case. Coincidence? I think not." ~ Stephen Wright
~~~~~~~~~~~~~
"When we drink, we get drunk. When we get drunk, we fall asleep. When we fall asleep, we commit no sin. When we commit no sin, we go to heaven. Sooooo, let's all get drunk and go to heaven!" ~ Brian O'Rourke
~~~~~~~~~~~~~
"Beer is proof that God loves us and wants us to be happy." ~ Benjamin Franklin
~~~~~~~~~~~~~
"Without question, the greatest invention in the history of mankind is beer. Oh, I grant you that the wheel was also a fine invention, but the wheel does not go nearly as well with pizza." ~ Dave Barry
~~~~~~~~~~~~~
~~~~~~~~~~~~~
Remember "I" before "E", except in Budweiser.
Submitted by Curtis
Edited by calamjo, yisman and Tantilazing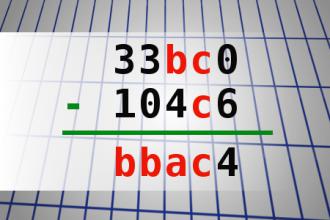 Find number abc
If 33bc0 - 104c6 = bbac4 find number abc. Multiple solutions may exist.
John Oliver: Taxation Without Representation
Frankly, I could not f**king believe I was not allowed to vote. Three and a half years Ive lived here! I work hard -- relatively speaking for someone who does this for a living. I pay my taxes. I try to fit in. Ive learnt your rudimentary language. I dont know what more you could reasonably expect me to do. And thats when it hit me. I know why Im so angry. I know what this is -- taxation without representation. Now I get it. Now I see why you got so pissy about it all those years ago. It is annoying. You were right. It is annoying and consider that as close to an apology as you are ever going to get.
#joke
An old man goes to the Wizard ...
An old man goes to the Wizard to ask him if he can remove a "Curse" he has been living with for the last 40 years.
The Wizard says "maybe, but you will have to tell me the exact words that were used to put the curse on you."
The old man says without hesitation "'I now pronounce you man and wife'".
#joke
Angelic Assistance?
An old-time pastor was riding furiously down the road, hurrying to get to church on time. Suddenly, his horse stumbled and threw him to the ground.
Lying in the dirt, his body wracked with pain, the pastor called out, "All you angels in heaven, help me get up on my horse!"
With extraordinary strength, he leaped onto the horse's back and fell off the other side.
From the ground again, he called out, "All right, just half of you angels this time!"

#joke
Why do the Vikings play in a D...
Why do the Vikings play in a Dome?
Because even God can't stand to watch!
Welles and Link were lost in t...
Welles and Link were lost in the desert and hadn't eaten in weeks. Suddenly they stumbled on a dead coyote covered with maggots.
Welles, at the point of starvation, couldn't control himself. He threw himself on the rotting animal and began eating it. Ten minutes later, he threw up all over the place.
At that moment, Link began eating what his friend had just vomited. He stopped for a moment and said, "I knew if I waited long enough I'd have a hot meal!"
#joke
Bean soup
When the waitress in a New York City restaurant brought him the soup du jour, the Englishman was a bit dismayed. "Good heavens," he said, "what is this?" "Why, it's bean soup," she replied. "I don't care what it has been," he sputtered. "What is it now?"
For a couple years I've b...
For a couple years I've been blaming it on lack of sleep and too much pressure from my job, but now I found out the real reason: I'm tired because I'm overworked.
The population of this country is 237 million. 104 million are retired. That leaves 133 million to do the work.
There are 85 million in school, which leaves 48 million to do the work.
Of this there are 29 million employed by the federal government, leaving 19 million to do the work.
2.8 million are in the Armed Forces, which leaves 16.2 million to do the work.
Take from the total the 14,800,000 people who work for State and City Governments and that leaves 1.4 million to do the work.
At any given time there are 188,000 people in hospitals, leaving 1,212,000 to do the work.
Now, there are 1,211,998 people in prisons. That leaves just two people to do the work. You and me. And you're sitting at your computer reading jokes.
#joke
A man is driving up a steep, n...
A man is driving up a steep, narrow mountain road. A woman is driving down the same road. As they pass each other, the woman leans out of the window and yells "PIG!"
The man immediately leans out of his window and replies, "BITCH!"
They each continue on their way, and as the man rounds the next corner, he crashes into a pig in the middle of the road and dies.
If only men would listen.
#joke
Three little lads were on thei...
Three little lads were on their way home from school when one of them noticed a red Ferrari parked at the side of the road.


He said: "When I'm older I'm going to get a great job and buy one of them."

The second lad said: "I am going to university to get a great education, and a great job and buy one also."

The third lad says: "I'm going to get a job like my sister."

The other two asked what she did.

"She's a prostitute."

"What's a prostitute," the other two ask.

"I dont know, but that's my sister's car."

#joke