Facts of life...
A man walks into a drug store with his 8-year old son. They happen to walk by the condom display, and the boy asks, "What are these, Dad?" To which the man matter-of-factly replies, "Those are called condoms, son.... Men use them to have safe sex."
"Oh I see," replied the boys pensively. "Yes, I've heard of that in health class at school." He looks over the display and picks up a package of 3 and asks, "Why are there 3 in this package."
The dad replies, "Those are for high school boys. One for Friday, one for Saturday, and one for Sunday."
"Cool!" says the boy. He notices a 6 pack and asks, "Then who are these for?" "Those are for college men." the dad answers, "TWO for Friday, TWO for Saturday, and TWO for Sunday."
"WOW!" exclaimed the boy, "then who uses THESE?" he asks, picking up a 12 pack. With a sigh, the dad replied, "Those are for married men. One for January, one for February, one for March........"
Hilarious jokes-Carrier pilot
A landing signal officer (LSO) shouts at a novice fighetr pilot after his 8th unsuccessful landing attempt: "You've got to land here son. This is where the food is."

Funny video of the day - Time for a new fridge
A mother was preparing pancake...
A mother was preparing pancakes for her sons, Kevin, 5,
Ryan 3. The boys began to argue over who would get the
first pancake. Their mother saw the opportunity for a moral
lesson. "If Jesus were sitting here, He would say, 'Let my
brother have the first pancake, I can wait.'"
Kevin turned to his younger brother and said,
"Ryan, you be Jesus!"
#joke
Nerd Season
A truck driver, hauling a tractor-trailer load of computers, stops for a beer. As he approaches the bar, he sees a big sign on the door that says, "COMPUTER NERDS NOT ALLOWED - ENTER AT YOUR OWN RISK!" He enters and sits down.
The bartender comes over to him, sniffs, and says that he smells kind of nerdy. He then asks him what he does for a living. The truck driver explains to him that he drives a truck, and the smell is just from the computers he is hauling. The bartender serves him a beer and says, "OK, truck drivers aren't nerds."
As he is sipping his beer, a skinny guy walks in wearing a pair of glasses with tape around the middle, a pocket protector with twelve kinds of pens and pencils, and a belt that is at least a foot too long. The bartender, without saying a word, pulls out a shotgun and blows the guy away. The truck driver asks him why he did that.
The bartender replied, "Don't worry. The computer nerds are in season because they are overpopulating Silicon Valley. You don't even need a license."
So the truck driver finishes his beer, gets back in his truck, and heads for the freeway. Suddenly, he veers to avoid an accident, and the load shifts. The back door breaks open and computers spill out all over the road. He jumps out and sees a crowd already forming, snatching up all of the computers. The scavengers are comprised of engineers, accountants and programmers - computer geeks. Each of them wearing the nerdiest clothes he has ever seen.
He can't let them steal his whole load. So remembering what happened in the bar, he pulls out his gun and starts blasting away, killing several of them instantly. A highway patrol officer comes zooming up and jumps out of the car screaming at him to stop.
The truck driver said, "What's wrong? I thought computer nerds were in season."
"Well, sure," says the patrolman, "But you can't bait 'em!"
Kyle Kinane: Always a Miracle
Im in my 30s; everybodys having kids or miracles. Oh, its a miracle. Its always a miracle. Im like, You had sex, right? Yeah? Then no, thats exactly whats supposed to happen from that. I spend all my time preventing miracles; that is whats happening. I call it a miracle when the girl doesnt get pregnant. Thats when I start getting spiritual.
#joke
A man in a hot air balloon rea...
A man in a hot air balloon realized he was lost. He reduced altitude and spotted a man below. He descended a bit more and shouted, "Excuse me, can you help me? I promised a friend I would meet him half an hour ago, but I don't know where I am."
The man below replied, "You are in a hot air balloon hovering approximately 30 feet above the ground. You are between 40 and 42 degrees north latitude and between 58 and 60 degrees west longitude."
"You must be an engineer," said the balloonist.
"I am," replied the man, "but how did you know?"
"Well," answered the balloonist, "everything you told me is technically correct, but I have no idea what to make of your information, and the fact is I am still lost."
The man below responded, "You must be a manager."
"I am," replied the balloonist, "how did you know?"
"Well," said the man, "you don't know where you are or where you are going. You made a promise which you have no idea how to keep, and you expect me to solve your problem. The fact is you are exactly in the same position you were in before we met, but now, somehow, it's my fault."
#joke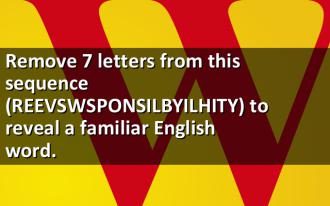 Remove 7 letters from this seq...
Remove 7 letters from this sequence (REEVSWSPONSILBYILHITY) to reveal a familiar English word.
How To Know You're Ready For Parenthood
MESS TEST: Smear peanut butter on the sofa and curtains. Now rub your hands in the wet flower bed and rub on the walls. Cover the stains with crayons. Place a fish stick behind the couch and leave it there all summer.
TOY TEST: Obtain a 55-gallon box of Legos. (If Legos are not available, you may substitute roofing tacks or broken bottles.) Have a friend spread them all over the house. Put on a blindfold. Try to walk to the bathroom or kitchen. Do not scream (this could wake a child at night).
GROCERY STORE TEST: Borrow one or two small animals (goats are best) and take them with you as you shop at the grocery store. Always keep them in sight and pay for anything they eat or damage.
DRESSING TEST: Obtain one large, unhappy, live octopus. Stuff it into a small net bag making sure that all arms stay inside.
FEEDING TEST: Obtain a large plastic milk jug. Fill it halfway with water. Suspend from the ceiling with a stout cord. Get the jug swinging. Try to insert spoonfuls of soggy cereal (such as Fruit Loops or Cheerios) into the mouth of the jug while pretending to be an airplane. Now dump the contents of the jug on the floor.
NIGHT TEST: Prepare by obtaining a small cloth bag and fill it with 8 to 12 pounds of sand. Soak it thoroughly in water. At 8 PM begin to waltz and hum with the bag until 9 PM. Lay down your bag and set your alarm for 10:00 PM. Get up, pick up your bag, and sing every song you have ever heard. Make up about a dozen more and sing them until 4:00 AM. Set alarm for 5:00 AM. Get up and make breakfast. Keep this up for 5 years. Look cheerful.
PHYSICAL TEST (WOMEN): Obtain a large bean-bag chair and attach it to the front of your clothes. Leave it there for 9 mo. Now remove 10% of the beans.
PHYSICAL TEST (MEN): Go to the nearest drug store. Set your wallet on the counter. Ask the clerk to help himself. Now proceed to the nearest food store. Go to the head office and arrange for your paycheck to be directly deposited to the store. Purchase a newspaper. Go home and read it quietly for the last time.
FINAL ASSIGNMENT: Find a couple who already has a small child. Lecture them on how they can improve their child's discipline, patience, tolerance, toilet training, and table manners. Suggest many things they can improve as well. Emphasize to them that they should never allow their children to run riot. Enjoy this experience. It will be the last time you'll have all the answers
#joke
Chuck Norris does the Sunday N...
Chuck Norris does the Sunday New York Times Crossword Puzzle in ink.
An Irishman is walking along t...
An Irishman is walking along the beach one day, and he sees a bottle laying in the sand. He picks it up and starts to brush it off, and out pops a genie.
The genie says, "Since you have freed me from the bottle, I will grant you three wishes."
The Irishman thinks for a moment and says, "I'm feeling a might thirsty, I think I'll be wishing for a pint of stout."
POOF! There is a pint of stout in his hand. He drinks it down, and starts to throw the bottle, when the genie says, "I'd look at that bottle again before I threw it if I were you." So he looks at the bottle, and it is magicaly filling back up with stout. The genie told him, "That is a magic bottle, and it will always fill back up after you finish it." The genie then asked, "What other two wishes can I grant for you?"
The Irishman looks at the bottle in his hand and says, "I'll be taking two more of these."
#joke
John Oliver: Taxation Without Representation
Frankly, I could not f**king believe I was not allowed to vote. Three and a half years Ive lived here! I work hard -- relatively speaking for someone who does this for a living. I pay my taxes. I try to fit in. Ive learnt your rudimentary language. I dont know what more you could reasonably expect me to do. And thats when it hit me. I know why Im so angry. I know what this is -- taxation without representation. Now I get it. Now I see why you got so pissy about it all those years ago. It is annoying. You were right. It is annoying and consider that as close to an apology as you are ever going to get.
#joke
No Wool Downstairs
A husky foreigner, looking for sex, accepted a prostitute's terms.
When she undressed, he noticed that she had no pubic hair.
The man shouted, "What, no wool? In my country all women have wool down there."
The prostitute snapped back, "What do you want to do, knit or have sex?"
#joke
Howard is 95 and lives in a se...
Howard is 95 and lives in a senior citizen home. Every night after dinner, Howard goes to a secluded garden behind the center to sit and ponder his accomplishments and long life.
One evening, Annabel, age 87, wanders into the garden. They begin to chat, and before they know it, several hours have passed. After a short lull in their conversation, Howard turns to Annabel and asks, "Do you know what I miss most of all?
She asks, "What?"
"SEX!!!"
Annabel exclaims, "Why you old fart, you couldn't get it up if I held a gun to your head!"
"I know," Howard says, "but it would be nice if a woman just held it for a while."
"Well, I can oblige", says Annabel, who gently unzips his trousers, removes his manhood and proceeds to hold it.
Afterward, they agree to meet secretly each night in the garden where they would sit and talk and Annabel would hold Howard's manhood. Then,
one night, Howard didn't show up at their usual meeting place.
Alarmed, Annabel decided to find Howard and make sure that he was O.K. She walked around the senior citizen home where she found him sitting by the pool with another female resident-who was holding Howard's manhood!
Furious, Annabel yelled, "You two-timing creep! What does she have that I don't have?!"
Howard smiled happily and replied, "Parkinson's."
#joke
For beer drinkers
"Sometimes when I reflect back on all the beer I drink I feel ashamed. Then I look into the glass and think about the workers in the brewery and all of their hopes and dreams. If I didn't drink this beer, they might be out of work and their dreams would be shattered. Then I say to myself, "It is better that I drink this beer and let their dreams come true than be selfish and worry about my liver." ~ Jack Handy
~~~~~~~~~~~~~
"I feel sorry for people who don't drink. When they wake up in the morning, that's as good as they're going to feel all day. " ~ Frank Sinatra
~~~~~~~~~~~~~
"When I read about the evils of drinking, I gave up reading." ~ Henny Youngman
~~~~~~~~~~~~~
"24 hours in a day, 24 beers in a case. Coincidence? I think not." ~ Stephen Wright
~~~~~~~~~~~~~
"When we drink, we get drunk. When we get drunk, we fall asleep. When we fall asleep, we commit no sin. When we commit no sin, we go to heaven. Sooooo, let's all get drunk and go to heaven!" ~ Brian O'Rourke
~~~~~~~~~~~~~
"Beer is proof that God loves us and wants us to be happy." ~ Benjamin Franklin
~~~~~~~~~~~~~
"Without question, the greatest invention in the history of mankind is beer. Oh, I grant you that the wheel was also a fine invention, but the wheel does not go nearly as well with pizza." ~ Dave Barry
~~~~~~~~~~~~~
BEER: HELPING UGLY PEOPLE HAVE SEX SINCE 3000 B.C.!!! ~ "Unknown"
~~~~~~~~~~~~~
Remember "I" before "E", except in Budweiser.
Submitted by Curtis
Edited by calamjo, yisman and Tantilazing
Welles and Link were lost in t...
Welles and Link were lost in the desert and hadn't eaten in weeks. Suddenly they stumbled on a dead coyote covered with maggots.
Welles, at the point of starvation, couldn't control himself. He threw himself on the rotting animal and began eating it. Ten minutes later, he threw up all over the place.
At that moment, Link began eating what his friend had just vomited. He stopped for a moment and said, "I knew if I waited long enough I'd have a hot meal!"
#joke