Hymn #365
A southern Baptist minister was completing a temperance sermon.
With great emphasis he said, "If I had all the beer in the world, I'd take it and pour it into the river."With even greater emphasis he said, "And if I had all the wine in the world, I'd take it and pour it into the river."
And then finally, shaking his fist in the air, he said, "And if I had all the whiskey in the world, I'd take it and pour it into the river."
Sermon complete, he then sat down.
The song leader stood very cautiously and announced with a smile, "For our closing song, let us sing Hymn #365, Shall We Gather at the River."
Number Jokes
A man is sent to prison for the first time. At night, the lights in the cell block are turned off, and his cellmate goes over to the bars and yells, "Number twelve!" The whole cell block breaks out laughing. A few minutes later, somebody else in the cell block yells, "Number four!" Again, the whole cell block breaks out laughing.
The new guy asks his cellmate what's going on. "Well," says the older prisoner, "we've all been in this here prison for so long, we all know the same jokes. So we just yell out the number instead of saying the whole joke."
So the new guy walks up to the bars and yells, "Number twenty-nine!" This time the whole cell block rocks with the loudest laughter, prisoners rolling on the floor laughing hysterically.
When the guffaws die down, the bewildered new guy turns to the older prisoner and asks, "How come you guys were laughing so hard this time?"
"Oh," says the older man wiping tears from his eyes, "we'd never heard that one before."
#joke
Funny video of the day - Daily Fail Minute #53
Early one morning, a mother we...
Early one morning, a mother went in to wake up her son. "Wake up, son. It's time to go to school!"
"But why, Mom? I don't want to go."
"Give me two reasons why you don't want to go."
"Well, the kids hate me for one, and the teachers hate me, too!"
"Oh, that's no reason not to go to school. Come on now and get ready."
"Give me two reasons why I should go to school."
"Well, for one, you're 52 years old. And for another, you're the Principal!"
#joke
Words to live by...
Notice! Take lettuce from the top of the stack, or heads will roll!
Well, if Jerry Springer isn't educational TV, why does it make me feel so much smarter?
A TV can insult your intelligence, but nothing rubs it in like a computer.
I tried to get in touch with my inner child, but he isn't allowed to talk to strangers.
I have to take my paycheck to the bank. It's too little to go by itself.
I must be following my diet too closely. I keep gaining on it.
Welcome to Megacomputer's 24-hour helpline. If you have been waiting LESS than 24 hours, please remain on the line.
Whenever I'm in a mood to watch the world go by, I just keep to the posted speed limit.
Don't sweat the petty things and don't pet the sweaty things.
One tequila, two tequila, three tequila, floor.
If man evolved from monkeys and apes, why do we still have monkeys and apes?
#joke
A prudish lady
Josh goes to a drugstore owned by Mary, a prudish woman. He says to Mary, "Can I have two dozen condoms, miss?"
May says arrogantly, "Don't miss me, mister."
Josh replies sarcastically, "Well then, you better make it 25."

Santa is a Woman
I hate to be the one to defy sacred myth, but I believe he's a she.
Think about it. Christmas is a big, organized, warm, fuzzy, nurturing social deal, and I have a tough time believing a guy could possibly pull it all off!
For starters, the vast majority of men don't even think about selecting gifts until Christmas Eve. It's as if they are all frozen in some kind of Ebenezerian Time Warp until 3 p.m. on Dec. 24th, when they – with amazing calm – call other errant men and plan for a last-minute shopping spree.
Once at the mall, they always seem surprised to find only Ronco products, socket wrench sets and mood rings left on the shelves. (You might think this would send them into a fit of panic and guilt, but my husband tells me it's an enormous relief because it lessens the 11th-hour decision-making burden.) On this count alone, I'm convinced Santa is a woman.
Surely, if he were a man, everyone in the universe would wake up Christmas morning to find a rotating musical Chia Pet under the tree, still in the bag.
Another problem for a he-Santa would be getting there. First of all, there would be no reindeer because they would all be dead, gutted, and strapped on to the rear bumper of the sleigh, amid wide-eyed, desperate claims that buck season had been extended. Blitzen's rack would already be on the way to the taxidermist.
Even if the male Santa did have reindeer, he'd still have transportation problems because he would inevitably get lost in the snow and clouds, and then refuse to stop and ask for directions.
Add to this the fact that there would be unavoidable delays in the chimney, where the Bob Vila-like Santa would stop to inspect and repoint bricks in the flue. He would also need to check for carbon monoxide fumes in every gas fireplace, and get under every Christmas tree that is crooked to straighten it to a perfectly upright 90-degree angle.
Other reasons why Santa can't possibly be a man:
- Men can't pack a bag.
- Men would rather be dead than caught wearing red velvet.
- Men would feel their masculinity is threatened, having to be seen with all those elves.
- Men don't answer their mail.
- Men would refuse to allow their physique to be described, even in jest, as anything remotely resembling a "bowlful of jelly."
- Finally, being responsible for Christmas would require a commitment.
I can buy the fact that other mythical holiday characters are men. Father Time shows up once a year unshaven and looking ominous. Definite guy. Cupid flies around carrying weapons. Uncle Sam is a politician who likes to point fingers. Any one of these individuals could pass the testosterone screening test. But not St. Nick. Not a chance.
FLEX WORDLE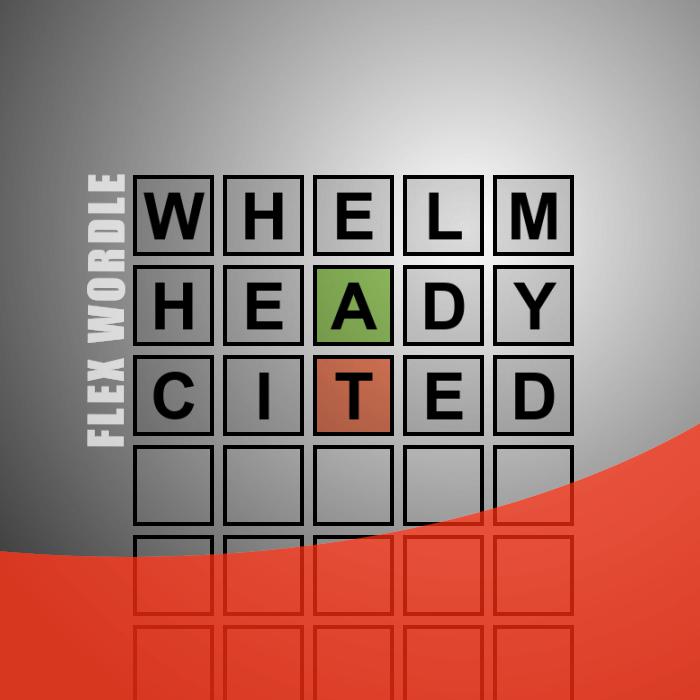 Guess the
WORDLE
in 3 tries. After each guess, the color of the tiles will change to show how close your guess was to the solution.
Saddam Hussein was not found h...
Saddam Hussein was not found hiding in a "hole." Saddam was roundhouse-kicked in the head by Chuck Norris in Kansas, which sent him through the earth, stopping just short of the surface of Iraq.
Al Jackson: Bacardi 151
I had a bad introduction to drinking, as it is. When I was 14 years old, my boys got me in a room and they gave me Bacardi 151. I didnt even know what the 151 stood for; I thought it was like Heinz 57 sauce or Formula 409 or some sh*t. Turns out you have 151% chance of taking a swing at your dad.
A frog walks into a bank. He g...
A frog walks into a bank. He goes to the only open teller, and sees that her name is Paddy Whack. "Hey, listen" says the frog. "I really need a loan! I'm out of work, and my wife and tadpoles are at home starving! I need money so I can feed them and provide for them!"
Now Paddy feels very sorry for the poor frog and asks him if he has any collateral. He holds up a small glass elephant. Paddy is a little surprised by this, and quite unsure, but she feels so sorry for the the poor frog that she takes the elephant to her manager. "Mr. Manager, sir," Paddy begins "there is a frog out there who deperately needs a loan. He's out of work and he has a wife and tadpoles who are at home starving. He needs some money so he can provide for them! But all he has for collateral is this little glass elephant. What should I do?"
Well, Mr. Manager takes a good hard look at that elephant, thinks about it a little, and then replies, "It's a knick-knack, Paddy Whack, give the frog a loan!"
#joke
Donald Glover: Serious Black Candidate
When he was coming up, people were like, We have a serious black candidate for president. This is crazy. We have a serious black candidate. And then when he won, they were like, Our first multi-racial president. And I was like, Thats not fair. I mean, lets set the record straight. If you went outside tonight after this show and Barack Obama was stealing your car, you wouldnt yell, Hey, someone stop that mixed guy!
#joke
Pee in Church
A mother took her little boy to church.
While in church the little boy said, "Mommy, I have to pee."
The mother said to the little boy, "It's not appropriate to say the word 'pee' in church. So, from now on whenever you have to 'pee' just tell me that you have to 'whisper'."
The following Sunday, the little boy went to church with his father and during the service said to his father, "Daddy, I have to whisper."
The father looked at him and said, "Okay, why don't you whisper in my ear."
Submitted by Calamjo
Edited by Yisman
#joke
Lost at Sea?
Yossi and Janine, an elderly Jewish couple, are sitting together on an aeroplane flying to the Far East. Suddenly, over the public address system, the Captain announces, "Ladies and Gentlemen, I am afraid I have some very bad news. Our engines have ceased functioning, and this plane will be going down in a few minutes time. The good news is that I can see an island below us that should be able to accommodate our landing. The bad news is that this island appears to be uncharted - I am unable to find it on our maps. So the odds are that we will never be rescued and will have to live on the island for a very long time, if not for the rest of our lives."Yossi turns to Janine and asks, "Janine, dear, did we turn off the oven?" and Janine replies, "Of course."
"Janine, are our life insurance policies paid up?"
"Of course."
"Janine, did we pay our pledge for the synagogue appeal?"
"Oh my God, I forgot to send off the cheque."
"Thank Heaven! They'll find us for sure!"
#joke
1-iron
What should you do if your round of golf is interrupted by a lightning storm?
Walk around holding your 1-iron above your head, because even God can't hit a 1-iron!
Submitted by Calamjo
Edited by Tantilazing
The Atheist And The Loch Ness Monster
At once, the ferocious attack scene froze in place, and as the atheist hung in mid-air, a booming voice came down from the clouds, "I thought you didn't believe in Me!"
"Come on God, give me a break!!" the man pleaded. "Two minutes ago I didn't believe in the Loch Ness monster either!"
Join us on WhatsApp