Why did Dorothy get lost in Oz...
Why did Dorothy get lost in Oz?
She had three men giving her directions.

Kids jokes-Turn seven
I asked my neighbor's kid when he would turn seven.

Pat came the reply, "When I'm tired of being six."
Funny video of the day - Best Fails of the Week 1 February 2013
Have you been drinking?
A policeman pulls a man over for speeding and asks him to get out of the car. After looking the man over he says, "Sir, I couldn't help but notice your eyes are bloodshot. Have you been drinking?"
The man gets really indignant and says, "Officer, I couldn't help but notice your eyes are glazed. Have you been eating doughnuts?"
Business One-liners 68
If the slightest probability for an unpleasant event to happen exists, the event will take place, preferably during a demonstration.
If there is a possibility of several things going wrong, the one that will cause the most damage will be the one to go wrong.
If there isn't a law, there will be.
If there is a 50-50 chance that something can go wrong, then 9 times out of 10 it will.
If there is light at the end of the tunnel...order more tunnel.
If things were left to chance, they would be better.
If two wrongs don't make a right, try three.
If we learn by our mistakes, some of us are getting one great education!
If you aim for the stars but only make it to the moon, remember there are people who have not yet made it to the moon.
If you are already in a hole, there is no use to continue digging.
#joke
Top Ten Ways to Freak Out Your Roommate
10) Collect potatoes. Paint faces on them and give them names. Name one after your roommate. Separate your roommate's potato from the others. Wait a few days, and then bake your roommate's potato and eat it. Explain to your roommate, ''He just didn't belong.''

9) Move everything to one side of the room. Ask your roommate if he knows how much an elephant weighs, and look at the floor on the empty side of the room with concern.
8) Draw a tiny black line on your nose. Make it bigger every day. Look at it and say, ''The hair, it's growing. Growing!''
7) Buy some knives. Sharpen them every night. While you're doing so, look at your roommate and mutter, ''Soon, soon....''
6) Collect hundreds of pens and pile them on one side of the room. Keep one pencil on the other side of the room. Laugh at the pencil.
5) Tell your roommate, ''I've got an important message for you.'' Then pretend to faint. When you recover, say you can't remember what the message was. Later on, say, ''Oh, yeah, I remember!'' Pretend to faint again. Keep this up for several weeks.
4) While your roommate is out, glue your shoes to the ceiling. When your roommate walks in, sit on the floor, hold your head, and moan.
3) Make a sandwich. Don't eat it, leave it on the floor. Ignore the sandwich. Wait until your roommate gets rid of it, and then say, ''Hey, where the heck is my sandwich!?'' Complain loudly that you are hungry.
2) Every time your roommate walks in yell, ''Hooray! You're back!'' as loud as you can and dance around the room for five minutes. Afterwards, keep looking at your watch and saying, ''Shouldn't you be going somewhere?''
1) Talk back to your Rice Krispies. All of a sudden, act offended, throw the bowl on the floor and kick it. Refuse to clean it up, explaining, ''No, I want to watch them suffer.'''
#joke
"What do you get if B...
"What do you get if Basil Brush is eating a four cheese pizza and he catches fire? Mozzarella FireFox."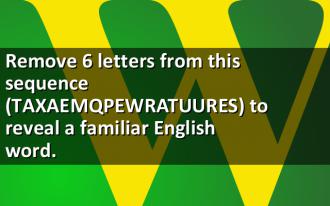 Remove 6 letters from this seq...
Remove 6 letters from this sequence (TAXAEMQPEWRATUURES) to reveal a familiar English word.
There is a new virus going aro...
There is a new virus going around, called "work." If you receive any sort of "work" at all, whether via email, Internet or simply handed to you by a colleague ... DO NOT OPEN IT.
This has been circulating around our building for months and those who have been tempted to open "work" or even look at "work" have found that their social life is deleted and their brain ceases to function properly.
If you do encounter "work" via email or are faced with any "work" at all, then to purge the virus, send an email to your boss with the words "I've had enough... I'm off to the pub." The "work" should automatically be forgotten by your brain. If you receive "work" in paper-document form, simply lift the document and drag the "work" to your garbage can. Put on your hat and coat and skip to the nearest bar with two friends and order three pints of beer (or rum punch). After repeating this action 14 times, you will find that "work" will no longer be of any relevance to you and that "Scooby Doo" was the greatest cartoon ever.
Send this message to everyone in your address book. If you do NOT have anyone in your address book, then I'm afraid the "work" virus has already corrupted your life.
Stuck nuts
Sitting at home one night with his wife, a man is casually tossing peanuts into the air and catching them in his mouth. As the couple take in the latest episode of their favorite program, the man loses concentration for a split second, and a peanut goes into his ear. He tries to get it out, but succeeds only in forcing the thing in awfully deep.
After a few hours of fruitless rooting the couple decide to go to the hospital, but on their way out of the front door they meet their daughter coming in with her new boyfriend.
The boyfriend takes control of the situation; he tells them he's studying medicine and that they're not to worry about a thing. He then sticks two fingers up the man's nose and asks him to blow, and low and behold, the nut shoots from the ear and out across the room.
As the daughter and her boyfriend go through to the kitchen to get drinks, the man and his wife sit down to discuss their luck.
"So" the wife says, "what do you think he'll become after he finishes school? A GP or a surgeon?"
"Well," says the man, rubbing his nose, "by the smell of his fingers, I think he's going to become our son-in-law."
#joke
Chuck Norris uses pepper spray...
Chuck Norris uses pepper spray to spice up his steaks.
The old hotdog trick
We've all seen him, the party drunk/asshole. He has too much to drink, makes an ass out of himself, barfs all over the rug, then passes out on your bed.
We had a guy on the boat (I'm in the USN sub force) who would get so drunk when we pulled into a liberty port the asshole had to be carried back and dumped in his rack. We didn't want the MP's to snag him because that makes the boat look bad and our dickhead CO might have secured everyone's liberty.
To take care of this once and for all, we brought him back one night, out cold of course, and placed him in his rack on his side with his ass pointing to us. One person pulled down is pants and underwear while another person ran to the freezer and Doc's office. The second person came back with a frozen hotdog and a condom.
Here is how you do this little stunt:
1. Unwrap the condom and place it over the frozen hotdog. A lubricated one works best.
2. Shove the device up the guys ass and leave it there for a second or two. The condensation from the hotdog will allow it to be removed from the condom while leaving the rubber in the asshole.
3. Pull the victims pants up and leave them unbuttoned and unbuckled.
(OPTIONAL)
The less people involved the better. When our victim woke up and went to the head we all had to leave to keep from cracking up. When he was done with his shit, shower, and shave, he came to the mess decks for chow. He sat next to a friend of mine who was involved with the shen and asked, "Hey man, what happened last night?"
"I was going to ask you the same thing. You started drinking with some dork from a skimmer and the next thing we knew you guys were off to the bars out in town. Why?"
He had a mortified look on his face.
"Uhh, just wondering."
He never got trashed again while on that deployment.
#joke
A woman goes into a sporting g...
A woman goes into a sporting goods store to buy a rifle.
"It`s for my husband," she tells the clerk.
"Did he tell you what gauge to get?" asked the clerk.
"Are you kidding?" she says. "He doesn`t even know that I`m going to shoot him!"
Knock Knock Collection 143
Knock Knock
Who's there?
Othello!
Othello who?
Othello you thalked to me!
Knock Knock
Who's there?
Otis!
Otis who?
Otis a sin to tell a lie!
Knock Knock
Who's there?
Ottawa!
Ottawa who?
Ottawa know you're telling the truth?
Knock Knock
Who's there?
Oewn!
Owen who?
Owen you open this door, I'm going to give you such a roasting!
Knock Knock
Who's there?
Owl!
Owl who?
Owl Aboard!
#joke
husband, while on a business t...
husband, while on a business trip to a hill station sent a telegram to his wife "I wish you were here." The message received by the wife was "I wish you were her."

Join us on WhatsApp