"I simply must find a...
"I simply must find a new podiatrist. My podiatrist has developed such a callus attitude."
Late for Work
Tom had this problem of getting up late in the morning and was always late for work. His boss was mad at him and threatened to fire him if he didn't do something about it. So Tom went to his doctor who gave him a pill and told him to take it before he went to bed.
Tom slept well and in fact beat the alarm in the morning. He had a leisurely breakfast and drove cheerfully to work. "Boss," he said, "The pill actually worked!"
"That's all fine" said the boss. "But where were you yesterday?"
Cool it with Beer
Once Dean and Martin came to Martin's house and heard some noises in Martin's bedroom upstairs. Surprised and alert, they crept up and peeked inside the bedroom carefully from the gap in the door. They found his milkman in bed with Martin's wife. They went down silently and into the kitchen.

Martin was shaking with rage. He jerked open the fridge, grabbed two bottles of chilled beer and handed one over to Dean. Both had a couple of sweeps in silence. Dean understood Martin's rage and said: "Sorry about that, but what about that milkman?"

Martin: "What about him? He can get his own damn beer."
Six months to live...
"Mr. Clark, I'm afraid I have bad news," the doctor told his anxious patient. "You only have six months to live."
The man sat in stunned silence for the next several minutes. Regaining his composure, he apologetically told his physician that he had no medical insurance. "I can't possibly pay you in that time."
"Okay," the doctor said, "let's make it nine months."
Answering Machine Message 40
Richard Nixon voice: Hi... Uh, some people say I sound like Richard Nixon... I BEG your pardon! Uh... Everyone's out right now, so I'm uh... Covering up for them. Please leave your name, number and message promptly at the beep... I don't want to get blamed for any gaps on this tape. OK machine, you can beep now... Come on you, BEEP.
#joke
Lesbian bar
How can you spot a tough lesbian bar?
The pool tables don't have balls.
Submitted by Curtis
Edited by Yisman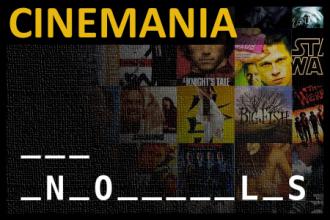 CINEMANIA: Guess the movie title
Film was made in 1987.
Chuck Norris graduated from sc...
Chuck Norris graduated from school with a degree in Chuck Norris.
Rising to the Occasion
A bunch of girls had become upset at an anthropology
professor who had a knack of offending women. They decided
the next time he did something offensive, they would all
stand up and walk out of his class. Sure enough, at the very
next class meeting while discussing a tribe of African
natives. The professor leered and said, "You'll be
interested to know the average tribal warrior there has a
cock twelve inches long."
The girls all rose in a large mass and headed for the door.
The prof sneered and said, "What's your hurry, girls? The
next flight to there isn't until Saturday!"
#joke
The three wise men are out for...
The three wise men are out for a stroll when they come across a stable. The three of them decide to duck inside.
On the way in one of the wise men hits his head on the low entranceway.
"Jesus Christ!" he says.
Joseph says, "Quick, Mary, write that down! It's a hell of a lot better than Clyde!"
#joke
Name the animals...
The first-grade teacher was showing pictures of animals to her students to see how many they could name. She held up a picture of a lamb, and a little girl said, "That's a sheep!"
"That's right!" said the teacher. "How about THIS one?" she said, holding up a picture of the king of beasts.
"That's a lion!" answered a little boy.
"Right!" said the teacher. Then she held up a picture of a deer. No one volunteered an answer. She tried to help. "What does your mother call your father?"
Johnny said, "I know! That's a lazy old goat!"
#joke
Bought A Bad Computer
Top Ten Signs You Bought A Bad Computer


Lower corner of screen has the words "Etch-a-sketch" on it.

It's celebrity spokesman is that "Hey Vern!" guy.

In order to start it you need some jumper cables and a friend's car.

It's slogan is "Pentium: redefining mathematics".

The "quick reference" manual is 120 pages long.

Whenever you turn it on, all the dogs in your neighborhood start howling.
The screen often displays the message, "Ain't it break time yet?"
The manual contains only one sentence: "Good Luck!"
The only chip inside is a Dorito.
You've decided that your computer is an excellent addition to your fabulous paperweight collection.

#joke