"I thought I packed a...
"I thought I packed a memory card for my camera, but I forgot it."
Profile pic

A mother says to her teenaged daughter, "Hey, where are you going all dolled up?"

The teenaged daughter replies, "To the washroom. Need to upload a new FB profile pic."

Funny video of the day - Extreme Japanese Wake Up Prank
Special cow?
There was a nun whose old body began to surrender to time. Her doctor prescribed for her a shot of whiskey three times a day to relax her. Not to be lured into "worldly pleasures", she huffily declined.
But the Mother Superior knew the elderly sister loved milk. So she instructed the kitchen to spike the milk three times a day.
After a few more years, even that spiked milk couldn't help and the aged sister approached her final hour. As several nuns gathered around her at her bedside, the Mother Superior asked if she wanted to leave them with any words of wisdom.
"Oh, yes," she replied. "Never sell that cow!"
The Results Of Statistics
1. Ten percent of all car thieves are left-handed
2. All polar bears are left-handed
3. If your car is stolen, there's a 10 percent chance it was taken by a Polar bear
1. 39 percent of unemployed men wear spectacles
2. 80 percent of employed men wear spectacles
3. Work stuffs up your eyesight
1. All dogs are animals
2. All cats are animals
3. Therefore, all dogs are cats
1. A total of 4000 cans are opened around the world every second
2. Ten babies are conceived around the world every second
3. Each time you open a can, you stand a 1 in 400 chance of becoming pregnant
#joke
Fertile Celebration
While the bar patron savoured a double martini, an attractive women sat down next to him. The bartender served her a glass of orange juice, and the man turned to her and said, "This is a special day. I'm celebrating."
"I'm celebrating, too," she replied, clinking glasses with him.
"What are you celebrating?" he asked.
"For years I've been trying to have a child," she answered, "Today my gynaecologist told me I'm pregnant!"
"Congratulations," the man said, lifting his glass.
"As it happens, I'm a chicken farmer, and for years all my hens were infertile. But today they're finally fertile."
"How did it happen?"
"I switched cocks."
"What a coincidence," she said, smiling.
#joke
Canni Ball!
Hey, did you hear about the cannibal who arrived late to the dinner party?
They gave him the cold shoulder!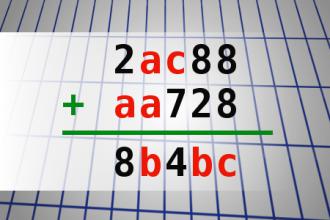 Find number abc
If 2ac88 + aa728 = 8b4bc find number abc. Multiple solutions may exist.
Adopted Turtle
Deep within a forest a little turtle began to climb a tree. After hours of effort he reached the top, jumped into the air waving his front legs and crashed to the ground. After recovering, he slowly climbed the tree again, jumped, and fell to the ground.
The turtle tried again and again while a couple of birds sitting on a branch watched his sad efforts. Finally, the female bird turned to her mate.
"Dear," she chirped, "I think it's time to tell him he's adopted."
#joke
A man got really drunk one nig...
A man got really drunk one night in his local pub. The barman refused to serve him any more alcohol and told him he should be heading home. The man thought this was a good idea so he stood up to leave but fell over straight away. He tried to stand up again but only fell over again. He thought if only he could get outside and get some fresh air he'd be grand. So he crawled outside then tried to stand up and fell over again. In the end after falling over lots more he decided to crawl home. When he got back to his house he pulled himself up using the door handle but as soon as he let go he fell over again. He had to crawl up the stairs and managed to fall over onto the bed and fell asleep. When he finally woke up the next morning his wife asked him what he was doing at the pub last night. He denied it but she said, "I know you were there..." he maintained his innocence until "...the barman rang to say you forgot your wheelchair again...."
#joke
When the Boogeyman goes to bed...
When the Boogeyman goes to bed he checks his closet for Chuck Norris.
Demetri Martin: Exit Only
I saw a sign on this door; it said, Exit Only. So, I entered it and went up to the guy working there, and I was like, I have some good news. You have severely underestimated this door over here by, like, 100%, man.
Three Travelers
Three travelers, an American, a Russian, and an Egyptian, were circumnavigating the globe a la Jules Verne. The Russian man put his hand out and reached down into the clouds.
"Aaah!" he said. "We're right over my homeland."
"How can you tell?" asked the American.
"I can feel the cold air." he replied.
A few days later the African man put his hand through the clouds.
"Aah we're right over my homeland." he said.
"How do you know that?" asked the Russian.
"I can feel the heat of the desert."
Several more days later the American put his hand through the clouds.
"Aah, we're right over New York." The Russian and the African were amazed.
"How do you know all of that?!" they exclaimed.
The American pulled his hand in and held it up for them to see. "My watch is missing."
#joke
Grandpa and God
My grandson was visiting one day when he asked, "Grandma, do you know how you and God are alike?"
I mentally polished my halo while I asked, "Now, how are we alike?"
"You're both old," he replied.

Contrary to popular belief, th...
Contrary to popular belief, there is indeed enough Chuck Norris to go around.
The General Managers of Cascad...
The General Managers of Cascade Brewery (Tasmania), Tooheys (NewSouth Wales), XXXX (Queensland), CUB (Victoria) and Coopers (South Australia) were at a national beer conference.
They decide to all go to lunch together and the waitress asks what they want to drink.
The General Manager of Tooheys says without hesitation, "I'll have a Tooheys New."
The General Manager of Cascade smiles and says, "I'll have a Cascade Draught, brewed from pure mountain water."
The General Manager of Coopers proudly says, "I'll have a Coopers, the King of Beers."
The bloke from XXXX says, "I'll have a XXXX, the cleanest beer on the planet."
The General Manager from Carlton glances at his lunch mates and says, "I'll have a Diet Coke."
The others look at him like he has sprouted a new head.
He just shrugs and says, "Well if you poofters aren't drinking beer, then neither will I."