Boss Issues
A boss was complaining in a staff meeting the other day that he wasn't getting any respect. Later that morning he went to a local sign shop and bought a small sign that read, "I'm the Boss". He then taped it to his office door.
Later that day when he returned from lunch, he found that someone had taped a note to the sign that said. "Your wife called, she wants her sign back!"
#joke
Really funny jokes-New sport
Tom: My wife suggested that I take up a new sport this summer.

Harry: Well, that's nice. It shows that she has your interests at heart. Did she make any suggestions?

Tom: As a matter of fact, she did. By the way, how do you play this Russian Roulette?
#joke
HR Heaven and Hell

...
HR Heaven and Hell
One day while walking down the street a highly successful HR Director
was tragically hit by a bus and she died. Her soul arrived up in heaven
where she was met at the Pearly Gates by St. Peter himself.
"Welcome to Heaven," said St. Peter. "Before you get settled in though,
it seems we have a problem. You see, strangely enough, we've never once
had a Human Resources Director make it this far and we're not really
sure what to do with you."
"No problem, just let me in," said the woman. "Well, I'd like to,"
replied St. Peter, "but I have higher orders. What we're going to do is
let you have a day in Hell and a day in Heaven and then you can choose
whichever one you want to spend an eternity in."
"Actually, I think I've made up my mind, I prefer to stay in Heaven,"
said the woman.
"Sorry, we have rules..." And with that St. Peter put the executive in
an elevator and it went down-down-down to hell. The doors opened and she
found herself stepping out onto the putting green of a beautiful golf
course. In the distance was a country club and standing in front of her
were all her friends - fellow executives that she had worked with and
they were all dressed in evening gowns and cheering for her. They ran up
and kissed her on both cheeks and they talked about old times. They
played an excellent round of golf and at night went to the country club
where she enjoyed an excellent steak and lobster dinner. She met the
Devil who was actually a really nice guy (kinda cute) and she had a
great time telling jokes and dancing. She was having such a good time
that before she knew it, it was time to leave. Everybody shook her hand
and waved good-bye as she got on the elevator. The elevator went
up-up-up and opened back up at the Pearly Gates and she found St. Peter
waiting for her.
"Now it's time to spend a day in heaven," he said. So she spent the next
24 hours lounging around on clouds and playing the harp and singing. She
had a great time and before she knew it her 24 hours were up and St.
Peter came and got her. "So, you've spent a day in hell and you've spent
a day in heaven. Now you must choose your eternity," he said. The woman
paused for a second and then replied, "Well, I never thought I'd say
this, I mean, Heaven has been really great and all, but I think I had a
better time in Hell." So St. Peter escorted her to the elevator and
again she went down-down-down back to Hell.
When the doors of the elevator opened she found herself standing in a
desolate wasteland covered in garbage and filth. She saw her friends
were dressed in rags and were picking up the garbage and putting it in
sacks. The Devil came up to her and put his arm around her.
"I don't understand," stammered the woman, "yesterday I was here and
there was a golf course and a country club and we ate lobster and we
danced and had a great time. Now all there is, is a wasteland of garbage
and all my friends look miserable."
The Devil looked at her and smiled. "Yesterday we were recruiting you,
today you're staff..."
#joke
Drunk in court...
A drunk man was brought to court. Just before the trial there was a commotion in the gallery. The judge pounded the gravel on his table and shouted, "Order, order."
The drunk immediately responded, "Thank you, your Honor, I'll have a Scotch and soda."
Olympic City Bribery
The Top 9 Signs Your City Used Bribes to Become an Olympic Site
9. IOC members seem unconcerned over scheduling conflicts due to the yachting, diving and swimming events all being held in the 34th Street YMCA pool.
8. All 75 of the new hires in the mayor's office are named either Ingrid or Sven.
7. After Philadelphia lands the Summer Games, Juan Antonio Samaranch sports a hood ornament that looks strangely like the Liberty Bell.
6. Only someone bribed with hookers and college tuition wouldn't think the term "New York City Hospitality Committee" is an oxymoron.
5. Karl Malone is now playing forward for the Utah Samaranches.
4. T-shirt for sale in the hotel lobby: "My dad went to Salt Lake City, and all I got was this T-shirt and college tuition."
3. "Miss Salt Lake" for 1999 requires a translator to deliver her coronation speech.
2. New Olympic mascots: Vinny and Knuckles.
and the Number 1 Sign Your City Used Bribes to Become an Olympic Site...
1. The IOC suddenly decides to change the official cycling uniforms to white shirts and ties.
This list is copyrighted by Chris White.
#joke
POV
An Insult:
I'm trying to see things from your point of view, but I can't get my head that far up my ass!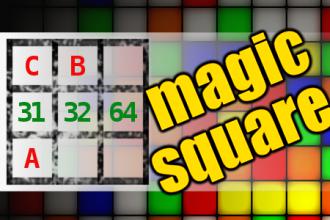 MAGIC SQUARE: Calculate A+B-C
The aim is to place the some numbers from the list (3, 21, 26, 27, 31, 32, 34, 37, 48, 64, 69, 74) into the empty squares and squares marked with A, B an C. Sum of each row and column should be equal. All the numbers of the magic square must be different. Find values for A, B, and C. Solution is A+B-C.
"I thought I packed a...
"I thought I packed a memory card for my camera, but I forgot it."
I think...
There are three girls at a bar, a red head, a brunette, and a blonde.
They have a seat at the bar. The bar tender says, "If you go into the bathroom there is a mirror. Look into the mirror and tell anything in your life that you believe is true. If you are telling the truth then "POOF" a hundred dollars pops out, if you lie then "POOF" you'll disappear."
So the red head goes in first and stares deeply into the mirror and proclaims, "I think that i am the most beautiful woman in the world!", "POOF" a hundred dollars pops out.
Then the brunette goes in. "I think that i am the smartest woman in the world," "POOF" a hundred dollars pops out.
Now it's the blonde's turn. She slowly walks into the bathroom with her hands over her eyes and peeks between her fingers at the mirror. She waits... nothing happens... she is glad. She stands bravely and states, "I think... "POOF " she disappears.
Submitted by Curtis
The phrase "dead ringer" refer...
The phrase "dead ringer" refers to someone who sits behind Chuck Norris in a movie theater and forgets to turn their cell phone off.
Lost at Sea?
Yossi and Janine, an elderly Jewish couple, are sitting together on an aeroplane flying to the Far East. Suddenly, over the public address system, the Captain announces, "Ladies and Gentlemen, I am afraid I have some very bad news. Our engines have ceased functioning, and this plane will be going down in a few minutes time. The good news is that I can see an island below us that should be able to accommodate our landing. The bad news is that this island appears to be uncharted - I am unable to find it on our maps. So the odds are that we will never be rescued and will have to live on the island for a very long time, if not for the rest of our lives."Yossi turns to Janine and asks, "Janine, dear, did we turn off the oven?" and Janine replies, "Of course."
"Janine, are our life insurance policies paid up?"
"Of course."
"Janine, did we pay our pledge for the synagogue appeal?"
"Oh my God, I forgot to send off the cheque."
"Thank Heaven! They'll find us for sure!"
#joke
A woman goes into a sporting g...
A woman goes into a sporting goods store to buy a rifle.
"It`s for my husband," she tells the clerk.
"Did he tell you what gauge to get?" asked the clerk.
"Are you kidding?" she says. "He doesn`t even know that I`m going to shoot him!"
Knock Knock Collection 143
Knock Knock
Who's there?
Othello!
Othello who?
Othello you thalked to me!
Knock Knock
Who's there?
Otis!
Otis who?
Otis a sin to tell a lie!
Knock Knock
Who's there?
Ottawa!
Ottawa who?
Ottawa know you're telling the truth?
Knock Knock
Who's there?
Oewn!
Owen who?
Owen you open this door, I'm going to give you such a roasting!
Knock Knock
Who's there?
Owl!
Owl who?
Owl Aboard!
#joke
husband, while on a business t...
husband, while on a business trip to a hill station sent a telegram to his wife "I wish you were here." The message received by the wife was "I wish you were her."