Q: Why is a river rich? A: Bec...
Q: Why is a river rich? A: Because it has two banks.
"Hemlock is a special...
"Hemlock is a special attachment on a sewing machine."
Funny video of the day - Accident Funny Clips - HOT 2014
Phone service...
Classmates at college were lamenting the cost of long distance phone service and debating the relative advantages of AT&T, MCI, and Sprint.
"I've found CTC to be the cheapest plan around," offered one.
"CTC? Who are they?"
"You know," he responded. "Call Them Collect."
Answering Machine Message 135

Hi, you've reached 474-2340. Don, Kendy and Sylvia can't come to the phone right now because they've been kidnapped by aliens and replaced by android duplicates. You could leave your name and number at the tone, but I wouldn't -- you might be next! (evil laugh)


After-School Snack
Q: Why did the boy eat his homework?
A: His teacher said it was a piece of cake.
Ah! Yes, love is blind, and ma...
Ah! Yes, love is blind, and marriage is and eye opener!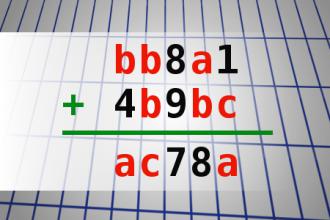 Find number abc
If bb8a1 + 4b9bc = ac78a find number abc. Multiple solutions may exist.
Lay you or Jack off
Two managers are going over their budget for the next year.
After analyzing expenses and revenues, they come to the conclusion that they will have to lay off one of their two assistants, Jack or Jane.
They go back and forth but can't decide who to lay off.
Finally, one manager decides that they lay off the first person who gets up from their desk.
In the meantime, Jane is hard at work but suddenly gets a headache. She gets some aspirin from her desk drawer and gets up from her desk to get some water.
One of the managers gets up to break the bad news to Jane.
Manager: "Jane, I need to talk to you. I've got a problem. I either need to lay you or Jack off..."
Jane: "Well, Jack off. I've got a headache."
Submitted by Curtis
Edited by Calamjo
#joke
Bike
A Priest was about to finish his tour of duty in the jungle where he has spent years teaching the natives to be civilized and kind to each other when he realizes that the one thing he never taught them was how to speak English.
So he takes the chief for a walk in the forest. He points to a tree and says to the chief, "This is a tree."
The chief looks at the tree and grunts, "Tree."
The Priest is pleased with the response. They walk a little further and he points to a rock and says, "This is a rock."
Hearing this, the chief looks and grunts, "Rock."
The Priest was really getting enthusiastic about the results when he hears a rustling in the bushes. As they peek over the top, he sees a couple of natives in the midst of heavy sexual activity.
The Priest is really flustered and quickly responds, "Man riding a bike."
The chief looks at the couple briefly, pulls out his blowgun and kills them both..
The Priest goes ballistic and yells at the chief that he has spent years teaching the tribe how to be civilized and be kind to each other, so how could he kill these people in cold blood that way?
The chief replied, "My bike."
#joke
When Chuck Norris does a pushu...
When Chuck Norris does a pushup, he isn't lifting himself up, he's pushing the Earth down.
Medical Emergency on the Golf Course
The husband and wife were playing on the ninth green when
she collapsed from a heart attack. "Please dear, I need
help." she said.
The husband ran off saying "I'll go get some help." A little
while later he returned, picked up his club and began to line
up his shot on the green.
His wife, on the ground, raised up her head and said, "I'm
may be dying and you're putting?"
"Don't worry dear. I found a doctor on the second hole who
said he come and help."
"The second hole??? When in the hell is he coming???"
"Hey! I told ya not to worry." he said, practice stroking
his putt. "Everyone's already agreed to let him play through."
Marketing translations
Cracking an international market is a goal of most growing corporations. It shouldn't be that hard, yet even the big multi-nationals run into trouble because of language and cultural differences. For example, observe the following examples below.
The name Coca-Cola in China was first rendered as Ke-kou-ke-la. Unfortunately, the Coke company did not discover until after thousands of signs had been printed that the phrase means "bite the wax tadpole" or "female horse stuffed with wax" depending on the dialect. Coke then researched 40,000 Chinese characters and found a close phonetic equivalent, "ko-kou-ko-le," which can be loosely translated as "happiness in the mouth."
In Taiwan, the translation of the Pepsi slogan "Come alive with the Pepsi Generation" came out as "Pepsi will bring your ancestors back from the dead."
Also in Chinese, the Kentucky Fried Chicken slogan "finger-lickin' good" came out as "eat your fingers off."
The American slogan for Salem cigarettes, "Salem - Feeling Free," got translated in the Japanese market into "When smoking Salem, you feel so refreshed that your mind seems to be free and empty."
When General Motors introduced the Chevy Nova in South America, it was apparently unaware that "no va" means "it won't go." After the company figured out why it wasn't selling any cars, it renamed the car in its Spanish markets to the Caribe.
When Parker Pen marketed a ballpoint pen in Mexico, its ads were supposed to say "It won't leak in your pocket and embarrass you." However, the company mistakenly thought the spanish word "embarazar" meant embarrass. Instead the ads said that "It wont leak in your pocket and make you pregnant."
An American t-shirt maker in Miami printed shirts for the spanish market which promoted the Pope's visit. Instead of the desired "I Saw the Pope" in Spanish, the shirts proclaimed "I Saw the Potato."
Colgate introduced a toothpaste in France called Cue, the name of a notorious porno magazine.
In Italy, a campaign for Schweppes Tonic Water translated the name into Schweppes Toilet Water.
#joke
Face 2 Face
"Hey, how's your face feeling?"
"Fine. Why?"
"Because it's killing me!"
Song Of The Elements
There's antimony, arsenic, aluminum, selenium,
And hydrogen and oxygen and nitrogen and rhenium
And nickel, neodymium, neptunium, germanium,
And iron, americium, ruthenium, uranium,
Europium, zirconium, lutetium, vanadium
And lanthanum and osmium and astatine and radium
And gold, protactinium and indium and gallium (inhale)
And iodine and thorium and thulium and thallium.
There's yttrium, ytterbium, actinium, rubidium
And boron, gadolinium, niobium, iridium
And strontium and silicon and silver and samarium,
And bismuth, bromine, lithium, beryllium and barium.
There's holmium and helium and hafnium and erbium
And phosphorous and francium and fluorine and terbium
And manganese and mercury, molybdinum, magnesium,
Dysprosium and scandium and cerium and cesium
And lead, praseodymium, platinum, plutonium,
Paladium, promethium, potassium, polonium,
Tantalum, technetium, titanium, tellurium, (inhale)
And cadmium and calcium and chromium and curium.
There's sulfur, californium and fermium, berkelium
And also mendelevium, einsteinium and nobelium
And argon, krypton, neon, radon, xenon, zinc and rhodium
And chlorine, cobalt, carbon, copper,
Tungsten, tin and sodium.
- Tom Lehrer
#joke