The bell rang for school to st...
The bell rang for school to start and John walked in late. Mr. Clark asked, "John, why are you late?" He replied, "I was on Cherry Hill." Then he sat down. Ten minutes later Nathan walked in late and Mr. Clark repeated, "Why are you late?" Nathan answered, "I was on top of Cherry Hill." Five minutes later Kevin walked in late and Mr. Clark said to him, "Kevin, where have you been?" Kevin replied, "I was on Cherry Hill." Ten minutes later a girl walked in the classroom and Mr. Clark asked, "Hi there, what's your name?" The girl replied, "Cherry Hill."
#joke
Funny video of the day - Best Fails of the Week 2 October 2014
High Urinals
A group of 3rd, 4th, and 5th graders, accompanied by two female teachers, went on a field trip to the local racetrack (Churchill Downs) to learn about thoroughbred horses and the supporting industry (Bourbon), but mostly to see the horses.When it was time to take the children to the bathroom, it was decided the girls would go with one teacher and the boys would go with the other.
The teacher assigned to the boys, Michelle, was waiting outside the men's room when one of the boys came out and told her that none of them could reach the urinal.
Having no choice, Michelle went inside, helped the boys with their pants, and began hoisting the little boys up, one by one, holding on to their 'wee-wees' to direct the flow away from their clothes.
As she lifted one, she couldn't help but notice that he was unusually well endowed. Trying not to show that she was staring, the teacher said, 'You must be in the 5th grade.'
'No, ma'am', he replied. 'I'm riding Silver Arrow in the seventh race, but I appreciate your help.'
#joke
Two dwarfs go into a bar, wher...
Two dwarfs go into a bar, where they pick up two prostitutes and take them to their separate hotel rooms.
The first dwarf, however, is unable to get an erection. His depression is made worse by the fact that, from the next room, he hears his little friend shouting out cries of "Here I come again ...ONE, TWO, THREE...UUH!" all night long.
In the morning, the second dwarf asks the first, "How did it go?"
The first mutters, "It was so embarrassing. I simply couldn't get a hard on."
The second dwarf shook his head. "You think that's embarrassing? I couldn't even get on the f...ing bed."
#joke
A couple walking in the park n...
A couple walking in the park noticed a young man and woman sitting on a bench, passionately kissing.
"Why don't you do that?" said the wife.
"Honey," replied her husband, "I don't even know that woman!"
A man took his wife to the rod...
A man took his wife to the rodeo and one of the first exhibits they stopped at was the breeding bulls.
They went up to the first pen and there was a sign attached that said,
"This bull mated 50 times last year." The wife playfully nudged her husband in the ribs and said, "He mated 50 times last year."
They walked to the second pen which had a sign attached that said, "This bull mated 120 times last year. " The wife gave her husband a healthy jab and said, "That's more than twice a week! You could learn a lot from him."
They walked to the third pen and it had a sign attached that said, in capital letters, "This bull mated 365 times last year." The wife, so excited that her elbow nearly broke her husband's rib, said, "That's once a day.You could REALLY learn something from this one."
The husband looked at her and said, "Go over and ask him if it was with the same cow."
#joke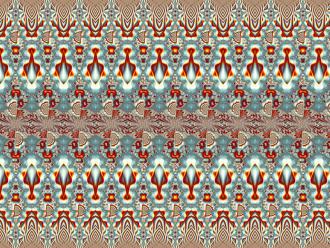 What hides this stereogram?
Stereogram - 3D Image
A Darkened Theater
A strained voice called out through the darkened theater, "Please, is there a doctor in the house?!"
Several men stood up as the lights came on.
An older lady pulled her daughter to stand next to her, "Good, are any of you doctors single and interested in a date with a nice, Jewish girl?"
A bad sign...
A man was driving to work when a truck ran a stop sign, hit his car broadside, and knocked him out cold. A Passersby pulled him from the wreckage and revived him.
He began a terrific struggle and had to be tranquilized by the medics. Later, when he had calmed down, they asked him why he had struggled so.
He said, a bit sheepishly, "I remember the impact, then nothing. I woke up on a concrete slab in front of this huge, flashing sign. Turns out somebody was standing in front of the 'S' on the 'Shell' sign."
#joke
The Beer Prayer
Our lager,
Which art in barrels,
Hollowed be thy drink.
I will be drunk,
At home as in the travern.
Give us this day our foamy head,
And forgive us our spillages,
As we forgive those who spill against us.
And lead us not into incarceration,
But deliver us from hangerovers.
For thine is the beer. he bitter and The lager
Forever and ever,
Barmen.
"Deep cuts were made ...
"Deep cuts were made in the guillotine industry and heads rolled."
A Doctors Lecture
A Doctor was addressing a large audience. "The material we put into our stomachs is enough to have killed most of us sitting here, years ago.
Red meat is awful. Soft drinks corrode your stomach lining. Chinese food is loaded with MSG. High fat diets can be disastrous, and none of us realizes the long-term harm caused by the germs in our drinking water. But there is one thing that is the most dangerous of all and we all have, or will, eat it. Can anyone here tell me what food it is that causes the most grief and suffering for years after eating it?"
After several seconds of quiet, a 75-year-old man in the front row raised his hand, and softly said, "Wedding Cake."
Nun of Your Business
While shopping in a food store, two nuns happened to pass by the beer, wine, and liquor section. One asked the other if she would like a beer.
The second nun answered that, indeed, it would be very nice to have one, but that she would feel uncomfortable purchasing it.
The first nun replied that she would handle it without a problem. She picked up a six-pack and took it to the cashier. The cashier was surprised, so the nun said, "This is for washing our hair."
Without blinking an eye, the cashier reached under the counter and put a package of pretzel sticks in the bag with the beer.
"The curlers are on me."
- Joke shared by Beliefnet member smoothsable
A student comes to a young pro...
A student comes to a young professor's office hours. She glances down the hall, closes his door, and kneels pleadingly. "I would do anything to pass this exam," she says. She leans closer to him, flips back her hair, and gazes meaningfully into his eyes. "I mean," she whispers, "I would do anything..." He returns her gaze, "Anything?" "Anything." His voice softens, "Anything?" "Anything," she repeats again. His voice turns to a whisper. "Would you ... study?"
#joke
Excuses!
A married man decided to work late to be with his sexy secretary, so he called his wife to make up an excuse.
After work he invited his secretary to dinner. It soon became obvious that he was going to get lucky, so the two went back to her apartment and had great sex for two hours.
Afterward the fellow went to the bathroom to straighten up for the trip home and noticed a huge hickey on his neck.
He panicked, wondering what he was going to tell his wife.
After the man unlocked his front door, his dog came bounding to greet him. Aha, the man thought, and promptly fell to the carpet, pretending to fight off the affectionate animal.
Holding his neck with one hand, he said, "Honey, look what the dog did to my neck!"
"Hell, that's nothing" she answered, ripping open her blouse. "Look what he did to my tits!"
Submitted by Glaci
Edited by Curtis
#joke
Paul Varghese: Buying a Convertible
I was actually thinking about buying a convertible... But then I thought, what if I was at a stoplight -- how would I avoid the homeless guy?