10 Fun Facts About Minions
It's hard to believe that the Despicable Me minions have only been around for five years. It seems like everywhere you turn there's a minion or minion reference. If you're thinking to yourself "what is a minion?" then you probably don't have kids and will be thankful for all the minions facts on this list. These little buggers took the world by storm in 2010's Despicable Me and haven't stopped since.
#joke
Two Eagles, an old Indian chie...
Two Eagles, an old Indian chief, sat in his hut on the reservation smoking a ceremonial pipe and eying two US government officials sent to interview him.
One US official said to Chief Two Eagles, "You have observed the white man for 90 years. You've seen his wars and his technological advances. You've seen his progress, and the damage he has done."
The Chief nodded in agreement.
The official continued, "Considering all these events, in your opinion, where did the white man go wrong?"
The Chief stared at the two government officials for over a minute...
"When white man found the land, Indians were running it. No taxes, No debt. Plenty buffalo. Plenty beaver. Women did all the work. Medicine man free. Indian man spent all day hunting and fishing, all night having sex."
Then the chief leaned back and smiled before he added, "Only white man dumb enough to think he could improve system like that."
#joke
Funny video of the day - Slippery When Wet Fails Compilation
"Many people suffer t
"Many people suffer terribly from hay fever. Isn't this news simply a pollen?"
I'm scariest when nude.
I'm scariest when nude. I'm a grisly bare.
A husband and wife were at a p
A husband and wife were at a party chatting with some friends when the subject of marriage counseling came up. "Oh! We'll never need that. My husband and I have a great relationship," the wife explained. "He was a communications major in college, and I majored in theater arts.
He communicates really well, and I just act like I'm listening."
#joke
Roar
A little boy was in a relative's wedding. As he was coming down the aisle he would take two steps, stop and turn to the crowd (alternating between bride's side and groom's side). While facing the crowd, he would put his hands up like claws and roar. So it went, step, step, "ROAR," step, step, "ROAR," all the way down the aisle. As you can imagine, the crowd was near tears from laughing so hard by the time he reached the pulpit.
The little boy, however, was getting more and more distressed from all the laughing, and was also near tears by the time he reached the pulpit. When asked what he was doing, the child sniffed and said, "I was being the Ring Bear."
#joke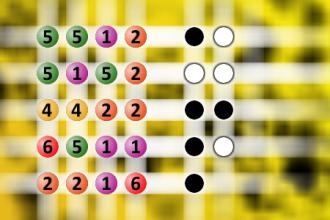 Which is a winning combination of digits?
The computer chose a secret code (sequence of 4 digits from 1 to 6). Your goal is to find that code. Black circles indicate the number of hits on the right spot. White circles indicate the number of hits on the wrong spot.
How about a blow job
A guy walks into a bar already somewhat tipsy. He walks over to the nearest girl and says, "Hey, how 'bout a blowjob?"
She smashes him over the head with her purse. He looks up, dazed, from the floor and says, "Well, I guess a fuck's out of the question."
#joke #walksintoabar
Bells on Cows
Q: Why do farmers put bells on cows?
A: Their horns don't work.
Q: What has eight arms and an
Q: What has eight arms and an IQ of 60?
A: Four guys drinking Bud Light and watching a football game!
Deep Thoughts 10
The memories of my family outings are still a source of strength to me. I remember we'd all pile into the car - I forget what kind it was - and drive and drive. I'm not sure where we'd go, but I think there were some trees there. The smell of something was strong in the air as we played whatever sport we played. I remember a bigger, older guy we called "Dad." We'd eat some stuff, or not, and then I think we went home. I guess some things never leave you.
If a kid asks where rain comes from, I think a cute thing to tell him is "God is crying." And if he asks why God is crying, another cute thing to tell him is "probably because of something you did."
Contrary to what most people say, the most dangerous animal in the world is not the lion or the tiger or even the elephant. It's a shark riding on an elephant's back, just trampling and eating everything they see.
As we were driving, we saw a sign that said, "Watch for Rocks." Martha said it should read "Watch for Pretty Rocks." I told her she should write in her suggestion to the highway department, but she started saying it was a joke - just to get out of writing a simple letter! And I thought I was lazy!
One thing kids like is to be tricked. For instance, I was going to take my little nephew to Disneyland, but instead I drove him to an old burned-out warehouse. "Oh, no," I said, "Disneyland burned down." He cried and cried, but I think deep down he thought it was a pretty good joke. I started to drive over to the real Disneyland, but it was getting pretty late.
If you saw two guys named Hambone and Flipper, which one would you think liked dolphins the most? I'd say Flipper, wouldn't you? You'd be wrong, though. It's Hambone.
I wish a robot would get elected president. That way, when he came to town, we could all take a shot at him and not feel too bad.
As the evening sky faded from a salmon color to a sort of flint gray, I thought back to the salmon I caught that morning, and how gray he was, and how I named him Flint.
#joke
There was a man who said, "I n
There was a man who said, "I never knew what happiness was until I got married...and then it was too late!"
Love is one long sweet dream, and marriage is the alarm clock.
They say when a man holds a woman's hand before marriage, it is love; after marriage, it is self-defense.
When a newly married man looks happy, we know why. But when a ten-year married man looks happy, we wonder why.
There was this lover who said that he would go through hell for her. They got married, and now he is going through hell.
A Code of Honor: Never approach a friend's girlfriend or wife with mischief as your goal. There are just too many women in the world to justify that sort of dishonorable behavior. Unless she's really attractive. -- Bruce Friedman
A coward is a hero with a wife, kids, and a mortgage. -- Marvin Kitman
A gentleman is one who never swears at his wife while ladies are present.
A husband is living proof that a wife can take a joke.
A husband is what's left of the lover after the nerve has been extracted. -Marriage quotes2// Marriage is like a mousetrap. Those on the outside are trying to get in. Those on the inside are trying to get out.
Marriage is low down, but you spend the rest of your life paying for it.
Marriage is the process of finding out what kind of man your wife would have preferred.
Marriage is the sole cause of divorce.
Marriage means commitment. Of course, so does insanity.
Marriage still confers one very special privilege - only a married person can get divorced.
Marriage: A ceremony in which rings are put on the finger of the lady and around the hands and feet of the man.
Marriage: the only sport in which the trapped animal has to buy the license.
Marriages are made in heaven and consummated on Earth.
#joke
One of Life's Lessons
While preaching about forgiving ones enemies, the preacher asked for a show of hands of those who were willing to forgive their enemies. About half of the congregation raised their hands. The minister continued his lection and again asked for a show of hands. This time, 80 percent of his congregation raised their hands. Not giving up, the minister continued for fifteen more minutes. When he again asked for a show of hands, all members—except one—raised their hands.
"Mr. Jones," asked the minster, "are you not willing to forgive your enemies?"
"I don't have any."
Mr. Jones, that is very unusual. I know you are 86-years-old. Would you please come down to the front and explain to all of us how you have lived so long without making a single enemy in the world?"
Mr. Jones teetered to the front and briefly explained, "Its easy. Ive outlived every one of them."
#joke
A grasshopper walks into a bar...
A grasshopper walks into a bar and the bartender says, 'Hey, we have a drink named after you!'
The grasshopper looks surprised and says, 'You have a drink named Steve?'
The Devil
George Bush, Queen Elizabeth, and Vladimir Putin all die and go to hell.
While there, they spy a red phone and ask what the phone is for. The devil tells them it is for calling back to Earth.
Putin asks to call Russia and talks for 5 minutes. When he is finished the devil informs him that the cost is a million dollars, so Putin writes him a check.
Next Queen Elizabeth calls England and talks for 30 minutes. When she is finished the devil informs her that the cost is 6 million dollars, so she writes him a check.
Finally George Bush gets his turn and talks for 4 hours. When he is finished the devil informs him that the cost is $5.00.
When Putin hears this he goes ballistic and asks the devil why Bush got to call the USA so cheaply. The devil smiles and replies: "Since Obama took over, the country has gone to hell, so it's a local call."
#joke
Chuck Norris once leaned again...
Chuck Norris once leaned against a tower in Pisa, Italy.
Stock market report...
Helium was up, feathers were down.
Paper was stationary.
Fluorescent tubing was dimmed in light trading.
Knives were up sharply.
Cows steered into a bull market.
Pencils lost a few points.
Hiking equipment was trailing.
Elevators rose, while escalators continued their slow decline.
Weights were up in heavy trading.
Light switches were off.
Mining equipment hit rock bottom.
Diapers remained unchanged.
Shipping lines stayed at an even keel.
The market for raisins dried up.
Coca Cola fizzled.
Caterpillar stock inched up a bit.
Sun peaked at midday.
Balloon prices were inflated.
Scott Tissue touched a new bottom.
And batteries exploded in an attempt to recharge the market
#joke
The Lawyer at the Pearly Gates
Recently a teacher, a garbage collector, and a lawyer wound up together at the Pearly Gates. St. Peter informed them that in order to get into heaven, they would each have to answer one question.
St. Peter addressed the teacher and asked, "What was the name of the ship that crashed into the iceberg? They just made a movie about it." The teacher answered quickly, "That would be the Titanic." St. Peter let her through the gate.
St. Peter turned to the garbage man and figuring heaven didn't REALLY need all the odors this guy would bring with him, decided to make the question a little harder: "How many people died on the ship?" But the trash man had just seen the movie, too, and he answered, "about 1,500."
"That's right! You may enter," said Peter.
Then St. Peter turned to the lawyer and said, "Name them."
This joke was reprinted from "The Book of Catholic Jokes" by Deacon Tom Sheridan, with permission of ACTA Publications. Copyright 2008. All rights reserved.