"After the Hadron Col
"After the Hadron Collider was shut off, the surrounding atmosphere was a little Quarky."
Maurice and Sadie are out eati
Maurice and Sadie are out eating in the 'Bubbeh-Myseh' restaurant. Whilst Maurice is eating his grilled steak and chips, the waiter comes over to him and asks, "Is everything OK, sir?"
"Well," replies Maurice, "I asked for my steak to be rare, and it was well done."
"Thank you sir," says the waiter, "we always aim to please."
#joke
Old friends...
Mary and Jane are old friends. They have both been married to their husbands for a long time; Mary is upset because she thinks her husband doesn't find her attractive anymore.
"As I get older he doesn't bother to look at me!" Mary cries.
"I'm so sorry for you, as I get older my husband says I get more beautiful every day." replies Jane.
"Yes, but your husband's an antique dealer!"
#joke
Dear Pun Gents
Dear Pun Gents, we are a group of four people climbing Mt. Kilimanjaro in two weeks. Can you come up with a clever name for our team? Extra credit: After we climb the mountain we are doing a four-day safari. Not sure if you can combine the two parts of the trip into a clever pun/team name. PS we are four blondes: Three boys and a girl. A Brit, a wanna-be Brit, and two all-American boys. Thanks! ~Dave, Laguna Beach, CA
Late one night a mugger wearin...
Late one night a mugger wearing a ski mask jumped into a path of a well-dressed man and stuck a gun in his ribs "give me your money," he demanded. Indignant, the affluent man replied, "you can't do this – I am a United States congressman!" "In that case," replied the mugger, "give me MY money."
Need light
A man and a woman started to have sex in the middle of a dark forest.
After 15 minutes of this, the man finally gets up and says, "Damn, I wish I had a flashlight."
The woman says, "So do I. You've been eating grass for the past ten minutes!"
Submitted by calamjo
Edited by Tantilazing
#joke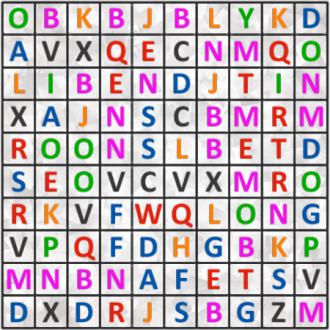 Find a famous person
Find the first and the last name of a famous person. Text may go in all 8 directions. Length of words in solution: 6,6.
Sharing Everything
A young man saw an elderly couple sitting down to lunch at McDonald's. He noticed that they had ordered one meal, and an extra drink cup. As he watched, the gentleman carefully divided the hamburger in half, then counted out the fries, one for him, one for her, until each had half of them. Then he poured half of the soft drink into the extra cup and set that in front of his wife. The old man then began to eat, and his wife sat watching, with her hands folded in her lap.
The young man decided to ask if they would allow him to purchase another meal for them so that they didn't have to split theirs.
The old gentleman said, "Oh no. We've been married 50 years, and everything has always been and will always be shared, 50/50."
The young man then asked the wife if she was going to eat, and she replied, "It's his turn with the teeth."
#joke
Bubba applied for an engineeri...
Bubba applied for an engineering position at a Lake Charles refinery. A Yankee applied for the same job and both applicants having the same qualifications were asked to take a test by the manager. Upon completion of the test, both men only missed one of the questions. The manager went to Bubba and said: "Thank you for your interest, but we've decided to give the Yankee the job."Bubba asked: "And why are you giving him the job? We both got nine questions correct. This being Louisiana, and me being a Southern boy, I should get the job!"
The manager said: "We have made our decision not on the correct answers, but rather on the one question that you both missed."
Bubba then asked: "And just how would one incorrect answer be better than the other?"
The manager replied: "Bubba, its like this. On question #4 the Yankee put down; "I don't know." You put down, "Neither do I."
#joke
The energizer bunny was arrest
The energizer bunny was arrested on a charge of battery.
The Wrong Last Rites
"A PRIEST, PLEASE!" the dying man says again. Then out of the crowd steps a little old Jewish man of at least eighty years of age.
"Mr. Policeman," says the man, "I'm not a priest. I'm not even a Catholic. But for fifty years now I've been living behind St. Mary's Catholic Church on Third Avenue, and every Friday night I listen to the Catholic litany. Maybe I can be of some comfort to this man."
The policeman agrees and brings the octogenarian over to where the dying man lay. He kneels down, leans over the injured man, and says in a solemn voice:
"B - 4. I - 19. N - 38. G - 54. O - 72."
A fellow bought a new Mercedes...
A fellow bought a new Mercedes and was out on the Yellowhead for a nice evening drive. The top was down, the breeze was blowing through his hair and he decided to open her up. As the needle jumped up to 80 mph he suddenly saw a flashing red and blue light behind him.
"There ain't no way they can catch a Mercedes," he thought to himself and opened her up further. The needle hit 90, 100 110 and finally 120 with the lights still behind him. "What in heck am I doing?" he thought and pulled over.
The Mountie came up to him, took his license without a word and examined it and the car. "I've had a tough shift and this is my last pull over. I don't feel like more paperwork so if you can give mean excuse for your driving that I haven't heard before you can go."
"Last week my wife ran off with a cop," the man said, "and I was afraid you were trying to give her back!"
"Have a nice night", said the officer.
#joke
I Get No Respect 05
"I knew a girl that was so ugly that... She was known as a two bagger. That's when a girl is so ugly that you put a bag over your head in case the bag over her head breaks"
"I knew a girl that was so ugly that... I bent down to pet her cat only to find that it was the hair on her legs."
"I knew a girl that was so ugly that... I took her to a dog show and she won first prize."
"I knew a girl that was so ugly that... I took her to the top of the Empire State building and planes started to attack her."
"I knew a girl that was so ugly that... She looks like she came in second in a hatchet fight!"
"I knew a girl that was so ugly that... The last time I saw a mouth like hers it had a hook on the end of it."
I knew a girl that was so ugly that... She has a face like a saint--A saint bernard!"
"One day...as I came home early from work...I saw a guy jogging naked. I said to the guy...Hey buddy...why are you doing that for? He said..Because you came home early."
#joke
Occupational Hazard
Three men are on a road trip when they pull over to stay at a hotel that they see. They go in and see the lady who apparently runs the joint and they ask her for a vacant room.
She replied, "Sure, but only if you DON'T go into the basement!".
The men agree and she gives them a room.
That night, the men are so curious that they sneak into the basement... only to find that it's full of chopped off dicks!! The woman that runs the places sees them and says, "Okay, now I'm going to have to add you all to my collection."
She asks the first man, "What does YOUR father do for a living?" and he says "Well, my dad is in the lawnmoving business."
So the woman finds a lawnmover and off goes his dick.
The woman asks the second man, "What does YOUR father do for a living?" and he replies in tears "My dad is in the tool supply industry."
So she finds a saw and off does his dick.
The woman then turns to the third guy only to see that he is laughing hysterically! "Why the hell are you laughing?!? Don't you know what's going to happen to you!?!"
He smiles and says, "Yeah, my dad is in the lollipop business - you're gonna hafta suck mine off!"
#joke
John Ramsey: Old Security Passwords
So they ask me, Would you like to answer your secret security password question? I think, Oh yeah, surely I can answer a question posed by slightly younger me.
What's with the nuts?
A guy goes into a bar. He's sitting on the stool, enjoying his drink when he hears, "You look great!" He looks around - there's nobody near him. He hears the voice again, "No really, you look terrific."
The guy looks around again. Nobody. He hears, "Is that a new shirt or something? Because you are absolutely glowing!" He then realizes that the voice is coming from a dish of nuts on the bar.
"Hey," the guy calls to the bartender, "What's with the nuts?"
"Oh," the bartender answers, "They're complimentary."
#joke