"I used my skeleton k
"I used my skeleton key to get into the haunted house."
A man and his wife were making
A man and his wife were making their first doctor visit prior to the birth of their first child. After everything checked out, the doctor took a small stamp and stamped the wife's stomach with indelible ink.
The couple was curious about what the stamp was for, so when they got home, he dug out his magnifying glass to try to see what it was.
In very tiny letters, the stamp said, "When you can read this without a needing a magnifying glass, come back and see me."
Funny video of the day - Ultimate Girls Fails of the Year 2015
Two vampire bats...
Two vampire bats are hanging upside down in a cave. One of the bats feels rather hungry. "Let's go and find some blood", he suggests.
"I don't think you can get any blood this time of the day", says the other bat. "Well, I want some blood and I want it now!", says the first bat and prepares to take off. "Are you coming or what?"
"Don't be stupid, you'll just waste your time", says the second bat. So the first bat flies anyway. After a few minutes he is back with blood smeared all over his face.
"Where did you manage to find blood this time of the day?", asks the second bat. "Well, do you see that tree out there?", says the first bat and points at a tree outside the cave, "Do you see that tree?"
"Yes", says the second bat, "of course I see it".
"Well, I didn't", replies the first.
#joke
Dealing With Trouble
A deputy police officer responded to a report of a barroom disturbance. The "disturbance" turned out to be well over six feet tall and weighed almost 300 pounds. What's more, he boasted that he could whip the deputy and Muhammad Ali too.
Said the policeman, "I'll bet that you're also an escape artist-probably better than Houdini."
The giant nodded.
"If I had some chains," the deputy continued, "you could show us how strong you really are. But all I've got is a set of handcuffs. Why don't you see just how quickly you can break out of them?"
Once in the cuffs, the man puffed, pulled and jerked for four minutes. "I can't get out of these," the giant growled.
"Are you sure?" the deputy asked. The fellow tried again. "Nope," he replied. "I can't do it."
"In that case," said the deputy, "you're under arrest."
Puns about fruit are banned as
Puns about fruit are banned as 'ates peach'. They pit the stoners against the fuzz.
Lost His Buttons
NOTE: Possibly Offensive Joke
DO NOT READ if you are easily offended.
------------
A man lost two buttons from his shirt and put them in his
pants pocket. But the pocket had a hole, so the buttons fell
into his shoe. Unfortunately, the shoe sole also had a hole,
so he lost the buttons. Since pockets with holes, holes
without buttons, and shoe soles with holes are useless, the
man ripped the buttonholes out of his shirt and
the pocket from his pants and tossed them in the trash along
with the soles of his shoes. After looking in a mirror at the
holes in his clothing, he decided to toss his clothes in the
trash as well.
A policeman observed all this and asked the man for
identification.
The man produced a document that he was an ordained minister
of the gospel. So, of course, the policeman promptly
escorted him to a mental institution.
The minister protested violently, asking why he was
receiving such unjust treatment.
"Look, it's the best place for you now," the policeman
replied, "Anyone claiming to be a preacher, but who doesn't
save souls or wear holy clothes has probably lost his
buttons."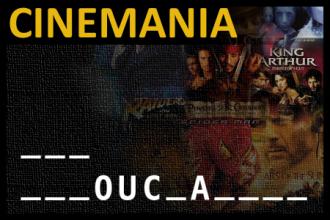 CINEMANIA: Guess the movie title
Film was made in 2011.
Winding up the tough guy
I was sitting at a bar one time, when I noticed that, next to me, an old drunk was hassling one of the biggest, toughest guys I'd ever seen.
The old guy was clearly blasted, and kept getting in the tough guy's face, say, "I fucked your mother."
Despite being huge and jacked, the tough guy just kept shrugging it off. The old guy laughed in the tough guy's face, saying it again. "Hey, I fucked your mother."
Then, the old man even poked him, and repeated himself, "No seriously, I fucked your mother."
At this point, finally, the tough guy had had enough. He grabbed the old man by his jacket and began to pull him out of the bar, yelling,
"That's it. We're going home, Dad. You're drunk."
#joke
I Dare You
At a church meeting, a very wealthy man rose to tell the rest of those present about his Christian faith.
"I'm a millionaire," he said, "and I attribute it all to the rich blessings of God in my life. I remember that turning point in my faith. I had just earned my first dollar and I went to a church meeting that night. The speaker was a missionary who told about his work. I knew that I only had a dollar bill and I had to either give it all to God's work or give nothing at all. So at that moment, I decided to give my whole dollar to God. I believe that God blessed that decision, and that is why I am a rich man today."
When he finished and moved toward his seat, there was an awed silence As he sat down, a little old lady sitting in the same pew leaned over and said to him, "I dare you to do it again."
#joke
According to a news report, a...
According to a news report, a certain private school in Washington recently was faced with a unique problem. A number of 12-year-old girls were beginning to use lipstick and would put it on in the bathroom. That was fine, but after they put on their lipstick they would press their lips to the mirror leaving dozens of little lip prints. Every night,the maintenance man would remove them and the next day, the girls would put them back. Finally the principal decided that something had to be done. She called all the girls to the bathroom and met them there with the maintenance man.... She explained that all these lip prints were causinga major problem for the custodian who had to clean the mirrors every night. To demonstrate how difficult it had been to clean the mirrors, she asked the maintenance man to show the girls how much effort was required. He took out a long-handled squeegee, dipped it in the toilet, and cleaned the mirror with it. Since then, there have been no lip prints on the mirror. There are teachers, and then there are educators...
#joke
Yo momma so dumb when I said, ...
Yo momma so dumb when I said, "Drinks on the house," she got a ladder.
A man phones home from his off...
A man phones home from his office and says to his wife, "I have the chance to go fishing for a week. It's the opportunity of a lifetime. I have to leave right away. Pack my clothes, my fishing equipment, and my blue silk pajamas. I'll be home in an hour to pick them up."
The man rushes home to grab everything. He hugs his wife, apologizes for the short notice, and then hurries off.
A week later, the man returns and his wife asks, "Did you have a good trip, dear?"
The man replies, "Yep, the fishing was great...but you forgot to pack my blue silk pajamas."
His wife smiles and says, "Oh, no I didn't...I put them in your tackle box.
#joke
In a fight between Batman and ...
In a fight between Batman and Darth Vader, the winner would be Chuck Norris.