Jokes of the day for Saturday, 07 May 2016
Funny jokes, funny photo and funny video collected from the internet on Saturday, 07 May 2016
A company in the Foreign Legio
A company in the Foreign Legion had spent three years in the Sahara desert never having seen a woman. They finally decide to send one private on a holiday to the nearest town to spend some time with a woman and tell them all about it.
After a week the private comes back all happy and relaxed. The whole company crowds around him waiting to hear of his great escapades.
"And on the third day..." he began.
"No! No! Start with the first day!" everyone yells out in chorus.
"And on the third day," the private continues, "she asked me to stop so she could go to the bathroom..."
#joke
A linguistics professor was le
A linguistics professor was lecturing to his class one day.
"In English," he said, "a double negative forms a positive.In some languages though, such as Russian, a double negativeis still a negative.
"However," he pointed out, "there is no language wherein adouble positive can form a negative."
A voice from the back of the room piped up, "Yeah. Right."
#joke
Funny video of the day - Best Fails of the Week 1 May 2016
The Irishman's Olives
McQuillan walked into a bar and ordered martini after martini, each time removing the olives and placing them in a jar. When the jar was filled with olives and all the drinks consumed, the Irishman started to leave.
"S'cuse me," said a customer, who was puzzled over what McQuillan had done. "What was that all about?"
"Nothing," said the Irishman, "my wife just sent me out for a jar of olives."
#joke
Where Have You Been?
Sometimes women are overly suspicious of their husbands. When Adam stayed out very late for a few nights, Eve became upset. "You're running around with other women," she charged.
"You're being unreasonable," Adam responded. "You're the only woman on earth." The quarrel continued until Adam fell asleep, only to be awakened by someone poking him in the chest.
It was Eve. "What do you think you're doing?" Adam demanded.
"Counting your ribs," said Eve.
#joke
Cheap Meat
Q: What's the cheapest kind of meat?
A: Deer balls. They are under a buck.
Q. Why do anime fans listen t
Q. Why do anime fans listen to the radio in the morning?
A. Because they enjoy car toons!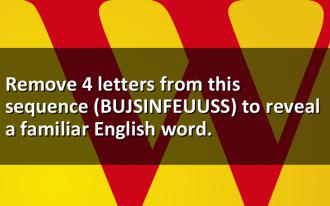 Remove 4 letters from this seq...
Remove 4 letters from this sequence (BUJSINFEUUSS) to reveal a familiar English word.
"When a fellow in Ven
"When a fellow in Venice was planning a party, he asked his wife if they should invite Othello. She said, 'Sure, the Moor the merrier.'"
Black Eyes
A man walked into work on Monday with two black eyes. His boss asked what happened.
The man said, "I was sitting behind a big woman at church. When we stood up to sing hymns, I noticed that her dress was caught in her crack, so I pulled it out. She turned around and punched me square in the eye."
"Where did you get the other shiner?" the boss asked.
"Well," the man said, "I figured she didn't want it out, so I pushed it back in."
Chuck Norris is not his full n...
Chuck Norris is not his full name, there's a silent "fist".
Really Good Deed
This guy arrives at the Pearly Gates. He has to wait to be admitted, while St. Pete leafs through his Big Book.
He's checking to see if the guy is worthy of entry or not. Saint Peter goes through the books several times, furrows his brow, and says to the guy, "You know, I can't see that you did lots of good in your life but, you never did anything bad either.
Tell you what, if you can tell me of one REALLY good deed that you did in your life, you're in."
The guy thinks for a moment and says, "Well, there was this one time when I was drivin' down the highway and I saw a Biker Gang assaulting this poor girl. I slowed down my car to see what was going on, and sure enough, that's what they were doing. There were about 50 of 'em torturing this chick.
Infuriated, I got out my car, grabbed a tire iron from my trunk and walked straight up to the leader of the gang. He was a huge guy with a studded leather jacket and a chain running from his nose to his ear. As I walked up to the leader, the Gang formed a circle all around me.
So I ripped the leader's chain off his face and smashed him over the head with the tire iron. Then I turned around and yelled to the rest of them, 'Leave this poor, innocent girl alone, you slime! You're all a bunch of sick, deranged animals! Go home before I teach you all a lesson in pain!'"
St. Peter, extremely impressed, says, "Really? Wow, when did all this happen?"
"Er.. about two minutes ago."
#joke
A fellow bought a new Mercedes...
A fellow bought a new Mercedes and was out on the interstate for a nice evening drive. The top was down, the breeze was blowing through what was left of his hair and he decided to open her up. As the needle jumped up to 80 mph, he suddenly saw flashing red and blue lights behind him. "There's no way they can catch a Mercedes," he thought to himself and opened her up further. The needle hit 90, 100.... Then the reality of the situation hit him.
"What am I doing?" he thought and pulled over. The cop came up to him, took his license without a word and examined it and the car. "It's been a long day, this is the end of my shift and it's Friday the 13th. I don't feel like more paperwork, so if you can give me an excuse for your driving that I haven't heard before, you can go."
The guy thinks for a second and says, "Last week my wife ran off with a cop. I was afraid you were trying to give her back!"
"Have a nice weekend," said the officer.