A professor stood before his c...
A professor stood before his class of senior organic biology students, about to hand out the final exam.
"I want to say that it's been a pleasure teaching you this semester. I know you've all worked extremely hard and many of you are off to medical school after summer. So that no one gets their GPA messed up because they might have been celebrating a bit too much this week, anyone who would like to opt out of the final exam today will receive a 'B' for the course."
There was much rejoicing in the class as many students took the professor up on his offer. As the last taker left the room, the professor looked out over the handful of remaining students and asked. "Anyone else? This is your last chance."
One final student rose up and opted out of the final. The professor closed the door and took attendance of those still remaining.
"I'm glad to see you believe in yourselves," he said. "You all get "A's."
#joke
NO, YOU CAN'T BE CHALIE SHEEN...
NO, YOU CAN'T BE CHALIE SHEEN FOR HALLOWEEN!
"If the ocean had a p
"If the ocean had a personality, it would be salty."
A golf challenge
A young man, who was also an avid golfer, found himself with a few hours to spare one afternoon. He figured if he hurried and played very fast, he could get in 9 holes before he had to head home. Just as he was about to tee off, an old gentleman shuffled onto the tee and asked if he could accompany the young man as he was golfing alone. Not being able to say no, he allowed the old man to join him.
To his surprise, the old man played fairly quickly. He didn't hit the ball far, but plodded along consistently and didn't waste much time.
Finally, they reached the 9th fairway and the young man found himself with a tough shot. There was a large pine tree right in front of his ball and directly between his ball and the green.
After several minutes of debating how to hit the shot, the old man finally said, "You know, when I was your age, I'd hit the ball right over that tree."
With that challenge placed before him, the youngster swung hard, hit the ball up, right smack into the top of the tree trunk and it thudded back on the ground not a foot from where it had originally lay.
The old man offered one more comment, "Of course, when I was your age, that pine tree was only 3 feet tall."
#joke
Too Much Hunting
Saturday morning I got up early, put on my long johns, dressed quietly, made my lunch, grabbed my shotgun and the dog, slipped quietly into the garage to load the truck, and proceeded to back out into a torrential downpour.
There was snow mixed with the rain, and the wind was blowing 50 mph. I pulled back into the garage, turned on the radio, and discovered that the weather would be bad throughout the day.
I went back into the house, quietly undressed, and slipped back into bed. There I cuddled up to my wife's back, now with a different anticipation, and whispered, "The weather out there is terrible."
She sleepily replied, "Can you believe my stupid husband is out hunting in that sh*t?"   
#joke
And your crybaby whinny opinio
And your crybaby whinny opinion would be...?
This isn't an office. It's Hell with fluorescent lighting.
I started out with nothing & still have most of it left.
I pretend to work. They pretend to pay me.
Sarcasm is just one more service we offer.
If I throw a stick, will you leave?
If I want to hear the pitter patter of little feet, I'll put shoes on my cats.
Does your train of thought have a caboose?
Errors have been made. Others will be blamed.
A PBS mind in an MTV world.
Whatever kind of look you were going for, you missed.
Suburbia: where they tear out the trees & then name streets after them.
Well, this day was a total waste of makeup.
See no evil, hear no evil, date no evil.
Not all men are annoying. Some are dead.
A woman's favorite position is CEO.
I'm trying to imagine you with a personality.
A cubicle is just a padded cell without a door.
Stress is when you wake up screaming & you realize you haven't fallen asleep yet.
Can I trade this job for what's behind door number 1?
I thought I wanted a career, turns out I just wanted paychecks.
Too many freaks, not enough circuses.
Macho Law prohibits me from admitting I'm wrong.
Nice perfume. Must you marinate in it?
Chaos, panic, & disorder - my work here is done.
I plead contemporary insanity.
How do I set a laser printer to stun?
Meandering to a different drummer.
I majored in liberal arts. Will that be for here or to go?
#joke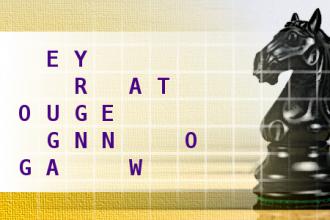 Chess Knight Move
Find the country and its capital city, using the move of a chess knight. First letter is G. Length of words in solution: 6,10.
A young woman said to her d...
A young woman said to her doctor, 'You have to help me, I hurt all over.' 'What do you mean?' said the doctor. The woman touched her right knee with her index finger and yelled,'Ow, that hurts.' Then she touched her left cheek and again yelled, 'Ouch! That hurts, too.' Then she touched her right earlobe. 'Ow, even THAT hurts.' The doctor asked the woman, 'Are you a natural blonde?' 'Why yes,' she said. 'I thought so,' said the doctor. 'You have a sprained finger.'
Everyday, Chuck Norris goes fo...
Everyday, Chuck Norris goes for a short walk, just to keep the planet spinning.
Arj Barker: No Razors in Halloween Candy
Theres no razor in candy. If for no other reason, it doesnt make financial sense. Its not fiscally prudent. How much does a piece of candy cost -- like, a penny and a half? An apples like 15 cents? Anybody here bought a Mach 3 replacement cartridge recently? Theyre so expensive, they dont even keep them on the shelf. You know, you have to ask the people behind the counter. I feel like Im trying to buy enriched plutonium or something.
Gilbert Gottfried: Spoke to the Animals
A traveling salesman goes to a farm house. The farmer goes, I could put you up for one night, but youll have to stay in the barn. So he spends the night there and the next morning the farmer comes in, he goes, Were you comfortable? He goes, I had a great time; I talked to all the animals. He goes, You talked to the animals? He goes, Yeah I spoke to the chickens, they say you collect the eggs every morning exactly at five minutes after six. He goes, Thats exactly right. He says, The horse tells me his name is Otis, youve owned him for 10 years. He goes, Thats incredible. And he goes, I spoke to the cow, the cow says that her name is Elsie and you milk her every morning at exactly 8:30. And then I spoke to the sheep. And the farmer goes, Those sheep are lying.
#joke
Pickle Slicer
Bill worked in a pickle factory. He had been employed there for a number of years when he came home one day to confess to his wife that he had a terrible compulsion. He had an urge to stick his penis into the pickle slicer. His wife suggested that he should see a sex therapist to talk about it, but Bill indicated that he'd be too embarrassed. He vowed to overcome the compulsion on his own.
One day a few weeks later, Bill came home absolutely ashen. His wife could see at once that something was seriously wrong.
"What's wrong, Bill?" she asked.
"Do you remember that I told you how I had this tremendous urge to put my penis into the pickle slicer?" he asked.
"Oh, Bill, you didn't," she said.
"Yes, I did," he told her.
"My God, Bill, what happened?"
"I got fired."
"No, Bill. I mean, what happened with the pickle slicer?" she asked.
"Oh... she got fired too."
#joke