Three hymns
A pastor explained to his congregation that the church was in need of some extra money, so he asked them to consider being more than generous. He offered that whoever gave the most would be able to pick three hymns.
After the offering plates were passed about the church, the pastor glanced down and noticed that someone had graciously offered a $1,000 bill. He was so excited that he immediately shared his joy with his congregation and said he'd like to personally thank the person who placed the money in the plate.
A very quiet, elderly, saintly lady in the back of the church shyly raised her hand. The pastor asked her to come to the front, so she slowly she made her way towards him.
The pastor told her how wonderful it was that she gave so much, and in thanks he asked her to pick out three hymns.
Her eyes brightened as she looked over the congregation. She pointed to the three most handsome men in the church and said, "I'll take him and him and him."
#joke
A Scottish cat, aka a
A Scottish cat, aka a plaid o'puss.
Funny video of the day - You Can't Win 'Em All: Fails of the Week (December 2016)
Passionate kiss like spider's...
Passionate kiss like spider's web, soon lead to undoing of fly.
Virginity like bubble, one prick all gone.
Man who run in front of car get tired.
Man who run behind car get exhausted.
Man with hand in pocket feel cocky all day.
Foolish man give wife grand piano, wise man give wife upright organ.
Man who walk thru airport turnstile sideways going to Bangkok.
Man with one chopstick go hungry.
Man who scratches ass should not bite fingernails.
Man who eat many prunes get good run for money.
Baseball is wrong, man with four balls cannot walk.
Panties not best thing on earth but next to best thing on earth.
War doesn't determine who is right, war determines who is left.
Wife who put husband in doghouse soon find him in cathouse.
Man who fight with wife all day get no piece at night.
It take many nails to build crib but one screw to fill it.
Man who drive like hell bound to get there.
Man who stand on toilet is high on pot.
Man who lives in glass house should change clothes in basement.
Man who fishes in other man's well often catches crabs.
Man who farts in church sits in own pew.
Man who drops watch in toilet bound to have crappy time.
#joke
I love Wi-Fi so much...
"I love Wi-Fi so much because we just have that connection."
Qualifying For Heaven
Recently a teacher, a garbage collector, and a lawyer wound up together at the Pearly Gates. St. Peter informed them that in order to get into Heaven, they would each have to answer one question.
St. Peter addressed the teacher and asked, "What was the name of the ship that crashed into the iceberg? They just made a movie about it."
The teacher answered quickly, "That would be the Titanic." St. Peter let him through the gate.
St. Peter turned to the garbage man and, figuring Heaven didn't *really* need all the odors that this guy would bring with him, decided to make the question a little harder: "How many people died on the ship?"
Fortunately for him, the trash man had just seen the movie. "1,228," he answered.
"That's right! You may enter."
St. Peter turned to the lawyer. "Name them."
A man phones home from his off...
A man phones home from his office and says to his wife, "I have the chance to go fishing for a week. It's the opportunity of a lifetime. I have to leave right away. Pack my clothes, my fishing equipment, and my blue silk pajamas. I'll be home in an hour to pick them up."
The man rushes home to grab everything. He hugs his wife, apologizes for the short notice, and then hurries off.
A week later, the man returns and his wife asks, "Did you have a good trip, dear?"
The man replies, "Yep, the fishing was great...but you forgot to pack my blue silk pajamas."
His wife smiles and says, "Oh, no I didn't...I put them in your tackle box.
#joke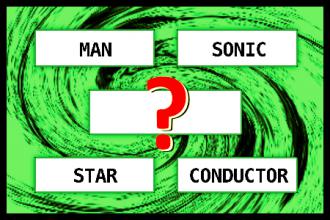 Word Association: MAN, SONIC, STAR, CONDUCTOR
Word Association: MAN, SONIC, STAR, CONDUCTOR
In a fight between Batman and ...
In a fight between Batman and Darth Vader, the winner would be Chuck Norris.