Tech Support Mishaps
Computer novices may feel like they're alone these days, but the following call to IBM's help center show there are plenty of people out there who still are inching onto the information superhighway.
After a caller gave a technician her PC's serial number, he scanned a database of registered users and responded, 'I see you have an Aptiva' desktop unit.
Before he could say another word, the caller shrieked and said she'd be right back.
When the customer returned, the technician asked if she was all right.
The caller responded, 'Had I realized you could see me, I never would have telephoned in my bathrobe.'
#joke
"My New Year's resol
"My New Year's resolution is Full HD."
An idiot heard that a fortune
An idiot heard that a fortune could be made by working as a lumberjack in Canada. So, off he goes. After some weeks, he arrives at a lumberjack-camp and asks the foreman for a job.
Foreman: "Okay sonny, but you'll have to do a test first. If you can chop down 100 trees tomorrow you're hired."
So, next day, the idiot gets his chainsaw and happily saws away all day. However, when trees are counted the idiot only has 98...
"Oh well," says the foreman, "You'll get another chance tomorrow."
So, next day, same story, 99 trees.
"I don't believe this," says the foreman, "A big strong fella like yourself should be able to cut down 200 trees in a day. You know what? You get one more chance, and I'll join you to show you the trick of it".
So, next day, the idiot and the foreman go into the forest. Upon arrival at a nice open spot the foreman puts the chainsaw on the ground, and starts the engine... Says the idiot: "What that? Where's the noise coming from?"
#joke
The magician and the parrot
A magician was working on a cruise ship in the Caribbean. The audience would be different each week, so the magician allowed himself to do the same tricks over and over again.
There was only one problem: The captain's parrot saw the shows every week and began to understand what the magician did in every trick. Once he understood that, he started shouting in the middle of the show.
"Look, it's not the same hat!" "Look, he's hiding the flowers under the table!" "Hey, why are all the cards the Ace of Spades?"
The magician was furious but couldn't do anything, it was the captain's parrot after all.
One day the ship had an accident and sank. The magician found himself on a piece of wood, in the middle of the ocean, and of course the parrot was by his side.
They stared at each other with hate, but did not utter a word. This went on for several days.
After a week the parrot finally said, "Okay, I give up. What'd you do with the boat?"
#joke
I Dare You
At a church meeting, a very wealthy man rose to tell the rest of those present about his Christian faith. "I'm a millionaire," he said, "and I attribute it all to the rich blessings of God in my life. I remember that turning point in my faith. I had just earned my first dollar and I went to a church meeting that night. The speaker was a missionary who told about his work. I knew that I only had a dollar bill and I had to either give it all to God's work or give nothing at all. So at that moment, I decided to give my whole dollar to God. I believe that God blessed that decision, and that is why I am a rich man today." When he finished and moved toward his seat, there was an awed silence As he sat down, a little old lady sitting in the same pew leaned over and said to him, "I dare you to do it again."
#joke
Watching documentaries about C
Watching documentaries about Chinese organ thieves can be very heart to take.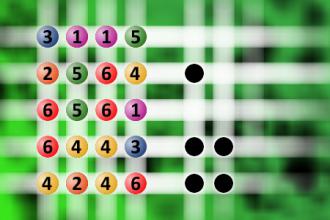 Find the right combination
The computer chose a secret code (sequence of 4 digits from 1 to 6). Your goal is to find that code. Black circles indicate the number of hits on the right spot. White circles indicate the number of hits on the wrong spot.
Demetri Martin: Clothing Sizes
Clothing sizes are weird, they go: small, medium, large and then extra large, extra extra large, extra extra extra large. Something happened at large, they just gave up. They were like, 'I'm not doing any more adjectives; you just keep putting extras on there.' We could do better than that: small, medium, large, whoa, easy, slow down, stop it, interesting, American.
#joke
Blind Man
Husband and wife are waiting at the bus stop with their nine children. A blind man joins them after a few minutes. When the bus arrives, they find it overloaded and only the wife and the nine kids are able to fit onto the bus.
So the husband and the blind man decide to walk. After a while, the husband gets irritated by the ticking of the stick of the blind man as he taps it on the sidewalk, and says to him, "Why don't you put a piece of rubber at the end of your stick? That ticking sound is driving me crazy."
The blind man replies, "If you would've put a rubber at the end of YOUR stick, we'd be riding the bus ... so shut up."  
#joke
Two skeletons were discussing
Two skeletons were discussing their girlfriends.

"I think Bonnie is cheating on me."

"What makes you think that?"

"I don't know. I just feel it in my bones."

Finally, a way to know what to
Finally, a way to know what to pitch and what to save!
THE GAG TEST
Anything that makes you gag is spoiled (except for leftovers from what you cooked for yourself last night).
EGGS
When something starts pecking its way out of the shell, the egg is probably past its prime.
DAIRY PRODUCTS
Milk is spoiled when it starts to look like yogurt. Yogurt is spoiled when it starts to look like cottage cheese. Cottage cheese is spoiled when it starts to look like regular cheese. Regular cheese is nothing but spoiled milk anyway and can't get any more spoiled than it is already. Cheddar cheese is spoiled when you think it is blue cheese but you realize you've never purchased that kind.
MAYONNAISE
If it makes you violently ill after you eat it, the mayonnaise is spoiled.
FROZEN FOODS
Frozen foods that have become an integral part of the defrosting problem in your freezer compartment will probably be spoiled - (or wrecked anyway) by the time you pry them out with a kitchen knife.
EXPIRATION DATES
This is NOT a marketing ploy to encourage you to throw away perfectly good food so that you'll spend more on groceries. Perhaps you'd benefit by having a calender in your kitchen.
MEAT
If opening the refrigerator door causes stray animals from a three-block radius to congregate outside your house, the meat is spoiled.
BREAD
Sesame seeds and Poppy seeds are the only officially acceptable "spots" that should be seen on the surface of any loaf of bread. Fuzzy and hairy looking white or green growth areas are a good indication that your bread has turned into a pharmaceutical laboratory experiment.
FLOUR
Flour is spoiled when it wiggles.
SALT
It never spoils.
CEREAL
It is generally a good rule of thumb that cereal should be discarded when it is two years or longer beyond the expiration date.
LETTUCE
Bibb lettuce is spoiled when you can't get it off the bottom of the vegetable crisper without Comet. Romaine lettuce is spoiled when it turns liquid.
CANNED GOODS
Any canned goods that have become the size or shape of a softball should be disposed of. Carefully.
CARROTS
A carrot that you can tie a clove hitch in is not fresh.
RAISINS
Raisins should not be harder than your teeth.
POTATOES
Fresh potatoes do not have roots, branches, or dense, leafy undergrowth.
CHIP DIP
If you can take it out of its container and bounce it on the floor, it has gone bad.
EMPTY CONTAINERS
Putting empty containers back into the refrigerator is an old trick, but it only works if you live with someone or have a maid.
UNMARKED ITEMS
You know it is well beyond prime when you're tempted to discard the Tupperware along with the food. Generally speaking, Tupperware containers should not burp when you open them.
GENERAL RULE OF THUMB
Most food cannot be kept longer than the average life span of a hamster. Keep a hamster in or nearby your refrigerator to gauge this.
#joke
Demetri Martin: Exit Only
I saw a sign on this door; it said, Exit Only. So, I entered it and went up to the guy working there, and I was like, I have some good news. You have severely underestimated this door over here by, like, 100%, man.
Three Travelers
Three travelers, an American, a Russian, and an Egyptian, were circumnavigating the globe a la Jules Verne. The Russian man put his hand out and reached down into the clouds.
"Aaah!" he said. "We're right over my homeland."
"How can you tell?" asked the American.
"I can feel the cold air." he replied.
A few days later the African man put his hand through the clouds.
"Aah we're right over my homeland." he said.
"How do you know that?" asked the Russian.
"I can feel the heat of the desert."
Several more days later the American put his hand through the clouds.
"Aah, we're right over New York." The Russian and the African were amazed.
"How do you know all of that?!" they exclaimed.
The American pulled his hand in and held it up for them to see. "My watch is missing."
#joke
Grandpa and God
My grandson was visiting one day when he asked, "Grandma, do you know how you and God are alike?"
I mentally polished my halo while I asked, "Now, how are we alike?"
"You're both old," he replied.

Contrary to popular belief, th...
Contrary to popular belief, there is indeed enough Chuck Norris to go around.
The General Managers of Cascad...
The General Managers of Cascade Brewery (Tasmania), Tooheys (NewSouth Wales), XXXX (Queensland), CUB (Victoria) and Coopers (South Australia) were at a national beer conference.
They decide to all go to lunch together and the waitress asks what they want to drink.
The General Manager of Tooheys says without hesitation, "I'll have a Tooheys New."
The General Manager of Cascade smiles and says, "I'll have a Cascade Draught, brewed from pure mountain water."
The General Manager of Coopers proudly says, "I'll have a Coopers, the King of Beers."
The bloke from XXXX says, "I'll have a XXXX, the cleanest beer on the planet."
The General Manager from Carlton glances at his lunch mates and says, "I'll have a Diet Coke."
The others look at him like he has sprouted a new head.
He just shrugs and says, "Well if you poofters aren't drinking beer, then neither will I."