The Garden Party
A wealthy woman is giving a garden party, and several well-to-do guests attend.
While the party ensues, two gardeners are out on the back lawn working.
One guest was watching the gardeners do their thing, and while one gardener was busy weeding, the other jumped up and did graceful swirling dance movements.
Taken by his grace, the guest remarked to the host, 'That man is such a talented dancer, that I would pay him a hundred dollars to demonstrate his dancing before my aerobics class!'
When the host asked the first gardener about such an arrangement, he yelled, 'Hey Fred! Do you think for a hundred dollars you could step on that rake again?'
#joke
A farmer passes by an insane a
A farmer passes by an insane asylum with a load of fertilizer. One of the inmates calls out, "Hey! Watcha hauling?"
"Fertilizer."
"Whadaya gonna do with it?"
"Put it on my strawberries."
"Gee. We put cream on ours, and they call us crazy!"

"When you dig up ghos
"When you dig up ghosts from the past, burying them again is a phenomenal undertaking."
Imagine the puns if Clinton we
Imagine the puns if Clinton were president. They would be Hilary US.
Good news...bad news...
"I have good news and bad news," a defense attorney told his client.
"First the bad news: The blood test came back, and your DNA is an exact match with the sample found on the victim's dress."
"Oh, no - I'm ruined!" cried the client. "What's the good news?"
"Your cholesterol is down to 140!"
#joke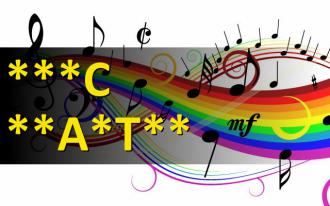 Replace asterisk symbols with ...
Replace asterisk symbols with a letters (***C **A*T**) and guess the name of musician. Length of words in solution: 4,7.
A woman was having a passionat
A woman was having a passionate affair with an inspector from a pest-control company. One afternoon they were carrying on in the bedroom together when her husband arrived home unexpectedly. "Quick," said the woman to her lover, "into the closet!" and she pushed him in the closet, stark naked. The husband, however, became suspicious and after a search of the bedroom discovered the man in the closet. "Who are you?" he asked.
"I'm an inspector from Termite Busters," said the exterminator.
"What are you doing in there?" the husband asked.
"I'm investigating a complaint about an infestation of moths," the man replied.
"And where are your clothes?" asked the husband.
The man looked down at himself and said, "Those little bastards."
#joke
One wish
A man walking along a California beach was deep in prayer. All of a sudden, he said out loud, "Lord, grant me one wish."
Suddenly the sky clouded above his head and in a booming voice, the Lord said, "Because you have TRIED to be faithful to me in all ways, I will grant you one wish."
The man said, "Build a bridge to Hawaii, so I can drive over anytime I want to."
The Lord said, "Your request is very materialistic. Think of the logistics of that kind of undertaking. The supports required to reach the bottom of the Pacific! The concrete and steel it would take! I can do it, but is hard for me to justify your desire for worldly things. Take a little more time and think of another wish. A wish you think would honor and glorify me."
The man thought about it for a long time. Finally, he said, "Lord, I wish that I could understand women. I want to know how they feel inside, what they are thinking when they give me the silent treatment, why they cry, what they mean when they say 'nothing,' and how I can make a woman truly happy."
After a few minutes, God said, "You want two lanes or four on that bridge?"
#joke
Douche
Have you heard about the new types of douche on the market?
There is aloe vera scented, peach flavor, and chicken flavor.
The aloe vera is to tighten it up for the penis.
The peach is sweeter for the eater.
And the chicken is finger lickin' good.
Submitted by Curtis
Editted by Tantilazing
Reniewed by Calamjo
#joke
Chuck Norris' first job was as...
Chuck Norris' first job was as a paperboy. There were no survivors.
Jordan Rubin: New Cell Phone
You ever get a new cell phone and youre too lazy to transfer all the numbers over, so you just stop being friends with a bunch of people?
Bill, Jim, and Scott were at a...
Bill, Jim, and Scott were at a convention together and were sharing a large suite on the top of a 75-story skyscraper. After a long day of meetings they were shocked to hear that the elevators in their hotel were broken and they would have to climb 75 flights of stairs to get to their room. Bill said to Jim and Scott, let's break the monotony of this unpleasant task by concentrating on something interesting. I'll tell jokes for 25 flights, and Jim can sing songs for 25 flights, and Scott can tell sad stories the rest of the way. At the 26th floor Bill stopped telling jokes and Jim began to sing. At the 51st floor Jim stopped singing and Scott began to tell sad stories. "I will tell my saddest story first," he said. "I left the room key in the car!"
#joke