Jokes of the day for Wednesday, 06 December 2017
Funny jokes, funny photo and funny video collected from the internet on Wednesday, 06 December 2017
The Parisian Belle And The Midwestern Salesman
The owner and head of sales of a large furniture store in the mid-west arrived in Paris on a buying trip. As he was checking into a hotel he struck up an acquaintance with a beautiful young lady. However, she only spoke French and he only spoke English, so each couldn't understand a word the other spoke.
He took out a pencil and a notebook and drew a picture of a taxi. She smiled, nodded her head and they went for a ride in the park.
Later, he drew a picture of a table in a restaurant with a question mark and she nodded, so they went to dinner.
After dinner, he sketched two dancers and she was delighted. They went to several night-clubs, drank champagne, danced and had a glorious evening.
It had gotten quite late when she motioned for the pencil and drew a picture of a four-poster bed. He was utterly amazed and took her home. To this very day, he still doesn't know how she guessed that he was a furniture salesman!
#joke
"I was going to tell
"I was going to tell you a joke about infinity, but I can't find the end."
How does the Devil welcome you
How does the Devil welcome you down to Hell? "Watch out, a soul!"
Railroad
A man who had spent his whole life in the desert visited a friend. He'd never seen a train or the tracks they run on. While standing in the middle of the RR tracks, he heard a whistle, but didn't know what it was. Predictably, he's hit and is thrown, ass-over-tea-kettle, to the side of the tracks, with some minor internal injuries, a few broken bones, and some bruises.
After weeks in the hospital recovering, he's at his friend's house attending a party. While in the kitchen, he suddenly hears the teakettle whistling. He grabs a baseball bat from the nearby closet and proceeds to batter and bash the teakettle into an unrecognizable lump of metal. His friend, hearing the ruckus, rushes into the kitchen, sees what's happened and asks the desert man, "Why'd you ruin my good tea kettle?"
The desert man replies, "Man, you gotta kill these things when they're small."
#joke
Yesterday I went to the doctor...
Yesterday I went to the doctor for my yearly physical. My blood pressure was high, my cholesterol was high, I'd gained some weight, and I didn't feel so hot.
My doctor said eating right doesn't have to be complicated and it would solve my physical problems. He said just think in colors. Fill your plate with bright colors: greens, yellows, reds, etc.
I went right home and ate an entire bowl of M&M's and sure enough, I felt better immediately. I never knew eating right could be so easy.
A man took his old duck to the
A man took his old duck to the Doctor, concerned because the duck wouldn't eat.
The Doctor explained to the man that as ducks age their upper bills grow down over their lower bills and make it difficult for the animal to pick up it's food.
"What you need to do is gently file the upper bill down even with the lower bill. But you must be extra careful because the duck's nostrils are located in the upper bill and if you file down too far, when the duck takes a drink of water it'll drown."
The man goes about his business and about a week later the Doctor runs into his patient.
"Well, how is that duck of yours?" the Doctor inquires.
"He's dead." declared the heartbroken man.
"I told you not to file his upper bill down too far! He took a drink of water and drowned didn't he?" insisted the Doctor.
"No." lamented the man. "I think he was dead before I took him out of the vise."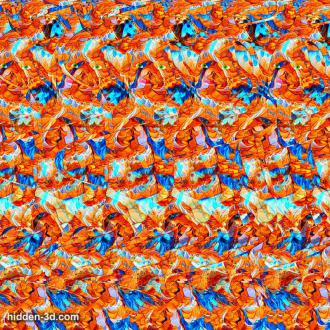 What is hidden in 3D image?
Stereogram - 3D Image
Talking On The Plane
Two government economists were returning home from a field meeting. As with all government travelers, they were assigned the cheapest seats on the plane so they each were occupying the center seat on opposite sides of the aisle.
They continued their discussion of the knotty problem that had been the subject of their meeting through takeoff and meal service until finally one of the passengers in an aisle seat offered to trade places so they could talk and he could sleep.
After switching seats, one economist remarked to the other that it was the first time an economic discussion ever kept anyone awake.
#joke
Duck Dance...
A circus owner walked into a bar to see everyone crowded about a table watching a little show. On the table was an upside-down pot and a duck tap dancing on it. The circus owner was so impressed that he offered to buy the duck from its owner. After some wheeling and dealing they settled for $10,000 for the duck and the pot.
Three days later the circus owner runs back to the bar in anger, "Your duck is a rip-off! I put him on the pot before a whole audience and he didn't dance a single step!"
"So?" asked the ducks former owner, "did you remember to light the candle under the pot?"
#joke
A Guy was staying in a fancy h...
A Guy was staying in a fancy hotel and was enjoying the pool when the manager told him quite bluntly to get out. When asked for the reason, the manager said, "Because you peed in the pool."
"Well," replied the swimmer, "lots of people do that."
"True," answered the manager, "but you did it from the diving board."
#joke
What Will The Neighbors Think?
Jack was living in Arizona during a heat wave when the following took place.
"It's just too hot to wear clothes today," complained Jack as he stepped out of the shower. "Honey, what do you think the neighbors would think if I mowed the lawn like this?"
"Probably that I married you for your money."
#joke
Carlos Mencia: Super-Fence
You know what they said in California? I saw it on C-Span -- people we vote for -- this is what they said, I propose that we kick all of the illegal aliens out of this country. Then we build a super-fence so they cant get back in. And I went, Um, whos gonna build it?
Finally, the good-natured boss...
Finally, the good-natured boss was compelled to call Smith into his office.
"It has not escaped my attention," he pointed out, "that every time there's a home game at the stadium, you have to take your aunt to the doctor."
"You know you're right, sir," exclaimed Smith, "I didn't realize it. You don't suppose she's faking, do you?"