Have a great time for
Christmas
, check out our latest
Christmas jokes of 2022
on:
Christmas jokes collection
During preseason training, a c...
During preseason training, a college football lineman married one of the team's cheerleaders. The coach was a bit surprised and remarked to his star football player, "You are such a big, burley guy. Why in the world did you marry such a tiny, petite woman? She is no bigger than your hand."
"That's right, Coach," replied the lineman. "But, she's much better!"
#joke
"If I want to gamble
"If I want to gamble online, do I use betcoins?"
I''m lost...
A small boy was lost, so he went up to a policeman and said, "I've lost my dad!"
The policeman said, "What's he like?"
The little boy replied, "Chips and beer."
Shalom Race
As you may know, in a shalom race the skier must pass through about 20 "gates" in the fastest time. Well, it happened that Israel had the fastest slalom skier in the world and had great expectations for an Olympic gold medal.
Came the day of the final, the crowd waited in anticipation. The French champion sped down the course in 38 seconds. The Swiss in 38.7 seconds, the German in 37.8 seconds and the Italian in 38.1 seconds. Next came the Israeli's turn ... the crowd waited, and waited...six minutes!
"What happened to you?" screamed his trainer when the Israeli finally arrived. Replied the exhausted Israeli: "Which of those idiots put a mezuzah on each gate?"
#joke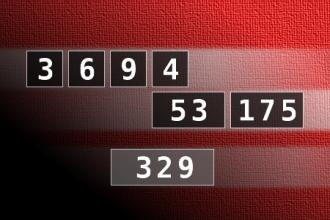 Calculate the number 329
NUMBERMANIA: Calculate the number 329 using numbers [3, 6, 9, 4, 53, 175] and basic arithmetic operations (+, -, *, /). Each of the numbers can be used only once.
Stolen Car
A drunk phoned the police to report that thieves had broken in to his car.
"They've stolen the dashboard, steering wheel, break pedal, even the accelerator," he cried out.

However, before the police investigation could get under way the phone rang a second time, with the same voice came over the line. "Never mind," said the drunk with a hiccup, "I got in the backseat by mistake."
#joke
Caught on the Job
The new army recruit was given guard duty at 2 a.m. He did his best for a while, but at about 4 a.m. he went to sleep. He awakened to find the officer of the day standing before him.
Remembering the heavy penalty for being asleep on guard duty, this smart young man kept his head bowed for another moment and looked upward and reverently said, "A-a-a-men!"
#joke
Knock Knock Collection 137
Knock Knock
Who's there?
Odysseus!
Odysseus who?
Odysseus the last straw!
Knock Knock
Who's there?
Ogre!
Ogre who?
Ogre take a flying leap!
Knock Knock
Who's there?
Ohio!
Ohio who?
Ohio Silver!
Knock Knock
Who's there?
Ohio!
Ohio who?
Ohio feeling!
Knock Knock
Who's there?
Okra!
Okra who?
Okra Winfrey!
#joke