The top 10 unintentionally
The top 10 unintentionally worst company URLs
1. A site called "Who Represents" where you can find the name of the agent that represents a celebrity. Their domain name is www.whorepresents.com
2. Experts Exchange, a knowledge base where programmers can exchange advice and views at www.expertsexchange.com
3. Looking for a pen? Look no further than Pen Island at www.penisland.net
4. Need a therapist? Try Therapist Finder at www.therapistfinder.com
5. Then of course, there's the Italian Power Generator company www.powergenitalia.com
6. And now, we have the Mole Station Native Nursery, based in New South Wales: www.molestationnursery.com
7. If you're looking for computer software, there's always www.ipanywhere.com
8. Welcome to the First Cumming Methodist Church. Their website is www.cummingfirst.com
9. Then, of course, there's these brainless art designers, and their website: www.speedofart.com
10. Want to holiday in Lake Tahoe? Try their brochure website at www.gotahoe.com
#joke
Need A New Lawyer
Warning Signs that you Might Need a Different Lawyer


Your lawyer tells you that his last good case was of Budweiser.

When the prosecutors see your lawyer, they high-five each other.

Your lawyer picks the jury by playing "duck-duck-goose."

Your lawyer tells you that he has never told a lie.

A prison guard is shaving your head.

"If I want to gamble
"If I want to gamble online, do I use betcoins?"
What Children Do.............
** For those who already have children past this age, this is hilarious. ** For those who have children this age, this is not funny. ** For those who have children nearing this age, this is a warning. ** For those who have not yet had children, this is birth control.
The following came from an anonymous Mother in Austin, Texas:
Things I've learned from my Children (honest & no kidding):
1. A king size waterbed holds enough water to fill a 2000 sq. ft house 4 inches deep.
2. If you spray hair spray on dust bunnies and run over them with rollerblades, they can ignite.
3. A 3-year old's voice is louder than 200 adults in a crowded restaurant.
4. If you hook a dog leash over a ceiling fan, the motor is not strong enough to rotate a 42 pound boy wearing Batman underwear and a Superman cape. It is strong enough, however, if tied to a paint can, to spread paint on all four walls of a 20x20 ft. room.
5. You should not throw baseballs up when the ceiling fan is on. When using a ceiling fan as a bat, you have to throw the ball up a few times before you get a hit. A ceiling fan can hit a baseball a long way.
6. The glass in windows (even double-pane) doesn't stop a baseball hit by a ceiling fan.
7. When you hear the toilet flush and the words "uh oh," it's already too late.
8. Brake fluid mixed with Clorox makes smoke, and lots of it.
9. A six-year old can start a fire with a flint rock even though a 36-year old man says they can only do it in the movies.
10. Certain Legos will pass through the digestive tract of a 4-year old.
11. Play dough and microwave should not be used in the same sentence.
12. Super glue is forever.
13. No matter how much Jell-O you put in a swimming pool you still can't walk on water.
14. Pool filters do not like Jell-O.
15. VCR's do not eject PB&J sandwiches even though TV commercials show they do.
16. Garbage bags do not make good parachutes.
17. Marbles in gas tanks make lots of noise when driving.
18. You probably do not want to know what that odor is.
19. Always look in the oven before you turn it on. Plastic toys do not like ovens.
20. The fire department in Austin, TX has a 5-minute response time.
21. The spin cycle on the washing machine does not make earthworms dizzy.
22. It will, however, make cats dizzy.
23. Cats throw up twice their body weight when dizzy.
24. The mind of a 6-year old is wonderful. First grade...true story:
One day the first grade teacher was reading the story of the Three Little Pigs in her class. She came to the part of the story where the first pig was trying to accumulate the building materials for his home. She read, "...And so the pig went up to the man with the wheelbarrow full of straw and said, Pardon me sir, but may I have some of that straw to build my house?'" The teacher paused then asked the class, "And what do you think that man said?"
One little boy raised his hand and said, "I think he said...'Holy sh_t! A talking pig!'"
The teacher was unable to teach for the next 10 minutes.
25. 60% of men who read this will try mixing the Clorox and brake fluid.
#joke
A Yogi Walked into a Pizza Parlor…
What did the Yogi say when he walked into the Zen Pizza Parlor?
"Make me one with everything."
When the Yogi got the pizza, he gave the proprietor a $20 bill. The proprietor pocketed the bill. The Yogi said "Don't I get change?"
The proprietor said, "Change must come from within."

#joke
Bank Robber Stealing
The following is supposedly a true story. To be included, besides being true, the story is most likely strange, weird, surprising, or funny.
LOS ANGELES TIMES, December 9:
A man walked into a branch of the Antelope Valley Bank and handed a teller a note demanding money. The man had one hand in his pocket, as if holding a gun, so the teller began handing over the contents of her cash drawer.
When she had forked over $7,000 the robber said, "That's enough" and walked out the door. It's hard to find a bank robber who knows when he's had enough.
FLEX WORDLE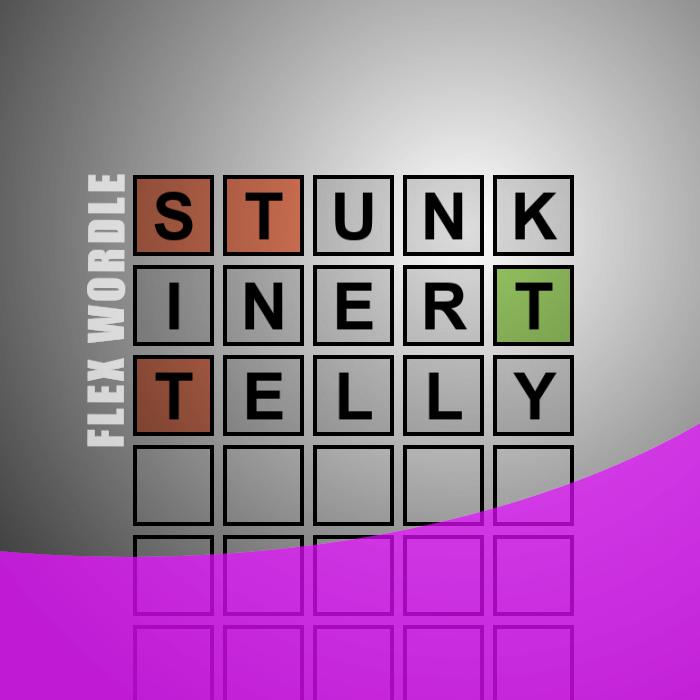 Guess the
WORDLE
in 3 tries. After each guess, the color of the tiles will change to show how close your guess was to the solution.
God and Eve in the Garden
One day in the Garden of Eden, Eve calls out to God...
"Lord, I have a problem!"
"What's the problem, Eve?"
"Lord, I know you've created me and have provided this
beautiful garden and all of these wonderful animals, and that
hilarious comedic snake, but I'm just not happy."
"Why is that, Eve?" came the reply from above.
"Lord, I am lonely. And I'm sick to death of apples."
"Well, Eve, in that case, I have a solution. I shall create
a man for you."
"What's a 'man,' Lord?"
"This man will be a flawed creature, with many bad traits.
He'll lie,>cheat, and be vainglorious; all in all, he'll give
you a hard time. But, he'll be bigger, faster, and will like
to hunt and kill things. He will look silly aroused, but
since you've been complaining, I'll create him in such in a
way that he will satisfy your ah, physical needs. He'll be
witless and will revel in childish things like fighting and
kicking a ball about. He won't be too smart, so he'll also
need your advise to think properly.
"Sounds great," says Eve, with an ironically raised eyebrow.
"What's the catch, Lord?"
"Yeah, well.... you can have him on one condition."
"What's that, Lord?"
"As I said, he'll be proud, arrogant, and self-admiring . .
. So you'll have to let him believe that I made him first . .
. So, just remember . . . it's our secret . . . Woman to
woman."
#joke
Pete Holmes: I Love New York
There are so many people in this city, so much happening, that its impossible to tell if your apartment is haunted. Think about that, thats true. Cause you can hear anything, at any hour -- theres always something to blame it on.
Join us on WhatsApp