A woman walks into a Ferrari d
A woman walks into a Ferrari dealership. She browses around, then spots the car of her dreams. She walks over to inspect it. As she bends to feel the leather upholstery, a small fart escapes her. Extremely embarrassed, she looks around nervously to see if anyone has noticed, and hopes a sales person doesn't pop up right now. But as she turns back, there standing next to her is a handsome young salesman.
"Good day Madam, how may I help you?"
Very uncomfortably, she asks, "Sir, what is the price of this fabulous vehicle?"
He answers, "Madam, I'm afraid I can't say. If you farted just touching it, you're going to crap yourself when you hear the price."
#joke
Boat Troubles
During late spring one year, a blonde was trying out her new boat. She was unable to have her boat perform, travel through water, or do any maneuvers whatsoever no matter how hard she tried.
After trying for over three days to make it work properly, she decided to seek help. She putted the boat over to the local marina in hopes that someone there could identify her problem.
Workers determined that everything from the engine to the outdrive was working perfectly on the topside of the boat. So, a puzzled marina employee jumped into the water to check underneath the boat for problems. Because he was laughing so hard, he came up choking on water and gasping for air. Under the boat, still strapped in place securely, was the trailer.
A Cheap Birthday Gift
Husband: Tell me what you'd like for your birthday.
Wife: Frankly, I'd like a divorce.
Husband: Yikes! I wasn't planning on spending that much!
Once upon a time, in a nice li
Once upon a time, in a nice little forest, there lived a blind little bunny and a blind little snake.
One day, the bunny was hopping through the forest, and the snake was slithering through the forest, when the bunny tripped over the snake and fell down. This, of course, knocked the snake about quite a bit.
"Oh, my," said the bunny, "I'm terribly sorry. I didn't mean to hurt you. I've been blind since birth, so, I can't see where I'm going. In fact, I don't even know what I am."
"It's quite okay," replied the snake. "Actually, my story is much the same as yours. I, too, have been blind since birth. Tell you what, maybe I could kinda slither over you, and figure out what you are, so at least you'll have that going for you."
"Oh, that would be wonderful," replied the bunny. So the snake slithered all over the bunny, and said, "Well, you're covered with soft fur, you have really long ears, your nose twitches, and you have a soft cottony tail. I'd say that you must be a bunny."
"Oh, thank you! Thank you," cried the bunny in obvious excitement. The bunny suggested to the snake, "Maybe I could feel you with my paw, and help you the same way you've helped me."
So the bunny felt the snake all over, and remarked, "Well, you're scaly and smooth, and you have a forked tongue, no backbone and no balls. I'd say you must be either a politician, an attorney, or possibly someone in upper management."
#joke
"How did Pavlov win a
"How did Pavlov win a Nobel prize?"
Her husband had been slipping ...
Her husband had been slipping in and out of a coma for several months yet she stayed by his bedside every single day. When he came to, he motioned for her to come nearer. As she sat by him, he said, "You know what? You have been with me all through the bad times. When I got fired, you were there to support me. When my business fell, you were there. When I got shot, you were by my side. When we lost the house, you gave me support. When my health started failing, you were still by my side. Well, now that I think about it, I think you bring me bad luck!
#joke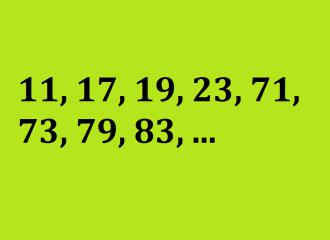 What number comes next in th...
What number comes next in the following series 11, 17, 19, 23, 71, 73, 79, 83, ?
The Great Wall of China was or...
The Great Wall of China was originally created to keep Chuck Norris out. It failed miserably.
Admit That You Did That
An old Indian lined up all of his 10 little Indian sons and stood in front of them.
He then asked, "Who push port-a-potty over cliff?"
Nobody answered him.
He then asked again, "Who push port-a-potty over cliff?"
Again nobody answered.
The old Indian said, "I tell story of Georgie and Georgie father. Georgie chop down cherry tree. Georgie tell truth, Big Georgie no punish." So the Indian asked again,
"Who push port-a-potty over cliff?"
To which the littlest Indian replied, "I push port-a-potty over cliff."
The old Indian then shakes and spanks him, for his punishment. When he is done, the little Indian asks, "Georgie tell truth, Georgie no get punish. I tell truth, I get punished. Why you punish, father?"
The old Indian replied, "Big Georgie not in cherry tree when it got chopped down!!!"
#joke
21st Century Newspaper
I was visiting my daughter last night when I asked if I could borrow a newspaper.
'This is the 21st century,' she said. 'We don't waste money on newspapers. Here, use my iPad.'.
I can tell you this... That fly never knew what hit him!
Overboard
The banker fell overboard from a friend's sailboat.
The friend grabbed a life preserver, held it up, not knowing if the banker could swim, and shouted, "Can you float alone?"
"Obviously," the banker replied, "but this is a heck of a time to talk business."
#joke