I Always Liked You
I recently ran into an old student of mine, who said, "I always liked you. You never had favorites."
"Why thank you," I replied.
Then he concluded with, "You were mean to everyone."
"They dared me to jum
"They dared me to jump off a cliff, but it was just a bluff."
Henry's son, David, burst int
Henry's son, David, burst into the house, crying. His mother asked him what the problem was.
"Daddy and I were fishing, and he hooked a giant fish. Really big. Then, while he was reeling it in, the line busted and the fish got away."
"Now come on, David," his mother said, "a big boy like you shouldn't be crying about an accident like that. You should have just laughed it off."
"But that's just what I did, mommy."
#joke
Knock Knock Collection 129
Knock Knock
Who's there?
Miniature!
Miniature who?
Miniature open the door, I'll tell you!
Knock Knock
Who's there?
Minneapolis!
Minneapolis who?
Minneapolis a day keeps the doctor away!
Knock Knock
Who's there?
Minnie!
Minnie who?
Minnie more!
Knock Knock
Who's there?
Minnie!
Minnie who?
No not Minnie-who - Minnehaha!
Knock Knock
Who's there?
Minsk!
Minsk who?
Minsk meat!
The children were lined up in...
The children were lined up in the cafeteria of a Catholic elementary school for lunch. At the head of the table was a large pile of apples. The nun made a note, and posted on the apple tray:
'Take only ONE. God is watching.'
Moving further along the lunch line, at the other end of the table was a large pile of chocolate chip cookies.
A child had written a note, 'Take all you want. God is watching the apples.'
#joke
The Happy Hangover
Jack wakes up with a huge hangover after attending his company's Christmas Party. Jack is not normally a drinker, but the drinks didn't taste like alcohol at all. He didn't even remember how he got home from the party. As bad as he was feeling, he wondered if he did something wrong.
Jack had to force himself to open his eyes, and the first thing he sees is a couple of aspirins next to a glass of water on the side table. And, next to them, a single red rose! Jack sits up and sees his clothing in front of him, all clean and pressed. He looks around the room and sees that it is in perfect order, spotlessly clean. So is the rest of the house.
He takes the aspirins, cringes when he sees a huge black eye staring back at him in the bathroom mirror. Then he notices a note hanging on the corner of the mirror written in red with little hearts on it and a kiss mark from his wife in lipstick: "Honey, breakfast is on the stove, I left early to get groceries to make your favorite dinner tonight. I love you, darling! Love, Jillian"
He stumbles into the kitchen and sure enough, there is a hot breakfast, steaming hot coffee, and the morning newspaper all waiting for him. His son is also at the table, eating. Jack asks, "Son... what happened last night?"
"Well, you came home after 3 in the morning, drunk and out of your mind. You fell over the coffee table and broke it, and then you puked in the hallway, and got that black eye when you ran into the door."
Confused, he asked his son, "So, why is everything in such perfect order and so clean? I have a rose, and breakfast is on the table waiting for me?"
His son replies, "Oh THAT! Well, Mom dragged you to the bedroom, and when she tried to take your pants off, you screamed,'Leave me alone, I'm married!'"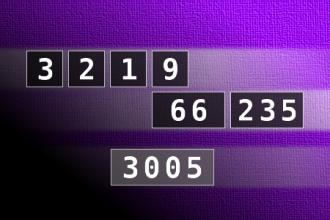 Calculate the number 3005
NUMBERMANIA: Calculate the number 3005 using numbers [3, 2, 1, 9, 66, 235] and basic arithmetic operations (+, -, *, /). Each of the numbers can be used only once.
A woman was sure that her husb...
A woman was sure that her husband was cheating on her, and having an affair with the maid. So she laid down a trap.
One evening she suddenly sent the maid home for the weekend and didn't tell the husband.
That night when they went to bed, the husband gave the old story: Excuse me my dear, my stomach aches, and went to the bathroom.
The wife promptly went into the maid's bed. She switched the lights off. When he came in silently, he wasted no time or words but quickly got on top of her...
When he finished and was still panting, the wife said: "You didn't expect to find me in this bed, did you?" And then she switched on the light...
"No madam," said the gardener.
#joke
A Saudi Prince went to Germany...
A Saudi Prince went to Germany to study.
A month later, he sends a letter to his dad saying: "Berlin is wonderful, people are nice and I really like it here,but I'm a bit ashamed to arrive to school with my gold Mercedes when all my teachers travel by train."
Sometime later he gets a letter from his dad with a ten million dollar check saying: "Stop embarrassing us, go and get yourself a train too"!
#joke
Rosary and Two Martinis
A priest was sent to a very small church in the backwoods of Alaska. After a couple of years the Bishop decided to pay the priest a visit to see how he was doing. The priest said that it was a really lonely job and that he didn't think that he could have made it without his Rosary and two martinis each day. With that the priest said to the Bishop, "Would you like to have a martini with me?" The Bishop said, "Yes, that would be nice." The priest turned around and hollered toward the kitchen, "Rosary, would you fix us two martinis please?"
#joke
Ecumenical Greenbacks
My home church welcomes all denominations, but really prefers tens and twenties.