When I found out my toaster wasn't water proof...
When I found out my toaster wasn't water proof...
I WAS SHOCKED!
Author:
Wonderland6914
"My barber cut short
"My barber cut short his operational costs by trimming the overheads!"
Twins Girls
My friend Jay had twin girls recently and he wanted to name them after him...
So I suggested Kaye and Elle.
Girls with lovely Scottish accent
So I walked into a this bar and heard two girls speaking in what sounded like a lovely Scottish accent. I said: So, are you two girls from Scotland?
One of them said: "Wales Idiot!"
So I said: "Oh, I am terribly sorry about that. So, are you two Whales from Scotland?"
That's the last thing I remember.
#joke #walksintoabar
I can't believe I made it any
I can't believe I made it anywhere creatively, though, because I was raised by two loving and supportive parents. Nothing squashes creativity more than unconditional love and support from a functional household. If you have kids, sh*t on their dreams a little bit.
An amateur photographer was in
An amateur photographer was invited to dinner with friends and took along a few pictures to show the hostess. She looked at the photos and commented, "These are very good! You must have a good camera."
He didn't make any comment, but, as he was leaving to go home he said, "That was a really delicious meal! You must have some very good pots."
#joke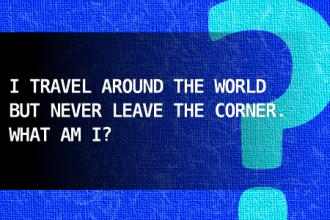 I travel around the world but ...
I travel around the world but never leave the corner. What am I?
Dining out...
A husband and wife were having dinner at a very fine restaurant when this absolutely stunning young woman comes over to their table, gives the husband a big kiss, tells him she'll see him later, and walks away.
His wife glares at him and says, 'Who was that??!!'
'Oh,' replies the husband, 'that was my mistress.'
The wife says, 'That's it; I want a divorce.'
'I understand,' replies her husband, 'but, remember, if you get a divorce, there will be no more shopping trips to Paris, no wintering in the Caribbean, no Lexus in the garage, and no more country club. But the decision is yours.'
Just then the wife notices a mutual friend entering the restaurant with a gorgeous woman. 'Who's that woman with Jim? ' she asks.
'That's his mistress,' replies her husband.
'Ours is prettier,' says the wife.
#joke
Humor About Drunk Irishmen
Casey McCarthy had just arrived in New York City and was amazed at the enormity of everything. Having drunk a pint or two on the flight over, he sorely needed to relieve himself. The first door he entered happened to be a large health club, and he asked the clerk if he might use the men's room. The clerk said certainly and told Casey the men's room was the third door down the corridor on the left. Now Casey, trying to appear sober, weaved his way down the hallway remembering some of the directions. When he reached the third door, he turned RIGHT , opened the door and immediately fell into the deep end of a pool. The clerk, realizing Casey's mistake, ran down the hall and burst through the door, prepared to save him, and heard Casey shout, "Don't flush, I'm in here!"

For a holiday, Mulvaney decided to go to Switzerland to fulfill a lifelong dream and climb the Matterhorn. He hired a guide and just as they neared the top, the men were caught in a snow slide.
Three hours later, a Saint Bernard plowed through to them, a keg of brandy tied under his chin.
"Hooray!" shouted the guide. "Here comes man's best friend!"
"Yeah," said Mulvaney. "An' look at the size of the dog that's bringin' it!"



#joke
Kyle Kinane: Always a Miracle
Im in my 30s; everybodys having kids or miracles. Oh, its a miracle. Its always a miracle. Im like, You had sex, right? Yeah? Then no, thats exactly whats supposed to happen from that. I spend all my time preventing miracles; that is whats happening. I call it a miracle when the girl doesnt get pregnant. Thats when I start getting spiritual.
#joke
Saddam Hussein was not found h...
Saddam Hussein was not found hiding in a "hole." Saddam was roundhouse-kicked in the head by Chuck Norris in Kansas, which sent him through the earth, stopping just short of the surface of Iraq.
No Wool Downstairs
A husky foreigner, looking for sex, accepted a prostitute's terms.
When she undressed, he noticed that she had no pubic hair.
The man shouted, "What, no wool? In my country all women have wool down there."
The prostitute snapped back, "What do you want to do, knit or have sex?"
#joke
Howard is 95 and lives in a se...
Howard is 95 and lives in a senior citizen home. Every night after dinner, Howard goes to a secluded garden behind the center to sit and ponder his accomplishments and long life.
One evening, Annabel, age 87, wanders into the garden. They begin to chat, and before they know it, several hours have passed. After a short lull in their conversation, Howard turns to Annabel and asks, "Do you know what I miss most of all?
She asks, "What?"
"SEX!!!"
Annabel exclaims, "Why you old fart, you couldn't get it up if I held a gun to your head!"
"I know," Howard says, "but it would be nice if a woman just held it for a while."
"Well, I can oblige", says Annabel, who gently unzips his trousers, removes his manhood and proceeds to hold it.
Afterward, they agree to meet secretly each night in the garden where they would sit and talk and Annabel would hold Howard's manhood. Then,
one night, Howard didn't show up at their usual meeting place.
Alarmed, Annabel decided to find Howard and make sure that he was O.K. She walked around the senior citizen home where she found him sitting by the pool with another female resident-who was holding Howard's manhood!
Furious, Annabel yelled, "You two-timing creep! What does she have that I don't have?!"
Howard smiled happily and replied, "Parkinson's."
#joke
Bless This Car
A rabbi, a priest and a minister have their houses of worship side by side, so they decide to carpool.
On the first day, the other two are shocked to see the pastor lay hands on the hood and pray silently.
"What are you doing?" the priest asks.
The pastor looks up. "I'm just dedicating the car to the Lord's service."
"Good idea! Be right back!" the priest exclaims, running into his church. He emerges with a bulb on a short stick, shaking water out of it onto the car.
The rabbi stares. "What are you doing?" he says.
"I'm consecrating it with holy water," the priest replies.
"Great idea!" the rabbi says, and runs into his synagogue's toolshed. He emerges with a hacksaw and takes off an inch of the tailpipe.
#joke