"Is an anthill caught
"Is an anthill caught in a twister an anticyclone?"
Try To Settle The Dispute
There was once a Scotsman and an Englishman who lived next door to each other. The Scotsman owned a hen and each morning would look in his garden and pick up one of his hen's eggs for breakfast.
One day he looked outside and saw that the hen had laid an egg in the Englishman's garden. He was about to go next door when he saw the Englishman pick up the egg. The Scotsman ran up to the Englishman and told him that the egg belonged to him because he owned the hen. The Englishman disagreed because the egg was laid on his property.
They argued for a while until finally the Scotsman said, "In my family we normally solve disputes by the following actions: I punch you in the nose and note how long it takes you to recover, then you punch me in the nose and note how long it takes for me to recover, whomever recovers quicker wins the egg."
The Englishman agreed to this and so the Scotsman held the heaviest object he could find, took a few steps back, then ran toward the Englishman and punched him as hard as he could in the nose. The Englishman fell to the ground and was howling in agony and holding his nose for thirty minutes.
Eventually the Englishman stood up and said, "Now it's my turn to punch you."
The Scotsman said, "Keep the lousy egg."
#joke
Ringing My Doorbell
My neighbor rang on my doorbell at 3 am... can you believe it!?

Luckily I was still up playing the drums.
Top 10 Reasons God Created Eve
10. God worried that Adam would always be lost in the garden because men hate to ask for directions. 9. God knew that Adam would one day need someone to hand him the TV remote.8. God knew that Adam would never buy a new fig leaf when his seat wore out and would therefore need Eve to get one for him. 7. God knew that Adam would never make a doctor's appointment for himself. 6. God knew that Adam would never remember which night was garbage night.5. God knew that if the world was to be populated, men would never be able to handle childbearing. 4. As "Keeper of the Garden," Adam would never remember where he put his tools. 3. The scripture account of creation indicates Adam needed someone to blame his troubles on when God caught him hiding in the garden. 2. As the Bible says, "It is not good for man to be alone!" 1. When God finished the creation of Adam, He stepped back, scratched His head and said, "I can do better than that."
Said the FBI agent to the bank
Said the FBI agent to the bank teller after the bank was robbed for the third time by the same bandit: "Did you notice anything special about the man?"
"Yes, he seemed better dressed each time!"

I saw the light!
Mr. and Mrs. Thomas were both 102 years old. They had been married 74 years. The local television station sent a news crew out to interview them.
"What we need to do," the reporter explained, "is to interview you separately. It just seems to make for a better write-up, when we do it that way. So, if you don't mind waiting, Mrs. Thomas, we'll go out on the porch with your husband and visit with him for a few moments first."
After they were settled on the porch, the reporter began his interview. "Mr. Thomas, I know you get tired of people asking you this, but what do you think is the cause of your longevity?"
"Well..." Mr. Thomas drawled thoughtfully. "I get up early every morning. I eat pretty good, you know, garden food and such....and...oh, yeah! God talks to me!"
The reporter stared up at him to see if he was kidding. "You mean God actually talks to you?"
"Yep," the old-timer replied sincerely. "We're pretty close. In fact, when I have to get up and go to the bathroom during the night, God even turns the light on for me."
The reporter quickly excused himself and went in search of Mrs. Thomas. "I don't mean anything unkind by this, Ma'am, but is Mr. Thomas okay...mentally, I mean?"
"Why?" she asks curiously.
"Well, he says that when he goes to the bathroom at night, God turns on the light for him," the reporter explained.
"Oh, damn!" Mrs. Thomas said, irritably. "Has that old fart been pissin' in the refrigerator again?"
#joke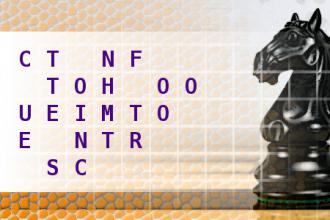 Chess Knight Move
Find the title of novel, using the move of a chess knight. First letter is T. Length of words in solution: 3,5,2,5,6.
A blind man was describing his
A blind man was describing his favorite sport, parachuting.When asked how this was accomplished, he said that things were alldone for him:
"I am placed in the door and told when to jump"
"My hand is placed on my release ring for me, and out I go"
"But how do you know when you are going to land?" he was asked.
"I have a very keen sense of smell and I can smell the trees and grasswhen I am 300 feet from the ground" he answered.
"But how do you know when to lift your legs for the final arrival onthe ground?" he was again asked.
He quickly answered "Oh, the dog's leash goes slack".
#joke
Every time an Indian walks int...
Every time an Indian walks into the chief's teepee he sees that the chief is masturbating. They finally realize this is a serious problem, so they fix him up with a nice woman, and she starts living with him in his teepee.
One day, one of the Indians walks into to chief's teepee and there's the chief masturbating again. He says, "Chief, what are you doing? We fix you up with a beautiful woman."
The chief says, "Her arm get tired."
#joke
12- Pack
A father and his son go into the grocery store when they happen upon the condom aisle. The son asks his father why there are so many different boxes of condoms. The father replies, ''Well, you see that 3-pack? That's for when you're in high school. You have 2 for Friday night and 1 for Saturday night.'' The son then asks his father, ''What's the 6-pack for?'' The father replies, ''Well, that's for when you're in college. You have 2 for Friday night, 2 for Saturday night, and 2 for Sunday morning.'' Then the son asks his father what the 12-pack is for. The father replies, ''Well, that's for when you're married. You have one for January, one for February, one for March, one for.....''
Chuck Norris can win at solita...
Chuck Norris can win at solitaire with only 18 cards.
vampire lesbians
What did one lesbian vampire say to the other?. Same time next month?.
The strong young man at the co...
The strong young man at the construction site was bragging that he could outdo anyone in a feat of strength. He made a special case of making fun of one of the older workmen. After several minutes, the older worker had had enough. "Why don't you put your money where your mouth is," he said. "I will bet a week's wages that I can haul something in a wheelbarrow over to that outbuilding that you won't be able to wheel back." "You're on, old man," the braggart replied. "Let's see what you got." The old man reached out and grabbed the wheelbarrow by the handles. Then, nodding to the young man, he said, "All right. Get in."
#joke