Hear about the dyslexic watchm
Hear about the dyslexic watchmaker who was ruined by the tocks market? That's nothing compared to the horologist who spent all his money on prostitutes.
A tourist was admiring the nec
A tourist was admiring the necklace worn by a local Native American.
"What is it made of?" she asked.
"Alligator's teeth," the man replied.
"I suppose," she said patronizingly, "that they mean as much to you as pearls do to us."
"Oh no," he objected. "Anybody can open an oyster."
#joke
"What is another name
"What is another name for Korean cuisine? Seoul food."
Holding onto the saddle horn
A woman from New York was driving through a remote part of Arizona when hercar broke down. An American Indian on horseback came along and offered her aride to a nearby town. She climbed up behind him on the horse and they rodeoff.
The ride was uneventful, except that every few minutes the Indian would letout a 'Ye-e-e-e-h-a-a-a-a' so loud that it echoed from the surroundinghills.
When they arrived in town, he let her off at the local service station,yelled one final 'Ye-e-e-e-h-a-a-a-a!' and rode off.
'What did you do to get that Indian so excited?' asked the service-stationattendant.
'Nothing,' the woman answered. 'I merely sat behind him on thehorse, put my arms around his waist, and held onto the saddle horn so Iwouldn't fall off.'
'Lady,' the attendant said, 'Indians don't use saddles.
#joke
Wise Beyond His Years
Little Johnny was being shown the shape of the earth on a globe atlas by his mother. After pointing to all countries with unusual shapes, she asks: "Now Johnny, what shape is the world?"
Johnny, looking very wise and happy, said: "Daddy says it's in terrible shape."
#joke
Ice Cream Flavor Galore
A January 1994 Reuters News Service story on Manuel Oliveira's ice cream shop in Merida, Venezuela, reported on his 567 flavors, including onion, chili, beer, eggplant, smoked trout, spaghetti parmesan, chicken with rice, and spinach. He said some flavors fail; he once abandoned avocado ice cream, and tossed out 99 pounds of it, because it wasn't smooth enough.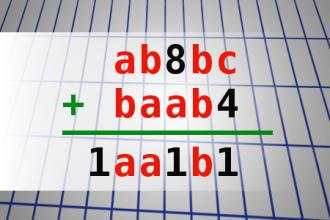 Find number abc
If ab8bc + baab4 = 1aa1b1 find number abc. Multiple solutions may exist.
Thigns...
In the men's room at work, the boss placed a sign directly above the sink. It had a single word on it: "Think!"
The next day, when he went to the men's room, he looked at the sign, and right below it, immediately above the soap dispenser, someone had carefully lettered another sign which read, "Thoap!"
#joke
According to Einstein's theory...
According to Einstein's theory of relativity, Chuck Norris can actually roundhouse kick you yesterday.
The Cat and the Saus
One day a little cat was walking through the park when he came across a pond. He peered into the pond and noticed that at the bottom of the pond there was a little cocktail sausage.
The cat was feeling quite happy so as the water wasn't that deep he reached in with his little paw, hooked the sausage out and ate it.
The next day the cat was walking through the park again and peered into the pond. There was another sausage in the pond but this time it was a normal sized one, so the cat reached in. This time he had to put his whole arm into the pond. The cat hooked the sausage out and ate it.
The next day things go basically the same and the cat again looks into the pond. There he found an enormous Cumberland sausage at the bottom for the pond. It looked so delicious but it was so deep that he had to really stretch to get it, then SPLASH - he fell in.
The moral of the story is: The Bigger the Sausage, The Wetter the Pussy!
#joke
Give Bubba a Chance
It was graduation night at Cox High School and they were about halfway through the ceremony when the principal said, "Ladies and Gentlemen, we have a problem, Bubba is a few credits short and won't be able to graduate tonight."
Well now, Bubba was the starting right guard for Cox's football team, and when the student body heard that he wasn't going to graduate, they all jumped up and started to chant, "Give Bubba another chance, give Bubba another chance!"
Pat Dye and the principal had a quick conference and afterward, the principal announced that they have decided to give Bubba another chance. Bubba is told that he will be given a "One Question" math test and if he passes, he can graduate.
The question is, "What is 2 plus 3?" Bubba thinks for about 20 minutes and finally says, "I have it! The answer is 5!"
There is complete silence in the auditorium for a couple of seconds and then the entire Cox High School football team jumps up and begins to chant, "Give Bubba one more chance. Give Bubba one more Chance!"
#joke
First day at school
The child comes home from his first day at school.
His Mother asks, "Well, what did you learn today?"
The kid replies, "Not enough. They want me to come back tomorrow."
Ben Bailey: Restless Leg Syndrome
Restless leg syndrome. Cmon, what kind of horseshit is that? Its a syndrome? Restless leg syndrome? I have no idea what constitutes a syndrome, but its a hell of a lot more serious than some freakin wiggly legs.