Was Thoreau a
Was Thoreau a hermit?
True Horror Story
Writing a horror screenplay. It starts off with a ringing phone.
The person answers and it's their mom saying, "I have a computer question..."
A woman answered her front doo
A woman answered her front door and saw a little boy holding a list.
"Ma'am," he explained, "I'm on a scavenger hunt, and I still need three grains of wheat, a pork-chop bone and a piece of used carbon paper so I can earn a dollar."
"Wow," the woman replied. "Who sent you on such a challenging hunt?"
"My babysitter's boyfriend."
#joke
You met him in prison.

You met him in prison.
During your initial consultation he tries to sell you Amway.
He tells you that his last good case was a "Budweiser."
When the prosecutors see who your lawyer is, they high-five each other.
He picks the jury by playing "duck-duck-goose."
During the trial you catch him playing his Gameboy.
He asks a hostile witness to "pull my finger."
A prison guard is shaving your head.
Every couple of minutes he yells, "I call Jack Daniels to the stand!" and proceeds to drink a shot.
He frequently gives juror No. 4 the finger.
He places a large "No Refunds" sign on the defense table.
He begins closing arguments with, "As Ally McBeal once said . . ."
He keeps citing the legal case of Godzilla v. Mothra.
Just before trial starts he whispers, "The judge is the one with the little hammer, right?"
Just before he says "Your Honor," he makes those little quotation marks in the air with his fingers.
The sign in front of his law office reads "Practicing Law Since 2:25."
Whenever his objection is overruled, he tells the judge, "Whatever."
He giggles every time he hears the word "briefs."
The $5,000,000 question....
Bob had finally made it to the last round of the $5,000,000 Question. The night before the big question, he told the M.C. that he desired a question on American History.
The big night had arrived. Bob made his way on stage in front of the studio and TV audience. He had become the talk of the week. He was the best guest this show had ever seen. The M.C. stepped up to the mic.
"Bob, you have chosen American History as your final question. You know that if you correctly answer this question, you will walk away $5,000,000 dollars richer. Are you ready?"
Bob nodded with a cocky confidence-the crowd went nuts. He hadn't missed a question all week.
"Bob, your question on American History is a two-part question. As you know, you may answer either part first. As a rule, the second half of the question is always easier. Which part would you like to take a stab at first?"
Bob was now becoming more noticeably nervous. He couldn't believe it, but he was drawing a blank. American History was his easiest subject, but he played it safe. "I'll try the easier part first."
The M.C. nodded approvingly. "Here we go Bob. I will ask you the second half first, then the first half."
The audience silenced with gross anticipation . . .
"Bob, here is your question: And in what year did it happen??"
#joke
A lawyer walks into a bar and ...
A lawyer walks into a bar and sits down next to a drunk who is closely examining something held in his fingers. The lawyer watches the drunk for a while till he finally gets curious enough to ask what it is.
"Well," said the drunk, "it looks like plastic and feels like rubber."
"Let me have it," said the lawyer. Taking it, he began to roll it between his thumb and forefinger, examining it closely. "Yes," he finally said, "it does look like plastic and feel like rubber, but i don't know what it is. Where did you get it?"
"From my nose," the drunk replied.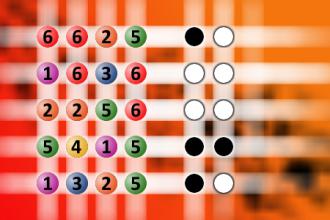 What a winning combination?
The computer chose a secret code (sequence of 4 digits from 1 to 6). Your goal is to find that code. Black circles indicate the number of hits on the right spot. White circles indicate the number of hits on the wrong spot.
Beware of dog
Upon entering the little country store, the stranger noticed a sign saying "DANGER! BEWARE OF DOG!" posted on the glass door. Inside he noticed a harmless old hound dog asleep on the floor besides the cash register.
He asked the store manager, "Is THAT the dog folks are supposed to beware of?"
"Yep, that's him," he replied.
The stranger couldn't help but be amused. "That certainly doesn't look like a dangerous dog to me. Why in the world would you post that sign?"
"Because," the owner replied, "before I posted that sign, people kept tripping over him."
#joke
Free advice at social affairs?
A doctor and a lawyer were attending a cocktail party when the doctor was approached by a man who asked advice on how to handle his ulcer. The doctor mumbled some medical advice, then turned to the lawyer and remarked, "I never know how to handle the situation when I'm asked for medical advice during a social function. Is it acceptable to send a bill for such advice?" The lawyer replied that it was certainly acceptable to do so.
The next day, the doctor sent the ulcer-stricken man a bill. The lawyer also sent one to the doctor.
There were two guys working fo...
There were two guys working for the city. One would dig a hole -- he would dig, dig, dig.
The other would come behind him and fill the hole -- fill, fill, fill. These two men worked furiously; one digging a hole, the other filling it up again.
A man was watching from the sidewalk and couldn't believe how hard these men were working, but couldn't understand what they were doing. Finally he had to ask them.
He said to the hole digger, "I appreciate how hard you work, but what are you doing? You dig a hole and your partner comes behind you and fills it up again!"
The hole digger replied, "Oh yeah, must look funny, but the guy who plants the trees is sick today."
#joke
Damon Wayans: Bicycle Cop
I got pulled over by a bicycle cop in L.A. -- not a motorcycle cop, a bicycle cop. And Im in my car, and he gets out -- hes sweating, hes got these little shorts on. You know how fast you were going? Yeah, a lot faster than that bike.