Cannibals are easily agitated.
Cannibals are easily agitated. They have a lot of friends-eat mannerisms.
A man is walking through the m
A man is walking through the mall with his teen-age son. The son is tossing a quarter up in the air and catching it between his teeth. On one such attempt, the boy fails to clamp down with his teeth and ends up getting the quarter lodged in his throat. As the boy begins to choke and wheeze the father panics and starts yelling for help.
Not to far from the action is a man sitting at a coffee shop reading a paper and drinking his coffee, when he hears the fathers distressed cries he patiently puts down his coffee and folds his paper, he then walks slowly over to the boy and grabs him by the balls and squeezes the s*** out of them. The boy coughs up the quarter and the man catches it in his hand and proceeds to walk away with it, sitting back down to his coffee.
The amazed father runs over and says, "Thank you Sir, you saved my son's life. Are you a Doctor?"
"No," the man replies, "I work for the IRS."

The Fishing Helpline
I phoned up the fishing helpline today. I said, "I'm really hopeless at fishing and need some tips."
The man said, "Okay, can you hold the line?"
I said, "No."
The Search for a Pastor During Bible Times
Dear Member,We do not have a happy report, as we have not been able to find a suitable candidate for pastor of our church thus far. We do, however, have one promising prospect. The following is our confidential report on the candidates:
Adam: Good man, but has problems with his wife.
Noah: Former pastorate of 120 years with no converts. Prone to unrealistic building projects.
Joseph: A big thinker, but a braggart. Interprets dreams. Has a prison record.
Moses: Modest and meek, but poor communicator; even stutters at times. Sometimes blows his stack and acts rashly in business meetings.
Deborah: One word—female.
David: The most promising candidate of all, until we discovered the affair he had with a neighbor's wife.
Solomon: Great preacher, but serious woman problems.
Elijah: Prone to depression; collapses under pressure.
Jonah: Told us he was swallowed by a huge fish.
He said the fish later spit him out on the shore near here. We hung up.
Amos: Backward and unpolished.
With some seminary training, he might have promise; but he has a problem with wealthy people.
John: Says he's a Baptist, but doesn't dress like one. Sleeps in the outdoors, has a weird diet, and provokes denominational leaders.
Paul: Powerful CEO type and fascinating preacher.
But he's short on tact, unforgiving with young ministers, harsh, and has been known to preach all night.
Timothy: Too young.
Judas: His references are solid. A steady plodder. Conservative. Good connections. Knows how to handle money. We're inviting him to preach this Sunday with great hopes that he will accept our offer!
Physical Exam
The doctor has just finished giving the young man a thorough physical examination.
"The best thing for you to do," the M.D. said, "is give up drinking and smoking, get to bed early and stay away from women."
"Doc, I don't deserve the best," said the patient. "What's second best?"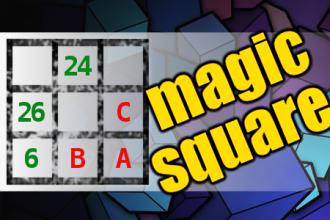 MAGIC SQUARE: Calculate A*B-C
The aim is to place the some numbers from the list (6, 7, 8, 24, 25, 26, 64, 65, 66) into the empty squares and squares marked with A, B an C. Sum of each row and column should be equal. All the numbers of the magic square must be different. Find values for A, B, and C. Solution is A*B-C.
Unheavenly blessed
Three nuns were talking. The first nun said, "I was cleaning the Father's room the other day and do you know what I found? A bunch of pornographic magazines!"
"What did you do?" the other nuns asked.
"Well, of course I threw them in the trash."
The second nun said, " Well, I can top that, I was in Father's room putting away the laundry and I found a bunch of condoms!"
"Oh my!" gasped the other nuns. "What did you do?" they asked.
"I poked holes in all of them," she replied.
The third nun said, "Oh shit!"
Submitted by Curtis
Edited by Yisman
#joke
Funny Humor About The Irish
This is a true story of the late Irish author Brendan Behan who one night collapsed in a diabetic coma in a Dublin street. It was at a time when he was at the height of his drunken notoriety and passes-by naturally thought he was dead drunk. They took him to the nearby surgery of one of Dublin's most fashionable and respected doctors. The doctor decided to take a cardiograph and, somewhat nervous of his patient, thought to humor him. He explained the workings of the cardiograph needle as it registered the faint heartbeats of the very sick and semiconscious Brendan.
"That needle there is writing down your pulses, Mr. Behan, and I suppose, in its own way, it is probably the most important thing you have ever written."
To which Behan replied: "Aye, and it's straight from me heart, too."

Three old ladies met on the street on a very stormy day. The wind was so strong and loud that they had difficulty in hearing each other.
"It's windy," said one.
"No, it's Thursday," said the next.
"So am I," said the third. "Let's go and have a drink!"


Nick Swardson: Down side of Magical Friends
One of my best friends is a professional magician. The only downside to having a magical friend is he always invites us on double dates, and thats the worst because Im a nice guy, but hes magic. Theres no way I can compete with that. He shows up, hes so smooth. Girls love him. Hes like, Hows it going? You look so beautiful tonight. Your hair -- is that a coin? Now, its a rose. Now, its money. And its like, I show up -- what am I gonna do? Im like, Hi, I brought you this rose. Now, its broken.
#joke
Pipe Organ
A local church built a new sanctuary. They moved their very
fine old pipe organ from to the new sanctuary. It was an
intricate task that was completed successfully.
The local news heralded . . . "St. Paul Completes Organ
Transplant."