Be rady for Thanksgiving
, check out our latest
Thanksgiving jokes of 2021
on:
Thanksgiving jokes collection
"Mischievous lambs po...
"Mischievous lambs post their videos on Ewe Tube."
Funny video of the day - Funny Macho Dancer
Saving the President...
One day Bill Clinton was out jogging and he accidently tripped and fell off a bridge into the cold water below...
Three 10 year old boys were playing along the river and saw him fall in so they all jumped in and saved him and dragged him to shore.
He was so thankful that he told each of them, "Boys, you just saved the President of the United States and each of you deserve a reward."
The first boy says, "I want to go to Disneyland!"
"I'll take you there myself!!!" exclaims Bill.
The second boy says, "I want a brand new pair of autographed Nike Air Jordans."
"I'll buy them for you myself," says Bill
"And I want a motorized wheelchair with a stereo built into it with custom speakers" the third boy says.
The president looks at the boy and says, "But son you don't look like you are handicapped to me"
The boy says, "I'm going to be when my dad finds out that I saved you from drowning!!"
#joke
Miscellaneous Terms
ADULT: A person who has stopped growing at both ends and is now growing in the middle.
BEAUTY PARLOUR: A place where women curl up and dye.
CANNIBAL: Someone who is fed up with people.
CHICKENS: The only animals you eat before they are born and after they are dead.
COMMITTEE: A body that keeps minutes and wastes hours.
DUST: Mud with the juice squeezed out.
EGOTIST: Someone who is usually me-deep in conversation.
GOSSIP: A person who will never tell a lie if the truth will do more damage.
HANDKERCHIEF: Cold Storage.
INFLATION: Cutting money in half without damaging the paper.
MYTH: A female moth.
MOSQUITO: An insect that makes you like flies better.
RAISIN: Grape with a sunburn.
SECRET: Something you tell to one person at a time.
SKELETON: A bunch of bones with the person scraped off.
TOOTHACHE: The pain that drives you to extraction.
TOMORROW: One of the greatest labour saving devices of today.
YAWN: An honest opinion openly expressed.
WRINKLES: Something other people have. You have character lines.
#joke
Used Car
It was a small town and the patrolman was making his evening rounds As he was checking a used car lot, he came upon two little old ladies sitting in a used car. He stopped and asked them if they were stealing the car. They said "Heavens no, we bought it."
He said, "Then why don't you drive it away".
Each of the women said "We can't drive".
The officer momentarily shook his head and then asked "Then why did you buy it?"
They answered, "We were told if we bought a car here, we'd get screwed, so we are just waiting.
#joke
Celtic Mortality
What is the difference between an Irish wedding and an Irish funeral?
One less drunk.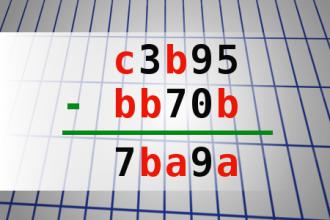 Find number abc
If c3b95 - bb70b = 7ba9a find number abc. Multiple solutions may exist.
Where babies from?
Mother is in the kitchen making supper for her family when her youngest daughter walks in.
Mother, where do babies come from?
Well dear...a mommy and daddy fall in love and get married. One night they go into their room...they kiss and hug and have sex. (The daughter looks puzzled.) That means the daddy puts his penis in the mommy's vagina. That's how you get a baby, honey.
Oh I see, but the other night when I came into you and daddy's room you had daddy's penis in your mouth. What do you get when you do that?
Jewelry, dear.
#joke
Industrial logging isn't the c...
Industrial logging isn't the cause of deforestation. Chuck Norris needs toothpicks.
Chuck Norris has already been ...
Chuck Norris has already been to Mars. That's why there are no signs of life there.
Fat free....
I stopped at a fast-food restaurant recently. I was fascinated by a sign which offered Fat-Free French Fries. I decided to give them a try.
I was dismayed when the clerk pulled a basket of fries from the fryer, which was dripping with fat. He filled a bag with these fries and put them in my order.
"Just a minute!" I said. "Those aren't fat-free."
"Yes, they are. We only charge for the potatoes . . . the fat is free!"
#joke
Rules Kids Won't Learn in School
Rule #1. Life is not fair. Get used to it. The average teenager uses the phrase "it's not fair" 8.6 times a day. You got it from your parents, who said it so often you decided they must be the most idealistic generation ever. When they started hearing it from their own kids, they realized Rule #1.
Rule #2. The real world won't care as much about your self-esteem as your school does. It'll expect you to accomplish something before you feel good about yourself. This may come as a shock. Usually, when inflated self-esteem meets reality, kids complain that it's not fair. (See Rule No. 1)
Rule #3. Sorry, you won't make $50,000 a year right out of high school. And you won't be a vice president or have a car phone either. You may even have to wear a uniform that doesn't have a Gap label.
Rule #4. If you think your teacher is tough, wait 'til you get a boss. He doesn't have tenure, so he tends to be a bit edgier. When you screw up, he is not going ask you how feel about it.
Rule #5. Flipping burgers is not beneath your dignity. Your grandparents had a different word for burger flipping. They called it opportunity. They weren't embarrassed making minimum wage either. They would have been embarrassed to sit around talking about Fifty Cent all weekend.
Rule #6. It's not your parents' fault. If you screw up, you are responsible. This is the flip side of "It's my life," and "You're not the boss of me," and other eloquent proclamations of your generation. When you turn 18, it's on your dime. Don't whine about it or you'll sound like a baby boomer.
Rule #7. Before you were born your parents weren't as boring as they are now. They got that way paying your bills, cleaning up your room and listening to you tell them how idealistic you are. And by the way, before you save the rain forest from the blood-sucking parasites of your parents' generation try delousing the closet in your bedroom.
Rule #8. Life is not divided into semesters, and you don't get summers off. Nor even Easter break. They expect you to show up every day. For eight hours. And you don't get a new life every 10 weeks. It just goes on and on.
Rule #9. Television is not real life. Your life is not a sitcom. Your problems will not all be solved in 30 minutes, minus time for commercials. In real life, people actually have to leave the coffee shop to go to jobs. Your friends will not be perky or as polite as Jennifer Aniston.
Rule #10. Be nice to nerds. You may end up working for them. We all could.
Rule #11. Enjoy this while you can. Sure, parents are a pain, school's a bother, and life is depressing. But someday you'll realize how wonderful it was to be kid. Maybe you should start now.
#joke
Simon Says?
The new minister stood at the church door greeting the members as they left the Sunday morning service. While most of the people told the minster how much they liked his message, one man seemingly had a different opinion.
"That was a very dull and boring sermon, Pastor," he said. The pastor was a bit baffled by this, but he continued shaking hands.
A few minutes later, the same man again appeared in line and said, "I don't think you did much in the way of preparation for your message."
Once again, the man circled back and appeared in line, this time muttering, "You really blew it. You didn't have a thing to say, Pastor."
Finally, the minister could stand it no longer. He went to one of the deacons and inquired about the man.
"Oh, don't let that guy bother you," said the deacon. "He's a little slow. All he does is go around repeating whatever he hears other people saying."
From "The Book of Church Jokes," published by Barbour Publishing, Inc., Uhrichsville, Ohio. Copyright 2009. Used by permission of Barbour Publishing, Inc.
#joke