Be rady for Thanksgiving
, check out our latest
Thanksgiving jokes of 2021
on:
Thanksgiving jokes collection
Kids jokes-Wagon
English teacher says to her student: Sam, please use the word "wagon" in a sentence.

Sam: If I told my dog to stop wagon his tail, he would still wag on.


#joke
In 1997 at the age of 87 and n...
In 1997 at the age of 87 and not acquainted with modern technology, Ruth was given a "cordless" phone by her son. He lived 1500 miles away. After setting it up and showing her how to use it he went home and called her. "How is your new phone working, Mom." Her reply astonished him. "Oh we took it back. It wouldn't work. It did not even have a cord."
#joke
Funny video of the day - Opening a Case of Beer Like a Boss
And a day was born...
God: "Whew! I just created a 24-hour period of alternating light and darkness of Earth."
Angel: "What are you going to do now?"
God: "Call it a day."
Silly Collection 23
What has a bottom at the top?
I don't know?
Your legs!
What is a skeleton?
Bones, with the person off!
What might you eat in Paris?
The trifle tower!
Which Elizabethan sailor could stop bikes?
Sir Francis Brake!
Have you ever seen a man eating tiger?
No, but in the cafe next door I once saw a man eating chicken!
What is the quickest way to double your money?
Fold it in half!
What do you get if you cross a Scottish legend and a bad egg?
The Loch Ness Pongster!
#joke
Business one-liners 57
For every problem, there is a neat, plain solution...and it is always wrong.
For every vision, there is an equal and opposite revision.
Four-wheel-drive just means getting stuck in more inaccessible places.
Free advice costs nothing until you act upon it.
Free time which unexpectedly becomes available will be wasted.
Freud's 23rd law: ideas endure and prosper in inverse proportion to their soundness and validity.
Friends come and go, but enemies accumulate.
Frustration is not having anyone to blame but yourself.
Genius is 1% inspiration, and 99% perspiration.
Geologists do not dress for success unless they are trying to convince others that they are going on interviews.
#joke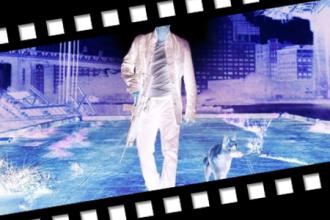 CINEMANIA: Guess the movie title
See negative of movie scene and guess the title. Length of words in solution: 1,2,6
"What did one plant s...
"What did one plant say to another? What's stomata?"
Glass Eye
A man is dining in a fancy restaurant, and there is a gorgeous redhead sitting at the next table. He had been checking her out since he sat down, but lacked the nerve to talk with her.
Suddenly she sneezes and her glass eye comes flying out of its socket towards the man. He reflexively reaches out, grabs it out of the air, and hands it back.
"Oh my, I am so sorry," the woman says as she pops her eye back in place. "Let me buy you dessert to make it up to you."
They enjoy a wonderful dessert together, and afterwards, the woman invites him to the theater followed by drinks. After paying for everything, she asks him if he would like to come to her place for a nightcap...and stay for breakfast the next morning.
The next morning, she cooks a gourmet meal with all the trimmings. The guy is amazed! Everything has been incredible!
"You know," he said, "you are the perfect woman. Are you this nice to every guy you meet?"
"No," she replies...

... "You just happened to catch my eye
#joke
Knock-knock...
Knock-knock.
Who's there?
Dishes.
Dishes who?
Dishes the police! Come out with your hands up!
As President Roosevelt said: "...
As President Roosevelt said: "We have nothing to fear but fear itself. And Chuck Norris."
Knock, Knock at the Convent
Did you hear the one about the man who opened a dry cleaning business next door to the convent?
He knocked on the door and asked the Mother Superior if she had any dirty habits.
This joke was reprinted from "The Book of Catholic Jokes" by Deacon Tom Sheridan, with permission of ACTA Publications. Copyright 2008. All rights reserved.
#joke
Osama Bin Laden'
One day Osama Bin Laden is thinking: What should I blow up first? Then Osama Bin Laden said: "I have decided! bring the servent girl and tell her to get on her kneesand tell her to sacrifice her self!"
The ocean was once fresh water...
The ocean was once fresh water but Chuck Norris likes his shrimp salty.
An engineer dies and reports t...
An engineer dies and reports to the pearly gates. St. Peter checks his dossier and says, "Ah, you're an engineer -- you're in the wrong place."
So the engineer reports to the gates of hell and is let in. Pretty soon, the engineer gets dissatisfied with the level of comfort in hell, and starts designing and building improvements. After a while, they've got air conditioning and flush toilets and escalators, and the engineer is a pretty popular guy.
One day God calls Satan up on the telephone and says with a sneer, "So, how's it going down there in hell?"
Satan replies, "Hey, things are going great. We've got air conditioning and flush toilets and escalators, and there's no telling what this engineer is going to come up with next."
God replies, "What??? You've got an engineer? That's a mistake -- he should never have gotten down there, send him up here."
Satan says, "No way! I like having an engineer on the staff, and I'm keeping him."
God says, "Send him back up here, or I'll sue."
Satan laughs uproariously and answers, "Yeah, right. And just where are you going to get a lawyer?"
Forgetful...
The man looked a little worried when the doctor came in to administer his annual physical, so the first thing the doctor did was to ask whether anything was troubling him.
"Well, to tell the truth, Doc, yes," answered the patient. "You see, I seem to be getting forgetful. I'm never sure I can remember where I put the car, or whether I answered a letter, or where I'm going, or what it is I'm going to do once I get there -- if I get there. So, I really need your help. What can I do?"
The doctor mused for a moment, then answered in his kindest tone, "Pay me in advance."
Perks of being over 55
Kidnappers are not very interested in you.
In a hostage situation you are likely to be released first.
No one expects you to run into a burning building.
People call at 9 PM and ask, "Did I wake you?"
People no longer view you as a hypochondriac.
There is nothing left to learn the hard way.
Things you buy now won't wear out.
You can eat dinner at 4 P.M.
You enjoy hearing about other peoples operations.
You get into heated arguments about pension plans.
You have a party and the neighbors don't even realize it.
You no longer think of speed limits as a challenge.
You quit trying to hold your stomach in, no matter who walks into the room.
You sing along with elevator music.
Your eyes won't get much worse.
Your investment in health insurance is finally beginning to pay off.
Your joints are more accurate meteorologists than the National Weather Service.
Your secrets are safe with your friends because they can't remember them either.
Your supply of brain cells is finally down to a manageable size.

#joke