Short funny jokes-Tooth and nail
John, the dentist and Jacob, the manicurist had an argument.
They fought tooth and nail.
"When Plato discovere...
"When Plato discovered he was out of food, he decided to go shop at the stoa."
Funny video of the day - Mission Impossible: Babies Escape
A stranger's advice
A guy was standing in a bar when a stranger walks in.
After a while they get to talking and at about 10:30 PM the second guy says, "Oh well,I better get home.My wife doesn't like me to stay out during late night."
The first guy replies, "I'll help you out of this. Just do what I say. Go home. Sneak into the bedroom. Pull back the covers. Get down between her legs then lick, lick and lick for about 20 minutes and there will be no complaints in the morning."
The guy agrees to try that and continues drinking with him for two more hours before heading home to give it a try.
When he got home, the house was pitch black. He sneaks upstairs into the bedroom, pulled back the covers and proceeded to lick for 20 minutes. The bed was like a swamp so he decided to wash his face.
As he walked into the bathroom, his wife was sitting on the toilet.
Seeing her he screamed, "What the hell are you doing in here?!"
"Quiet!", she exclaimed. "You'll wake my mother."
#joke
A final appeal...
The priest was preparing a man for his long day's journey into night.
Whispering firmly, the priest said, "Denounce the devil! Let him know how little you think of his evil!"
The dying man said nothing.
The priest repeated his order. Still the dying man said nothing.
The priest asked, "Why do you refuse to denounce the devil and his evil?"
The dying man said, "Until I know where I'm heading, I don't think I ought to piss anyone off."
#joke
Government Is There
At recent trade talks the American representative offered to sell sophisticated American telephone technology to the Russians.
American : "In the United States, anyone can pick up any phone and dial 9-1-1. This will record the call and connect them with the police."
Russian : "In Russia we don't require that you dial anything."
#joke
What You Got
A man goes into a bar and seats himself on a stool.
The bartender looks at him and says, "What'll it be buddy?"
The man says, "Set me up with five whiskey shots, and make 'em doubles."
The bartender does this and watches the man slug one down, then the next, then the next, and so on until all five are gone almost as quickly as they were served.
Staring in disbelief, the bartender asks why he's doin' all this drinking.
"You'd drink 'em this fast too if you had what I have."
The bartender hastily asks, "What do you have pal?"
The man quickly replies, "I only have a dollar."
#joke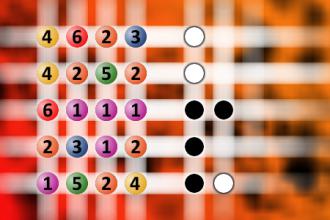 Which is a winning combination of digits?
The computer chose a secret code (sequence of 4 digits from 1 to 6). Your goal is to find that code. Black circles indicate the number of hits on the right spot. White circles indicate the number of hits on the wrong spot.
Dead in His Cornflakes
Q: Did you hear about the guy they found dead with his head in his cornflakes?
A: The police thought it was a cereal killer.
Reaching the end of a job inte...
Reaching the end of a job interview, the Human Resources Officer asked a young Engineer fresh out of MIT, "And what starting salary were you looking for?"
The Engineer replies, "In the region of $125,000 a year, depending on the benefits package."
The interviewer inquires, "Well, what would you say to a package of 5-weeks vacation, 14 paid holidays, full medical and dental, company matching retirement fund to 50% of salary, and a company car leased every 2 years say, a red Corvette?"
The Engineer sits up straight and says, "Wow! Are you kidding?"
And the interviewer replies, "Yeah, but you started it."
#joke
If you spell Chuck Norris in S...
If you spell Chuck Norris in Scrabble, you win. Forever.
Knock, Knock at the Convent
Did you hear the one about the man who opened a dry cleaning business next door to the convent?
He knocked on the door and asked the Mother Superior if she had any dirty habits.
This joke was reprinted from "The Book of Catholic Jokes" by Deacon Tom Sheridan, with permission of ACTA Publications. Copyright 2008. All rights reserved.
#joke
Arj Barker: 4th of July
I read this on the Internet -- did you know that 4th of July is more popular in this country than in any other country in the whole world?
Jesus Is Watching You!
There was a burglar who broke into a home and started to gather the items he wanted to take. All of a sudden he heard, "Jesus is watching you!" He didn't see anything in the dark house, so he went on with what he was doing.
He heard, "Jesus is watching you!" again and then he really wondered who wassaying that. He turned on the flashlight, scanned the room, and finally saw a parrot.
"Did you say that?" asked the burgler.
"Yes," replied the parrot.
"By the way, what's your name?" the burgler inquired."Moses," answered the parrot.
"That's a strange name for a parrot. Who named you that?"
"The same people who named their rotweiller Jesus!"
#joke
Someone Really Stinks
A young couple were on their honeymoon. The husband was sitting in the bathroom on the edge of the bathtub saying to himself, "Now how can I tell my wife that I've got really smelly feet and that my socks absolutely stink? I've managed to keep it from her while we were dating, but she's bound to find out sooner or later that my feet stink. Now how do I tell her?"
Meanwhile, the wife was sitting in the bed saying to herself, "Now how do I tell my husband that I've got really bad breath? I've been very lucky to keep it from him while we were courting, but as soon as he's lived with me for a week, he's bound to find out. Now how do I tell him gently?"
The husband finally plucks up enough courage to tell his wife and so he walks into the bedroom. He walks over to the bed, climbs over to his wife, puts his arm around her neck, moves his face very close to hers and says, "Darling, I've a confession to make."
And she says, "So have I, love."
To which he replies, "Don't tell me, you've eaten my socks."
#joke
Iliza Shlesinger: Bumper Sticker
It said, War Is Not the Answer. I disagree. I think war absolutely is the answer. And if you dont agree with me, happy Fourth of July.
Tall grass
How does a Scotsman find a sheep in tall grass?
Very satisfying.
Submitted by Curtis
Edited by calamjo