Watch Out
An old man decides to go into town one day to run some errands in Jacksonville. On the way back to Vilano Beach, his wife calls his cell phone.
"Look out honey, I just saw on the news that there's a car driving the wrong way on Interstate 95."
"Not just one car, they all are!"
#joke
Funny video of the day - Best Fails of the Week 3 February 2015
Letter to God
A Sunday school teacher challenged her children to take some time on Sunday afternoon to write a letter to God. They were to bring back their letter the following Sunday.
One little boy wrote, "Dear God, We had a good time at church today. Wish you could have been here."

Who was the dirtiest mobster?
Who was the dirtiest mobster? Tony Soap ran out.
A couple was having a party at
A couple was having a party at their house. An hour before the party the woman found out that she still needed escargots. So she sent her husband out to get it. He was walking to the supermarket and he figured he had lots of time. So he stopped at the bar on the way. An hour and a half later he looked at his watch and realized that the party had already started. He quickly ran to the market, bought the snails and ran home. He tried to sneak into the kitchen without his wife seeing him. But at that moment his wife came out. He quickly threw the snails on the floor and said, "Come on guys, we're almost there."
#joke
A man and his young wife were...
A man and his young wife were in divorce court, but the custody of their children posed a problem.
The mother leaped to her feet and protested to the judge that since she brought the children into this world, she should retain custody of them.
The man also wanted custody of his children, so the judge asked for his justification.
After a long silence, the man slowly rose from his chair and replied...
"Your Honor, when I put a dollar in a vending machine and a Coke comes out, does the Coke belong to me or the machine?"
#joke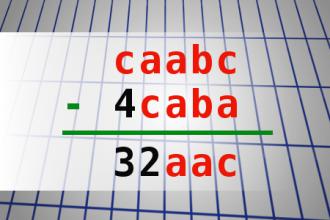 Find number abc
If caabc - 4caba = 32aac find number abc. Multiple solutions may exist.
Clinton Soup
One of the nation's largest soup manufacturers announced
today that they will be stocking America's shelves this week
with their newest soup creation, "Clinton Soup", that will
honor one of the nation's most distinguished men.
It consists primarily of a small weenie in hot water.
#joke
So two Irishmen are traveling
So two Irishmen are traveling to Australia. Before they leave home, one of their dads gives them both a bit of advice: "You watch them Aussie cab drivers. They'll rob you blind. Don't you go paying them what they ask. You haggle." At the Sydney airport, the Irishmen catch a cab to their hotel. When they reach their destination, the cabbie says, "That'll be twenty dollars, lads." "Oh no you don't! My dad warned me about you. You'll only be getting fifteen dollars from me," says one of the men. "And you'll only be getting fifteen from me too," adds the other.
#joke
"My shrink assures me
"My shrink assures me that my obsession with the formalization of puns is just a 'phrase I'm going through'."
One day, an immigrant from Pol
One day, an immigrant from Poland entered a New York City Police Precinct to report that his American wife was planning to kill him.
The police officer on duty was intrigued by this, and he asked, "How sure are you that she is gonna kill you? Did she threaten to kill you?"
"No," replied the nervous immigrant.
"Did you hear her tell someone else that she's gonna kill you?"
"No."
"Did someone tell you that your wife is gonna kill you?"
"No."
"Then why did you think she's gonna kill you?" asked the exasperated police officer.
"Because I found bottle on dresser and I think she gonna poison me!"
He handed the police officer the suspect bottle. The police officer took one look at the label on the bottle and started to laugh out loud.
The immigrant became indignant and said, "What so funny? Can't you see the label on bottle said 'Polish Remover'?"
#joke
Question And Answer Jokes
Q: How can you tell if a lawyer is well hung?
A: You can't get a finger between the rope and his neck!
Q: If you are stranded on a desert island with Adolph Hitler, Atilla the Hun, and a lawyer, and you have a gun with only two bullets, what do you do?
A: Shoot the lawyer twice.
Q: What do you call 5000 dead lawyers at the bottom of the ocean?
A: A good start!
Q: How can you tell when a lawyer is lying?
A: His lips are moving.
Q: What's the difference between a dead dog in the road and a dead lawyer in the road?
A: There are skid marks in front of the dog.
Q: Why won't sharks attack lawyers?
A: Professional courtesy.
Q: What do you have when a lawyer is buried up to his neck in sand?
A: Not enough sand.
Q: Why did God make snakes just before lawyers?
A: To practice.
A command was given to a dog: "SPEAK!"
The dog said in return: "Not without my lawyer present!"
Q: Why is going to a meeting of the Bar Association like going into a bait shop?
A: Because of the abundance of suckers, leeches, maggots and nightcrawlers
Q: Why are there so many lawyers in the U.S.?
A: Because St. Patrick chased the snakes out of Ireland.
Q: What's the difference between a lawyer and a herd of buffalo?
A: The lawyer charges more.
Winning toast
Patrick  hoisted his beer and said: "Here's to spending the rest of my life between the legs of me wife!"
And with that he took home the top prize for the best toast of the night.
In bed later that night, he told his wife: "Mary, I won the prize for the best toast of the night."
She said: "Aye, Paddy, what was your toast?"
So he told her: "Here's to spending the rest of my life sitting in church beside me wife."
"Oh," she said, "that is very nice, dear."
The next day, Mary ran into one of Paddy's drinking partners in the street.
Mischievously, the man said: "Did you hear about your husband winning a prize in the pub the other night for a toast about you, Mary?"
She replied: "Aye, and I was a bit surprised. Till now, he's only been down there twice. Once he fell asleep, and the other time I had to pull him by the ears to make him come."
Charging Elephant
Q: How do you stop an elephant from charging?
A: Take away his credit card.
Cotton Candy
So this old man is walking down the street in Brooklyn.
He sees a young boy sitting on the street in front of a candy shop, shoving sweets in his mouth as fast as possible.
The man walks up to the boy and says "You know son, it's really not healthy to eat all that candy."
The kid looks up at him and says, "You know my grandfather lived to be 97 years old."
The man replies "Oh and did he eat a lot of candy?" The kid looks at him and says "No, but he minded his own fucking business."
#joke
Duct Tape
Jeff walks into a bar and sees his friend Paul slumped over the bar. He walks over and asks Paul what's wrong.
"Well," replies Paul, "you know that beautiful girl at work that I wanted to ask out, but I got an erection every time I saw her?"
"Yes," replies Jeff with a laugh.
"Well," says Paul, straightening up, "I finally plucked up the courage to ask her out, and she agreed."
"That's great!" says Jeff, "When are you going out?"
"I went to meet her this evening," continues Paul, "but I was worried I'd get an erection again. So I got some duct tape and taped my penis to my leg, so if I did, it wouldn't show."
"Sensible" says Jeff.
"So I get to her door," says Paul, "and I rang her doorbell. She answered it in the sheerest, tiniest dress you ever saw."
"And what happened then?"
(Paul slumps back over the bar again.)
"I kicked her in the face."
#joke #walksintoabar
Ploughing The Land
A husband and wife were driving down a country lane on their way to visit some friends. They came to a muddy patch in the road and the car became bogged. After a few minutes of trying to get the car out by themselves, they saw a young farmer coming down the lane, driving some oxen before him.
The farmer stopped when he saw the couple in trouble and offered to pull the car out of the mud for $50. The husband accepted and minutes later the car was free. The farmer turned to the husband and said, "You know, you're the tenth car I've helped out of the mud today."
The husband looks around at the fields incredulously and asks the farmer, "When do you have time to plough your land? At night?"
"No," the young farmer replied seriously, "Night is when I put the water in the hole."
#joke
Jody and Sara live in the swam...
Jody and Sara live in the swamps of Louisiana.
One day Sara came up missing.
It took three days for all of the locals and the sheriff to find Sara. The sheriff says to Jody, "I have bad news and I have good news about Sara."
"What is the bad news", asks Jody?
"We found Sara face down in the swamp, she's dead."
"Well what kind of good news can there be", ask Jody?
The Sheriff responded, "We got 24 blue crab off her, we decided to leave for another 3 days and run her again."
#joke
Another wife?
At the pre-birth class for couples who'd already had at least one child the instructor raised the question of how to break the news to an older child.
"Some parents tell the older child, 'We love you so much that we decided to bring another child into our family.'
"But think about that for a second. Ladies, what if your husband came home one day and said, 'Honey, I love you so much I decided to bring home another wife.'?"
One of the women spoke up right away, "Does she cook?"
#joke